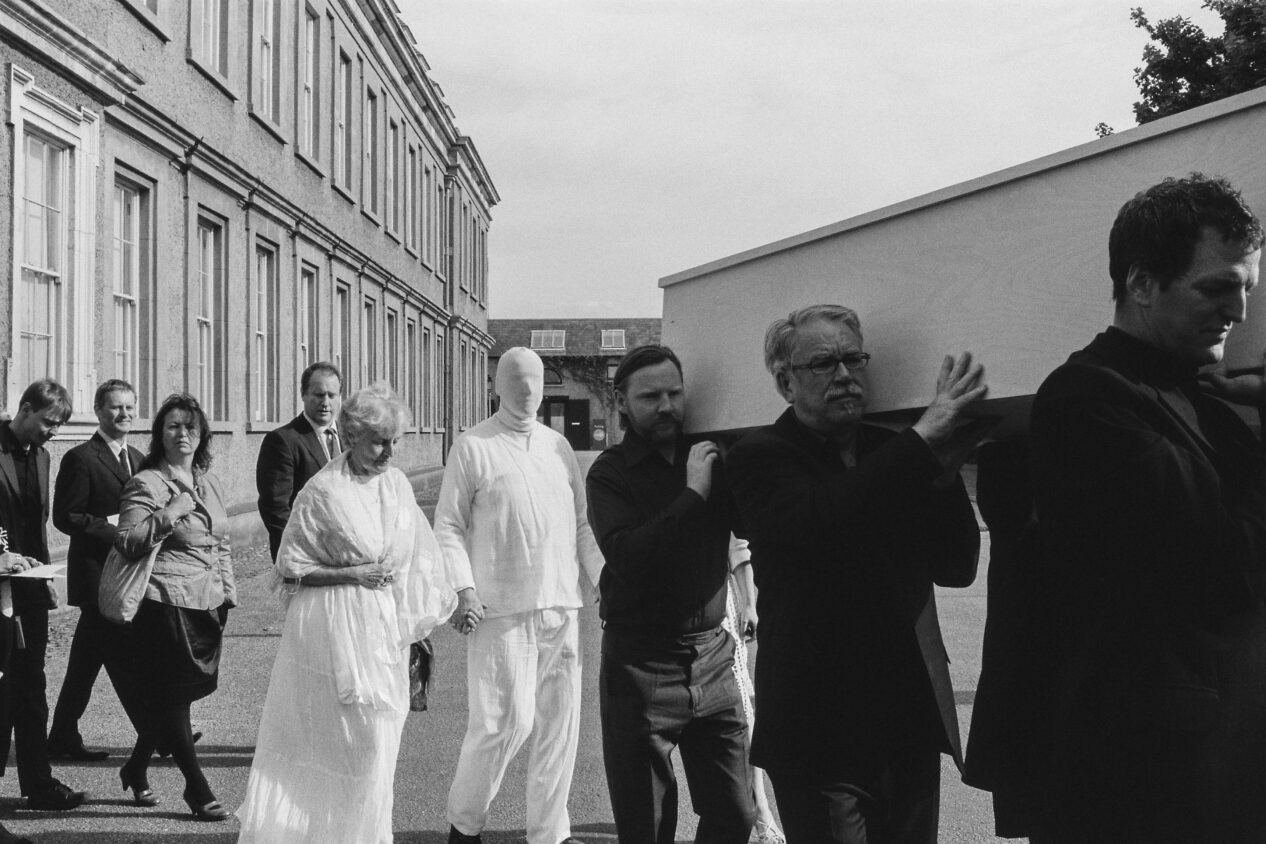 BRENDA MOORE-MCCANN OUTLINES THE EXHIBITIONS AND PROJECTS TAKING PLACE NATIONWIDE TO CELEBRATE THE DIVERSE ARTISTIC CAREER OF BRIAN O'DOHERTY.
Few would disagree that Brian O'Doherty/Patrick Ireland is one of the most distinguished and significant artists of his generation to come out of Ireland onto the international stage in the last fifty years. Born in Ballaghaderreen, County Roscommon, his influence is felt on both sides of the Atlantic since his (voluntary) exile to New York in 1957. His extraordinary career, which spans many disciplines and uses different heteronyms1, has been puzzling to some and inspirational to others. As a pioneering conceptual artist, he produced such seminal works as the first conceptual portrait, Portrait of Duchamp (1966), as well as a double issue of the ground-breaking experimental magazine, Aspen 5+6 (1967), often cited as the first exhibition of conceptual art to dispense with the gallery. O'Doherty's highly-influential series of critical essays, 'Inside the White Cube: The Ideology of the Gallery Space' – first published in Artforum in 1976 – have been widely translated, forming an essential part of every art college library for decades. These essays were pivotal to the late twentieth century's institutional critique for their exposure of the heretofore hidden economic, sociological and ideological factors underlying the exhibition and spectatorship of modernist art.
In November 1972, as an emigrant's response to Bloody Sunday in Derry the previous January, O'Doherty changed his artist name to Patrick Ireland at the 'Irish Exhibition of Living Art' in Dublin. Declaring he would hold the name until the British military presence was removed from Northern Ireland and all citizens restored their human rights, this became, chronologically, the first work of performance art in Ireland. After thirty-six years and with the Good Friday Agreement in 1998, an effigy of Patrick Ireland (bearing a mask of O'Doherty's face) was ritualistically buried following a three-day wake, in the grounds of the Irish Museum of Modern Art (IMMA) in 2008. The headstone reads: "Patrick Ireland 1972–2008" with the words "ONE, HERE, NOW" beneath, transcribed into the archaic Celtic language of Ogham.
This Ogham language, which he learned as a schoolboy in Ireland, was introduced to the world of conceptual art by O'Doherty in 1967 in a unique formulation that juxtaposed conceptualism, serialism and language. Remarkably, the structure of Ogham coincided with a growing interest in serialism at the time among conceptual artists like O'Doherty, Mel Bochner and Sol Lewitt. In Ogham, vowels and consonants are reduced to lines at intervals above, below and across a horizontal or vertical, similar to the arrangement of sets of notes in serial music. This was O'Doherty's Rosetta Stone, which, over six decades, has produced an extraordinary array of Ogham drawings, sculptures, wall paintings, easel paintings and plays called 'Structural Plays'. The artist George Segal once referred to O'Doherty/Ireland's work as "the greatest oeuvre of drawings by any post-war American artist." In these works, his verbal culture was reduced to single words with ontological undertones – ONE, HERE, NOW or, even further, to the vowels alone.
As Patrick Ireland, O'Doherty's linear drawings based on the language of Ogham, were taken into three-dimensional space with his signature series of 'Rope Drawing' installations, of which there have been 127 to date. Using space, colour and line, the Rope Drawings deftly overcame many of the criticisms so cogently outlined in Inside the White Cube. Crossing yet another boundary within the arts, O'Doherty became a novelist, his first novel, The Strange Case of Mademoiselle P, winning the Sagittarius Prize in 1993 and his second, The Deposition of Father McGreevy, being shortlisted for the Booker Prize in 2000.
This year will be a significant one for this polymath artist, critic, medical doctor, writer, teacher, arts administrator and filmmaker as he reaches his ninetieth year, with long-overdue celebrations of his distinguished career taking place across Ireland. Events began in April at the Sirius Art Centre in the port town of Cobh in Cork, when a series of recently-restored wall paintings, titled 'One, Here, Now: The Ogham Cycle', was unveiled. Painted by Patrick Ireland when he was artist-in-residence at Sirius in 1996, they were subsequently donated by the artist to the Irish State, a gift accepted by President Mary Robinson. The paintings have lain hidden behind wallpaper in the central luminous space at Sirius until an ambitious restoration project was initiated by Sirius Director, Miranda Driscoll. Originally commissioned by Peter Murray, then Director of the Crawford Gallery, the wall paintings address Irish historical experience through language (Ogham, Irish and English). It is the richest and largest Ogham wall painting of the artist's lengthy career, and one of the few permanent works in existence (two others are in Italy). The launch of this important restoration work coincided with the thirtieth anniversary of Sirius itself, and is accompanied by a year-long programme of talks, specially-commissioned artworks, musical compositions, dance pieces and performances responding to the work.2
A highlight at the opening was a public conversation between Brian O'Doherty and Alanna Heiss, founder of the PS1 gallery in New York (now MoMA PS1), on Saturday 21 April at the Sirius Art Centre. The same evening One, Here, Now: A Sonic Theatre – featuring newly commissioned music by Ann Cleare, developed in response to The Ogham Cycle – was performed at Sirius. The Glucksman at University College Cork is also showing work by O'Doherty/Ireland, as part of the exhibition, 'Double Take: Collection and Context', which opened the same weekend. In addition, the theatre company, Gare St Lazare Ireland, presented Here All Night at the Everyman Theatre on Monday 23 April, a production that includes texts, songs, music and poems appearing in Samuel Beckett's work. Visual elements taken from O'Doherty's installation, Hello, Sam Redux – which was originally exhibited in Dublin Contemporary at the National Gallery in 2011 – have been successfully incorporated into the work since 2016.
Other events in Cork include a celebration of the artist's film career with a three-month screening series, titled 'There is no thing here but much else', that continues until 27 May at Crawford Art Gallery. Included is O'Doherty's film Hopper's Silence (1981), which won the Grand Prix at the Montreal International Festival of Films on Art in 1982. Also showing is the film Inverted Pyramid for Cyclops, in which O'Doherty playfully critiques Patrick Ireland's Rope Drawing #94 installation at the Charles Cowles Gallery, New York, in 1990.
Sé Merry Doyle's film, Lament for Patrick Ireland (2008), was also screened on 6 April following a talk, titled 'Re-Introducing Patrick Ireland: Selves, Semantics, Site-Lines', by Christina Kennedy, Head of Collections at IMMA. In tandem with the tenth anniversary of the Burial of Patrick Ireland (1972–2008) – the subject of Merry Doyle's film – an exhibition curated by Christina Kennedy opened at IMMA on 26 April, entitled 'Brian O'Doherty: Language and Space'. The exhibition, which continues until 16 September, was developed in partnership with Stoney Road Press, with whom O'Doherty has had a long collaboration. Prominent among the works on display are drawings and works on paper, from the Portrait of Marcel Duchamp (1966/2012) to the Rotating Vowels (2017) series. It is the latest evocation of a career-long interest in language, and the Ogham vowels in particular. The most recent series of Doherty's prints with Stoney Road Press are the Structural Plays (1967–70/2018), performative language plays that were unique to the conceptual period. Also on display is video documentation of the piece, Vowel Grid (1970), performed in 1998 in An Grianán Fort, County Donegal. The aforementioned multimedia work, Aspen 5+6, put together by O'Doherty in 1967 as a "conceptual issue", is also included in the show at IMMA.
The New Yorker magazine once described O'Doherty as "one of New York's most treasured artist/intellectuals". It looks as if he is about to reclaimed by his own country in what is already proving to be a fittingly broad and exciting programme of events that will extend into 2019: 'There is no thing here but much else', continues at Crawford Art Gallery until 27 May; 'Double Take: Collection and Context' runs at the Glucksman until 8 July; 'Brian O'Doherty: Language and Space' is showing at IMMA until 16 September; 'ONE HERE NOW: The Brian O'Doherty / Patrick Ireland Project' will be on view at Sirius Arts Centre until April 2019.
Brenda Moore-McCann is the author of O'Doherty's first monograph, Brian O'Doherty/Patrick Ireland: Between Categories, published in 2009. She is currently editing a book of selected letters from O'Doherty from the 1970s to the present day, which will be published by Smith and Brown, London, in September 2018.
Notes
1A heteronym differs from a pseudonym by creating a living biography attached to the assumed name or creative persona. Sigmund Bode, Mary Josephson and William Maginn are other heteronyms of Brian O'Doherty, first revealed in 2002 in the photographic multiple portrait, Five Identities.
2 siriusartcentre.ie/one-here-now
Image credits
Brian O'Doherty, Burial of Patrick Ireland, 2008, Irish Museum of Modern Art; photograph © Fionn McCann Photography
Brian O'Doherty, Rotating Vowels v, 2014, etching, 92 x 73.5 cm; edition of 40; image courtesy the artist and Stoney Road Press
Conservator Don Knox at work on the restoration of Brian O'Doherty/Patrick Ireland's One, Here, Now, Sirius Arts Centre; image by Miranda Driscoll, Sirius Arts Centre