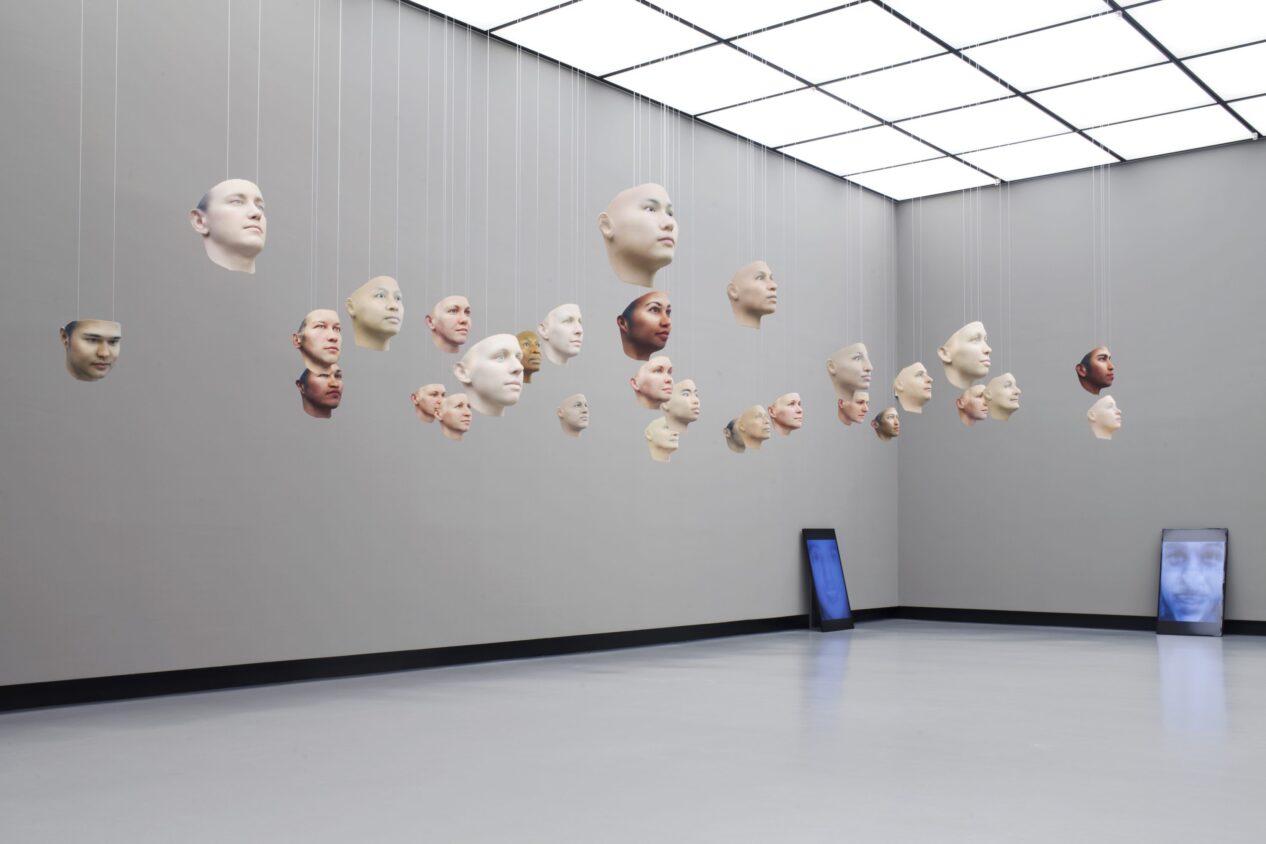 PÁDRAIG SPILLANE REPORTS FROM BERLIN'S TRANSMEDIALE FESTIVAL 2018
Transmediale Festival 2018: 'Face Value' took place from 31 January – 4 February at Haus der Kulturen der Welt, Berlin. Bearing name changes over its thirty years, transmediale continues to examine and advance understandings regarding how societies absorb technologies. This 31st edition employed the familiar blunt phrase 'face value' – the apparent or supposed worth of something – to position multifaceted assessments of relationships with technologies and the influence they have on current cultural and political trajectories.
As stated on the festival's website, transmediale 2018 aimed to "take stock of current affairs, to recognise things for what they are before saying how they could be different".1 The resolve was to look past the surface of the contemporary moment; to look at the abundance of players, agents and processes working to be recognised within the 'face value' of things; to examine where competing gains or attributes are networked and used for further advantage. Key questions asked by the festival included: Why might we think of truth as sitting on the surface of accepted things? Is this a naive presumption? Is truth always readily available? What is happening in contemporaneous destabilising shifts in the media?2
On the marks of coins throughout history, what happens at face value is not so much about truth, but an indication of the power struggles that wish to run through bodies and minds. As queried by Jussi Parikka in his opening remarks for the 'Biased Futures' panel discussion, what ideologies and rationales have been and are being further incorporated into life infrastructures? What 'big data' provocations need to be tackled? How is our habitual technology structured and used for data mining and data modeling predictions? What are the motivations and the possible consequences? It is worth noting that at the time of writing, Cambridge Analytica, a UK-based political consulting firm, is embroiled in an unfolding news story regarding the alleged harvesting of personal data from over 50 million Facebook users, with the aim of influencing the outcome of the 2016 American presidential election.
The strands of the festival – which included an exhibition, conference and video programme, as well as an accompanying journal and online archive – cast illuminations on different and recurrent subjects across the four-day-event and beyond. Over the past few years, we have been made aware of such issues, almost on a daily basis, including: the collection and financialisation of personal data through online devices; the regeneration and engineering of populism; and the disclosed processes that have shared in creating this present moment of unease, distrust and antagonism. On the first full day, there was a sense of deflation within the festival's spaces, weighed down by despondency to these times and perhaps our own unrestrained involvement with 'friendly power'.3 What was unmistakable was a searching for modes of resistance. I may be a self-projectionist here (as that is why I went) but judging by subsequent media reviews of the festival, there was a collective desire to find ways to counter the mood and shifts of the past few years.
The exhibition programme 'Territories of Complicity' took "the free port as the referential starting point to explore how covert systems, technological infrastructures, and zones of exception shape our economic, socio-political realities."4 It was secluded within a rectangular space, baring uniform black floors and walls, akin to stage flooring. This was a temporary adaptation, with a central corridor giving tight spaces for the installation of artworks either side. The exhibition space itself took on a permutation of containment – a visualisation with various contentions.
Zach Blas's ongoing project, 'Contra-Internet' (2014–18), was shown as part of the exhibition, addressing the impacts the internet continues to stimulate. Within the installation – comprising various elements and a projection of his film, Jubilee 2033 (2017) – was a one-off book titled The End of the Internet (As We know It) by Nootropix, the film's contra-sexual, prophetic main character. As stated in the opening pages: "It seems to be easier for us today to imagine the thoroughgoing deterioration of the earth and of nature than the breakdown of the late internet; perhaps that is due to some weakness in our imaginations". It is an interesting thought experiment that as we hear more of the human impact on the world, we can imagine the world gone, but not this system that brings us information. This suggests that the impact and connections of the dominion of the internet on our lives may feel more real or linked to us than our relationships with the physical world. It also shows that what controls the internet can influence perspectives on contemporary reality. The scope of Blas's work is to set up other possibilities regarding the internet, outside of something closed and deterministic that we have today, which is removed from possible historical queer, feminist and other emancipatory modes of online culture.
Focusing on the rare earth element, europium, Lisa Rave's film, Europium (2014), confronted "the transformation of a raw material into a monetary value". This metallic element is extracted from the Bismarck Sea in Papua New Guinea. The florescent properties of europium are harnessed to create luminous flat screens for mobile phones, computer monitors and other pervasive displays. Europium operates by interlinking various types of imagery through anthropology photographs, commercial mock-ups and consumer advertising, creating a timeline that spans the nineteenth-century colonisation of Papua New Guinea, to the present-day sale of technological devices. Rave's sophisticated connections between historical power struggles, spiritism, currency, material hoarding and cultural taboos, seemed effortlessness. The film successfully highlights the power relations occurring in plain sight, with regard to the devices we hold in our hands, as well as the constant upgrading of our everyday infrastructures.
These ideas link with various other aspects of the transmediale programme, most explicitly with the keynote delivered by Françoise Vergès, entitled the 'Politics of Forgetfulness'. Vergès asserted that we are conditioned to forget, in order to maintain current and future narratives of control. She spoke about the concealment of past slavery and bonded labour, and how these were the building blocks of the modern capitalist age. Referencing 'Black Geographies'5, Vergès asserted that in order to develop fresh theories and ways of resistance, we need new histories that will allow us to reconsider space-making and temporal ways of being with each other, outside of current economic and political systems.
The 'guest presentation', 'A Becoming Resemblance' by Heather Dewey-Hagborg and Chelsea Manning, was salient for this year's festival. It comprised two works, Probably Chelsea (2016) and Spurious Memories (2007) and was presented in a light-filled space. Probably Chelsea was created using Manning's DNA material – collected through consensual cheek swab samples and hair clippings during her incarceration – that was posted to Dewey-Hagborg. Using this shared biological information, the artist generated conceivable portraits via genomic identity construction technologies and 3D printing.
At first sight, the resulting installation was unsettling; thirty detached faces with open-eyed static gazes were suspended roughly at head-height. However, an initial unease gave way to wonder through 360-degree examination of the works. These heads (with the possibility of further multitudes) subvert the potential biases within such seemingly dystopian DNA profiling technologies, by playing with the very parameters and template biases in such technologies. From such processes, moments of commonality can be achieved, using genetics to show a level of mutuality that should be reinforced in these times. During a panel discussion called 'Calculating Life', Dewey-Hagborg spoke of her collaboration with Manning. She emphasised the installation as having 'molecular solidarity', aspiring to what Manning calls a "coalition"6 across identity categories, aimed at countering the animosity that such categorisation frequently produces. A basic techno-hack produced a moment of possibility, a hopeful proposal that was warmly welcomed in this year's edition, where the overriding feeling was the recognition of deficit and a teasing apart of why this may be the case.
Pádraig Spillane is a Cork-based visual artist who works with photography, collage and assemblage.
Notes:
12018.transmediale.de/program/text/face-value
2The surface is a site of play and illusion, not where truth and falsity exist, as described by Faisal Devji in his essay, 'Life on the Surface', for the festival publication, archived at transmediale.de/content/life-on-the-surface
3Byung-Chul Han 'Smart Power', Psychopolitics (Croydon: Verso, 2017) p.13-15.
42018.transmediale.de/program/text/territories-of-complicity
5'Black Geographies' offer ways of reexamining black lives and experiences. It considers how human relations are structured through spatial organisation, identity categories, exclusion, disparities and their opposition.
6See Chelsea Manning's interview in PAPER Magazine: papermag.com/we-are-at-the-very-beginning-of-a-new-epoch-chelsea-manning-on-the-lux-1427637348.html
Image credits:
Heather Dewey-Hagborg and Chelsea Manning, A Becoming Resemblance (installation view); photograph Adam Berry, transmediale
Zach Blas, Contra-Internet, 2014–2018; photograph by Luca Girardini, transmediale
Françoise Vergès delivering her keynote 'Politics of Forgetfulness'; photograph by Adam Berry, transmediale