Olivier Cornet Gallery, Dublin
12 September – 6 October 2019
Claire Halpin's exhibition, 'Raw War', is a mystical interpretation of the horror of war. Using miniature retablo-style compositions, Halpin captures the human instinct to contain tragedy within defined boundaries of understanding. In one series, small square panels feature sharply edged circular paintings of disaster on the Mediterranean, as refugees crowd vessels in search of safety. Halpin pins these events within a telescopic lens, referencing surveillance by the military, governments and news media. With startling clarity and expression, she skilfully renders the confusion of people clambering into sinking boats or attempting to swim to other vessels out of the frame, using the tiniest of textured brushstrokes. Halpin exercises restraint with scale to respectfully avoid spectacle; the obscured horizons and glassy blackness of the water powerfully contextualises the hopelessness and terror unfolding. This infinite depth of sea and sky is punctuated with high-viz life jackets, sea splash and confusion. Despite their miniature execution, the intensity of these exquisite paintings expands their impact exponentially.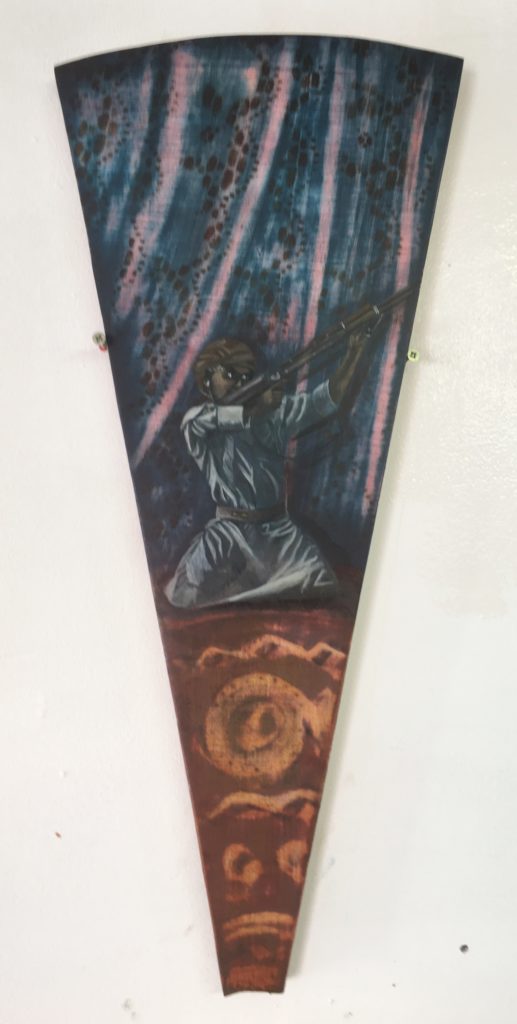 A strange set of paintings are made on panels in the form of pie-shaped segments from a circle. They are lined up in a row of six, each one inset with a painting of a young boy seated on a cushioned or carpeted floor against a curtained backdrop in an alarming jihadi tableau. Some even have weapons. But this is softened by the colourful and patterned staging of ethnic textiles and gentle expressions of the boys. These works have an overt message of the vile normalcy of conflict and its exploitation of children. Such horrors are hidden in plain sight within Halpin's illustrative and folksy depictions of home, family and cultural pride. She avoids sensation by embedding her message into layers of visual subtext.
Included in the exhibition are slightly larger panels in which Halpin brings into focus isolated and distant structures again in miniature scale, set against amorphous apocalyptic environments. One of these, Seed Vault presents a barely visible outline of the Svalbard Global Seed Vault – AKA the 'Doomsday Vault' – emerging out of a cold and misty arctic fog. Halpin could be referencing the first withdrawal of seed deposits in 2015, only two years after having been deposited by the Syrian authorities, an unintended direct consequence of four years of conflict.
Other works present Halpin's stated interest in clandestine and drone surveillance, and unmanned warfare. In Farewell Palmyra a Roman theatre rises up on delicate stilts out of the shadow of a drone, while floodlights sparkle and 4 July bunting streams across the structure. Another boat loaded with desperate souls sits within this festive milieu. Bedford Bedouin morphs a Bedouin tent into a festival marquee, erected on a manicured green lawn that levitates in the night sky as fire and smoke of explosions billow around it. Pop Up Palmyra is another nocturnal desert scene, with discarded military vehicles scattered across the darkened terrain. Light from an unknown source illuminates plumes of dust, as a HIAB crane reinstates ancient ruins destroyed by ISIS.
All three sets of paintings – the circular, pie-shaped and rectangular panels – place the viewer in a covert and safe surveillance point, some distance away. Even though 'Raw War' is a collection of paintings driven by biblical-scale narratives, and Halpin's treatment is that of a detached voyeur, she achieves an intimate one-to-one encounter with human suffering by virtue of sensitive composition, sympathetic figuration and sublimely rendered glazed depths of sea and sky.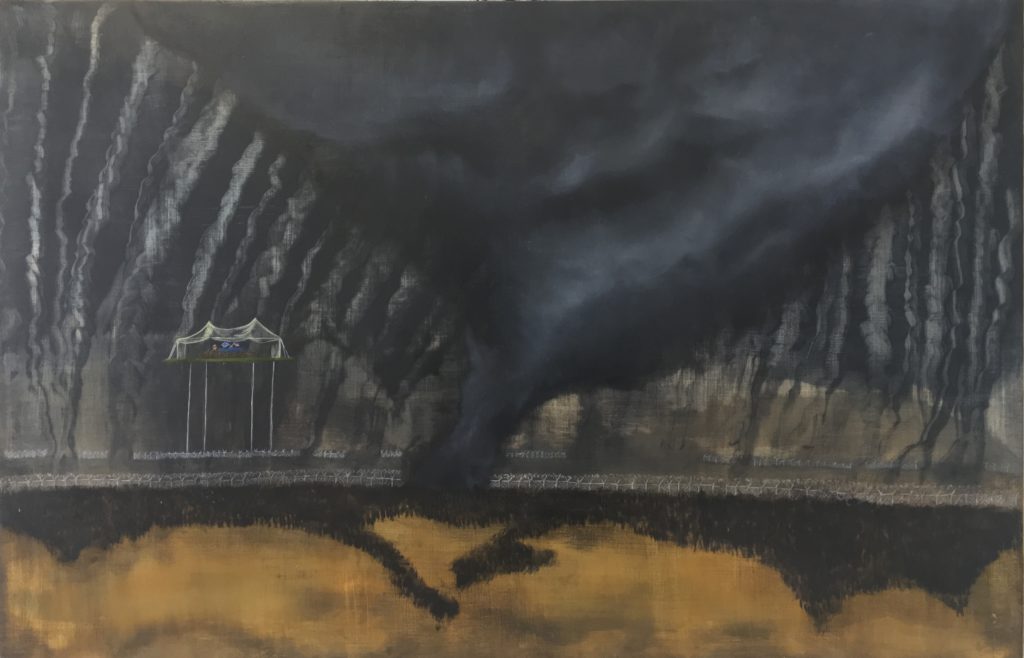 These play homage to the dominant centrepiece of the show, Syrial Serial – a Guernica-style vista, executed across a much larger, elongated landscape panel. Halpin dramatically changes key with an impasto collage of ravaged and burning settlements; crashed public transport vehicles; invading fleets of ancient galleys and modern destroyers; fallen fortifications; a grid of freshly dug graves; market stall displays of missiles; military parades; and tent cities – all laid out across a rolling mountain, sea and desert landscape. Every inch of the painting is loaded with references to war and conflict, from ancient to modern times. In some ways, the other works tell of the 'apocalypse now' – visible across our TV screens and newspapers, but in Syrial Serial the phrase could be 'apocalypse before, now and forever'. Halpin has produced a very fine exhibition that distils and compresses an enormous weight of ideas through the relatively humble act of painting and picture-making.
Carissa Farrell is a writer and curator based in Dublin. 
Feature Image:
Claire Halpin, Raft VIII (Van de Velde), 2019, oil on gesso on board; courtesy the artist and Olivier Cornet Gallery