The LAB Gallery, Dublin
7 February – 16 March 2020
Alan Magee's exhibition, 'Among the dregs of daily toil', could have been perfectly timed to capture the zeitgeist of the recent general election. In a series of highly conceptual works, Magee explores understandings of labour and the handmade, broadly speaking, through the prism of critical theory. Magee creates an allegory for how human intellect and self-identity is tied into the material self – the sustenance of the body and life. Marx understood this as 'species essence', from which individuals have been alienated by modern capitalism's demand for the mass production of useless and meaningless things. Magee presents seven works, as listed on the gallery leaflet – a mix of kinetic and object sculpture, video and printed imagery in a taut and bare display that benefits from an abundance of white space. Magee finds different ways to illustrate the mind-body relationship by creating a visual study of himself making digital and ceramic objects. From one piece to another, ideas overlap to create satisfying linkages.
The first piece encountered is the most poetic work. Subconscious Labour, Conscious Growth is placed in The LAB's vestibule space on a slender square plinth with a sleek glass case. Inside the case a set of seven iron finger-nail castings are casually arranged, as though they are artefacts in a vitrine, a bit like some of the Ór displays at the National Museum of Ireland. These items, however, are pitiful, unsightly and grubby with rust and white corrosion. They carry both the contemporary burden and the historical loss of human endeavour to capitalism.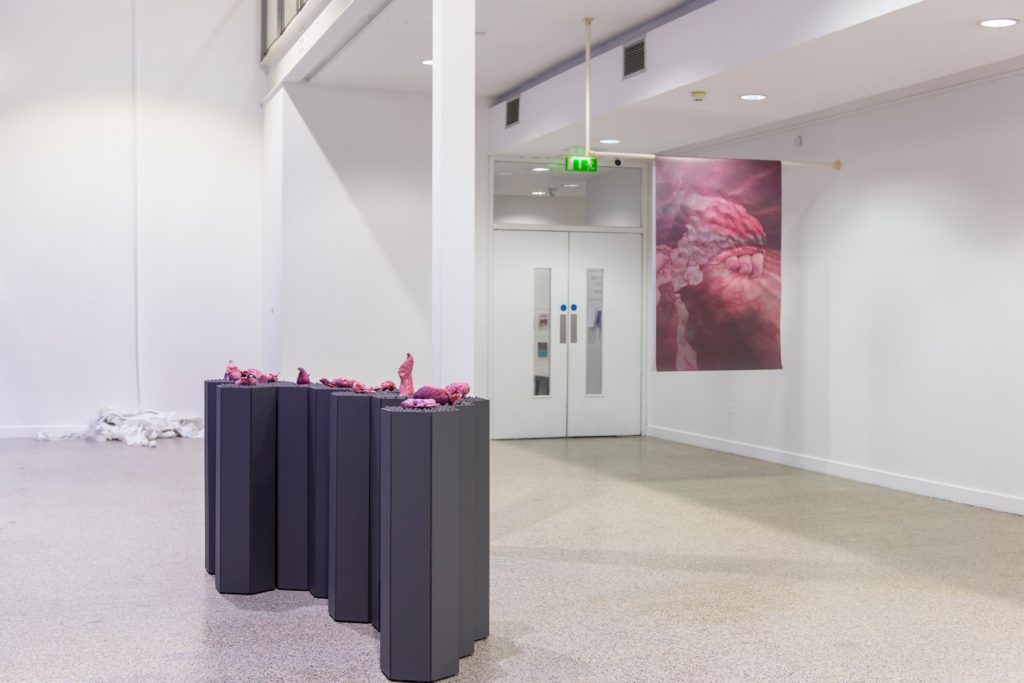 In the main gallery, a large banner hangs over a bar and drops down on two sides, confronting the visitor immediately. Machine Flesh #1 & #8 depicts the veined surface of unidentifiable internal organs through which fingers can be seen pushing and pressing down. To the right of the banners another work, Immaterial Organ Series, comprises 12 slick hexagonal grey plinths laid out in a molecule diagram imitating a trendy tech expo. On each plinth, Magee has placed one crude and gaudy handmade ceramic sculpture of an organ – a liver, kidney, bladder and so on. These vulgar lumps of bright pink glossy matter are, like the fingernail iron castings, at odds with the highly conceptual and technological nature of the other works on show. In the next space a video projection shows Magee forming these ceramic organs while wearing a virtual reality headset with a back projection showing his virtual environment – simply a 3D image of the organ he is trying to blindly approximate in clay. The banner, organs and video triggers an abstract feeling of visceral discomfort – a kind of involuntary gut wrenching that is utterly let down by the elementary appearance of the ceramic objects. Both the iron castings and these three linking works amplify the feeling of disconnection between body and mind.
Hanging on a metal scaffold nearby, a robotic arm flexes and moves from time to time in Celestial Machines (a). Beside it, in Celestial Machines (b), an eleven-minute video documents Magee's complex construction of the robot from tiny component parts. This is the most satisfying work in the exhibition and makes for compulsive viewing. The arm emits murmuring clicks and wooshes with each flex, moving gracefully in a dancing ballet. There is closure in this work, as the product of the intricate and skilled workmanship in the video is evidenced by the robot prototype elegantly demonstrating its range of movement. The two works reinforce the fundamental affirmation of making useful things in an uncomplicated and humble manner.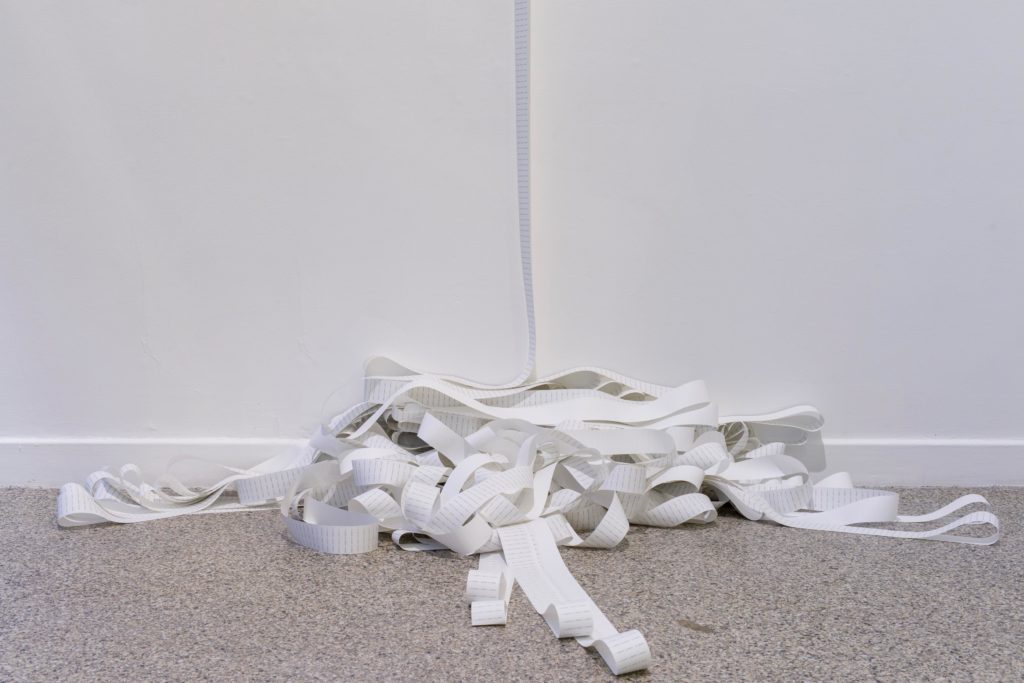 The final work in the show, 1 and 0 paper balls, brings humour to Magee's thesis. A tiny recessed shelf holds two tiny scrunched up paper balls, one of which has been 3D printed in sandstone. Twelve feet above, till roll spews endlessly from an invisible slot, upon which the code required to process the 3D printing is thermally printed. The scrunched-up paper is described in the gallery list as Magee's 'redundancy letter from lecturing post'. While it punctuates the exhibition with a very definitive full stop, there is also a sense that Magee has barely scraped the surface of this humongous human theme. The recent general election, helped in some way by climate action, marks a growing consciousness of how the capitalist economy has impacted the human condition, wellbeing and the environment. Magee pitches an insightful and affecting series of works that is reflective of this awakening.
Carissa Farrell is a writer and curator based in Dublin.
Feature Image: Alan Magee, Celestial Machines (a) (detail), installation view, LAB Gallery, Dublin, photograph by Louis Haugh, courtesy of the artist and The LAB Gallery.