Critique | Anthony Luvera, 'She / Her / Hers / Herself'
Belfast Exposed; 2 February – 18 March 2023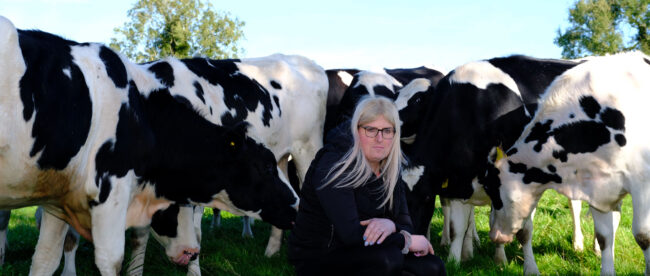 In late 2017, socially engaged artist Anthony Luvera presented 'Let Us Eat Cake' at Belfast Exposed – an exhibition of photographs created by the artist and LGBTQ+ people living across Northern Ireland, which I reviewed at the time. The artist has returned to the gallery this year with 'She / Her / Hers / Herself', presenting more in-depth work on Sarah Wilson, one of the participants in Luvera's previous series. 
Luvera's self-directed portraits of queer people in 2017, against the backdrop of the bigotry of the Democratic Unionist Party's enduring anti LGBTQ+ stance, were intimate yet provocative. This newer body of work continues the humanised provocation of simply existing as a trans person in Northern Ireland, and is a culmination of the continued collaboration between Luvera and Sarah. This exhibition is timely; mainstream news outlets are stoking a moral panic in which trans people are the cultural collateral in the right's attempt to put a wedge in feminist and queer communities. Consequently, this exploration of Sarah's experience as she navigates her evolving identity, has become even more political. 
Griselda Pollock reminds us that we cannot remove our identities from our context: "all socialised subjects participate in socially constructed positions that are endlessly undone by the fundamentally fractured and equivocal nature of subjectivity and sexuality themselves."¹ Pollock offers that the cultural subject is in constant process, and that psychoanalysis is embedded in our understanding of culture and ourselves. Artists often use that knowledge to play with ideas of self-image and desire as a woman. 
On the surface, Luvera's photographs chart Sarah's new life, her personal milestones, her self-awareness, her careful joy in her new way of being, her new job, and her evolution as a beautician. Photographs capture the visible surface and use a range of approaches to hint at something below it. Luvera's approach is dialogical, continually referencing the construction of the image. He often features himself in mirrors, reflections, and backgrounds in deliberative portraits, breaking the fourth wall as a way of negotiating authenticity. The inclusion of images made with Luvera and phone selfies is another strategy the photographer uses to corral deeper reading.
The Luvera-assisted videos are reminiscent of ubiquitous YouTube make-up tutorials. They rely heavily on the contemporary lingua franca of social media, but what do they add? The slow, contemplative speechless moments in the videos are the most intimate of all the works. They allow the process of looking to unfold between us – the image maker, the subject, and the viewer. There's a brightness from the make-up ring light that offers clarity and lucidity; on occasion a subtle smile grows on Sarah's face, as we hear them interacting. These powder-pop coloured films remind me of Rineke Dijkstra's videos of teenagers in nightclubs, The Buzz Club, Liverpool, UK/Mystery World, Zaandam, NL (1996-97), where decontextualised moments are isolated to increase our engagement intensity.
There's an über performativity in some of the other images, collaborations and self-portraits alike, which seem to move us away from Sarah's personhood. Much of the context is abstracted, which feels unlike Luvera's previous work. There's a notable lack of any other people, even hinted at in the background, bar Luvera – not even the occasional blurred co-worker of Sarah to suggest her interpersonal realisation as a new woman beyond the lens or the private domestic sphere. This skips over one of the things that LGBTQ+ survival relies on – the recognition of our interdependence in and outside of our communities. This would be too high an expectation for one portrait, but in a large series of works, it is clearly an editorial decision. 
That said, there are some absolutely stunning images, one reminiscent of a Nan Goldin portrait, depicting Sarah in a car, with the colourful streetlights outlining her profile and hinting at something beyond four walls. The image of the neon makeup palette with Sarah in the mirror is glorious, but also deft and touching, while the window-lit portrait of Sarah in her voile-sleeved black dress gives us Almodóvar heroine-at-a-funeral realness. Then we have Sarah in full 'sofa-burrito' mode, wrapped in her duvet and offering one of the sweeter moments of the series. 
Anthony Luvera has said that he sees this body of work "not only as a representation of one individual's experience of their trans femininity but as a reflection on the way cultural influences can shape and determine the expression of gender and identity more broadly." The intimacy in the five-year journey that Anthony and Sarah have made together and shared with us is insightful, beautiful and tender. The best parts offer contained flickers of trans joy in self-preservation.
Emma Campbell is a Research Associate at Ulster University, working on Reproductive Citizenship with partners in Trinity College Dublin. Emma is a member of the Turner Prize-winning Array Collective and has exhibited in international solo and group shows. Emma is also co-convenor of Alliance for Choice. 
emmacampbell.co.uk
¹ Griselda Pollock, 'What Women Want: Psychoanalysis and Cultural Critique' in Nancy Princenthal (ed.), The Deconstructive Impulse: Women Artists Reconfigure the Signs of Power, 1973 – 1991 (Munich: Prestel Verlag, 2011) p. 74.