Critique | Pigsy, 'Catharsis of Collapse'
Kenmare Butter Market, 2 September – 2 October 2021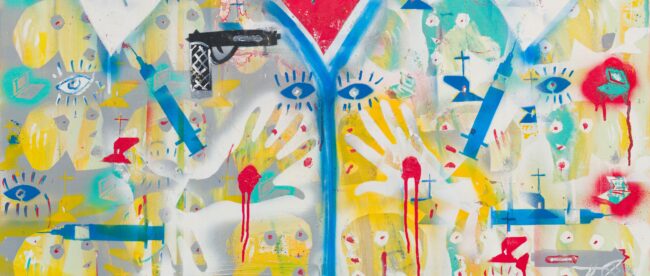 The Kenmare Butter Market is a new contemporary art space in an old building. Having gone through many transformations and commanding a strategic location in the town market square, it has been given a new lease of life. Older generations remember it fondly from the 'ballroom of romance' era, and many of us locals learned Irish dancing there during the 1980s, when it was called 'The Silver Slipper'. It is good to see it reimagined and again becoming a cultural focal point, open to the public to enjoy and explore. On entrance to the Kenmare Butter Market's second exhibition, 'Catharsis of Collapse' by Dublin-based artist Pigsy, one is greeted by a vibrant, expansive collection of paintings in a bright, spacious warehouse setting. 
The exhibition comprises eight large-scale and eleven medium-sized works in mixed media, accompanied by a series of smaller framed sketches; thoughtfully positioned, they command the entire space. To the rear, behind a partition in the 'old stage', are two square canvases and a video projection documenting the artist's process. Printed reproductions of three older paintings – Cyberpunks, Clown SP58 and A Nation of Fools – and one pizza box collage hang near the coffee dock. The collection, 'Catharsis of Collapse', was painted while the artist was on a year-long residency at La Casa Amarilla in Spain. Three of the paintings were completed in Ireland. The theme of the exhibition is a personal journey, told primarily through a series of five large works – 'The Catharsis', and one special painting, They Will Judge, symbolising the 'The Collapse'. In addition, there are three small sculptural assemblages, made from old tins, spray cans and studio detritus, that reveal a sense of humour and playfulness, adding a piquant flavour to the show.
Ciarán McCoy, formerly an architect, paints using the alias 'Pigsy', possibly a tongue-in-cheek allude to Banksy and an hommage to the street art movement. Bold brush strokes, smeared paint and emotionally charged subject matter dominate the work. A variety of mediums are used, including acrylic, oil, spray paint, enamel, and even some more nondescript substances. The paintings are full of symbolism, heads, skulls, hands, outlines of shapes and words which have been overlaid and inscribed into and onto the canvases. They seem to be trying to make and decode meaning simultaneously and there are no quiet moments in these works. Simple forms dominate each composition, while patches of bright colour and lines mark out the subjects. Collage is also a part of the process, with castoff sketches sometimes winding up on a canvas. The artist appears to get lost in the action and somehow tries to dissociate from his conscious self, almost using a process of 'free association' when painting¹.
The work seems most obviously aligned with neo-expressionism, a movement that experienced a collapse of its own during the 1980s. The social and economic value of this movement has been hotly debated. Within the context of postmodernism, it has been heavily criticised for its intense subjectivity, surface-orientated banality and use of pastiche. 'Catharsis of Collapse' therefore seems nostalgic, and it is difficult not to see superficial echoes of Jean-Michel Basquiat in this exhibition. Though largely autobiographical, some political and cultural content has also been referenced, evident in Never Leave and Insatiable Greed for instance, but no particular stance is taken, and the world is simply depicted as it exists, in all its ugliness and harshness.
This world is experiencing huge change and this change is presenting opportunities for new formats to make and manage art and artists. It is a challenging but exciting time. Painting is asserting itself within this context, and its survival ultimately depends upon the production of a continuing stream of important paintings. 'Catharsis of Collapse' makes a brave and bold personal statement, but it does not make any new twists or turns. While this exhibition may not be part of the paradigm shift that is occurring presently, it does feel good to see a show of this magnitude in a small town in rural Ireland. 
Mieke Vanmechelen is a film artist from Kenmare, currently based between Kerry and Dublin.
miekevanmechelen.com
Notes:
¹Free association is a practice in psychoanalytic therapy in which words or images are used to suggest other words or images in a nonlogical way.