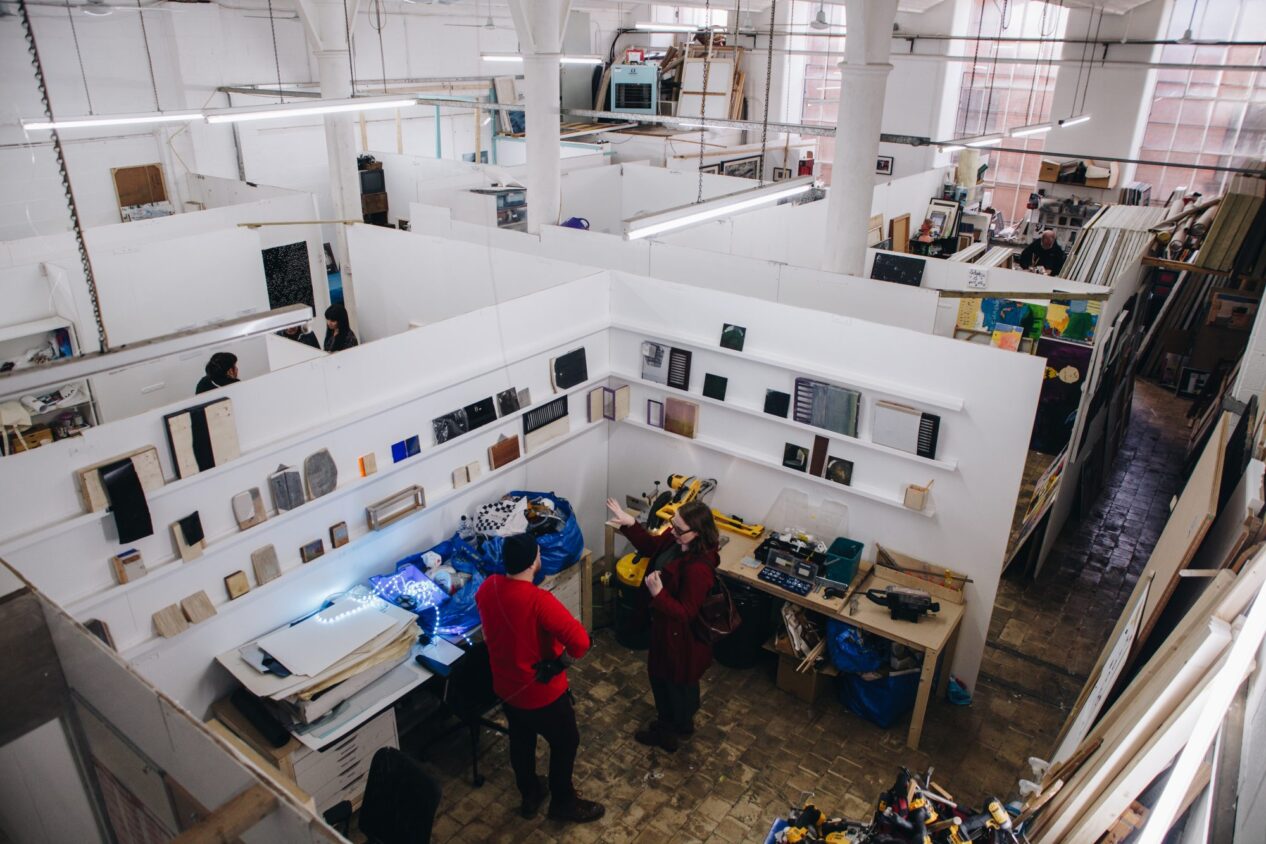 CHRISTOPHER STEENSON DISCUSSES SOME OF THE MAIN CHALLENGES FOR ARTISTS IN SECURING STUDIO SPACES.
The words "artist" and "studio" seem to go hand-in-hand. If you are one, you need one. Workspaces can sometimes be as revered as the artists themselves. Just look at Francis Bacon – his studio was deemed so significant that conservators at Dublin City Gallery The Hugh Lane painstakingly moved its entire contents from its original location in 7 Reece Mews in London. An extreme example, but, as outlined in other articles featured in this issue, studios are an important – if not essential – part of an artist's practice.
Studios aren't just a place for making work. They are also a space for community, networking and learning – important aspects of an artist's practice after leaving art college. Being part of a studio group means that you can stay connected with your peers, learn from one another and collaborate on projects. Reading groups are a common activity and often studio members will band together to put on group exhibitions and other DIY events. More established studios will often have a website where members' work is profiled, offering online visibility. Studio spaces can also be valuable for arranging visits with curators, allowing them to view your making processes and understand how your art will work in a space. However, with current and ongoing challenges in the Irish context – such as funding cuts, rising property prices, a volatile rental market and the negative consequences of urban regeneration – you will more-than-likely encounter a range of obstacles in finding a studio, before you ever set foot inside one.
Space/Time Paradox
If you're a recent graduate, it's quite likely that you're living in rental accommodation. With this comes a distinct set of challenges when trying to make art. Rent is expensive and, at present, is continually rising. In Dublin, people spend an average of 55% of their take-home pay on rent. Renting a studio on top of paying for accommodation can be a major additional expense.
'Option One' is to try and work from home. If you have the luxury of a spare room (or a bedroom bigger than a shoebox), this might be a perfectly sensible solution – especially if your work is small-scale and doesn't require too much space. However, if you work in sculpture, ceramics or some other art form that requires the use of tools, machinery or a lot of floor space, you will need to seek out a dedicated studio. So now you're onto 'Option Two' – renting a studio. Unless your parents invested well in shares – or you've struck gold selling your work – you will probably need a part-time or full-time job, in order to afford a studio. Herein lies a predicament. Whilst spending all your time working to pay for your studio, you may not have a lot of time to actually use it. In this case, it will be important to have a studio with 24-hour access, so that you can fit studio time around your work schedule.
In order to reduce studio costs, you may also consider sharing your space with another artist. It will be important to find someone who works in a way that is sympathetic to your own practice and work schedule. For example, if you're a performance artist, you don't want to suffocate from your studio mate's oil painting fumes, whilst rehearsing your durational performance. You will also have to consider how sharing your studio will reduce the space you have to work with. This factor will become increasingly important as you make and accumulate artworks. Slowly but surely, your studio will become swamped with works from exhibitions past – material ghosts, if you will.
Now you have another predicament – storage. Do you rent a storage space somewhere (which can cost you an extra around €200 a year, depending on your needs and the location) or bite the bullet and donate/destroy/recycle old artworks? Some artists I've talked to have a general rule that unless they can sell an artwork (or reuse it) within a three-year period, they destroy it. Others depend on the generosity of relatives to store older works indefinitely, in spare rooms or garden sheds.
Health and Safety
Beyond the aforementioned issues, it is best practice to find out about the health and safety situation in any prospective studio spaces. A serious problem with artist studios is a lack of central heating or air conditioning. Amidst the unfolding realities of global warming, Ireland's recent weather patterns have become increasingly volatile, with all-year-round dreary conditions shifting towards blisteringly hot summers and bitingly cold winters. You will want a studio that has proper ventilation and some way of regulating the temperature, otherwise it could be unbearable (and technically unsafe) to work in.
Studios with workshops have an obligation to look after their equipment and to train studio members in how to use the equipment safely to avoid injury. Unfortunately, with the financial challenges facing many studios, this can often be a difficult obligation to fulfill. Fire safety is another important factor to bear in mind when viewing different studio spaces. You should try to find out whether buildings conform to regulations. The risk of fire needs little explication. Glasgow School of Art's historic Mackintosh building was engulfed in flames for the second time in four years last June. The first fire was caused by gases emitted from a foam canister used in a student's art project. Closer to home, Outpost Studios in Bray suffered a devastating fire in February, which resulted in the total destruction of their building and the eight studios it housed. A fundraiser for Outpost is planned on 8 September at Mermaid Arts Centre, to help recover the cost of tools and artworks lost in the blaze.
What follows is a brief overview of studio provision in Belfast and Dublin – capital cities facing distinct yet similar problems, in terms of affordable workspaces for artists.
Belfast
Between funding cuts and building insecurity, 2018 has been a tumultuous year for studios in Belfast. The city's oldest studio group, QSS, had their Arts Council of Northern Ireland funding cut completely, threatening the loss of space for 38 artists. However, after an appeal, QSS reported that their funding has been reinstated. QSS have opened a new satellite space in Norwich Union House, which has eight new studios, priced between £60 to £105 per month. However, the lease on their Bedford Street building is nearly up, meaning their main studio and gallery space needs to find a new home by the end of March 2019.
Another studio provider to have their ACNI funding cut was Paragon Studios/Project Space (PS2), threatening the loss of seven studios. A significant grant from the Freelands Foundation allowed the group to survive this blow, and PS2 have since relocated to Spencer House on Royal Avenue, with studios currently under construction.
Other studios in the area include Platform Arts, who have 12 studios spaces ranging from £75–85 per month, with one larger studio costing £140. Platform do not receive ACNI funding, with revenue from their studios being funneled back into the gallery space and exhibition programme. Their building is also rent-free, but with recent trends towards redevelopment of buildings in the city centre, there is the ongoing threat that their building may be repurposed or sold. Other notable studios in the city centre are Flax Art/Orchid Studios, the fourth-floor studios on Queen's Street and the artist-run Lombard Studios.
East Belfast is brimming with studios at present. A significant addition to the studio ecosystem is Vault Artist Studios. Formerly known as the Belfast Bankers (previously situated in a disused Ulster Bank building on the Newtonards Road), this studio group has recently acquired the use of the old Belfast Metropolitan College building on Tower Street. The capacity of this new premises means that the studio group has grown from 30 members to 88, providing space for a range of creatives including visual artists, musicians and writers. Membership with Vault Artist Studios is £20 plus the cost of studio, which varies depending on size and how many people are sharing.
Another studio group, Creative Exchange, provides 12 modern studios. Prices are around £30 per month for a desk space. Despite the promising number of new studios, East Belfast has the fastest growing property prices in Northern Ireland, which could potentially lead to many artists being forced out in the future. Property prices are not rising as quickly in the north or west of the city, so more studios (such as Artists at the Mill) are being  established in these areas. However, with the uncertainties surrounding Brexit, there is a chance that UK property prices could plummet in the coming months and years. Outside of the Northern Ireland capital, Clarendon Studios in Derry and Shore Collective in Lurgan are other significant artist-led studios operating regionally.
Dublin
According to a recent survey by the Economist, it's now more expensive to live in Dublin than it is to live in London. This is attributable to a continuing housing shortage and rising property prices, all of which spells bad news for affordable artist studio in Dublin city centre. Competition is fierce, and you will need to search. MART continues to be the major provider in Dublin, with over 170 studios across the city. Studio rental ranges from €150 to €600 per month, with studio sizes ranging from five to 25 m2. Access hours for all of MART's studios are 7am to 11pm. Even as a relatively successful business, MART are feeling the effects of the property crisis in the city. Their Creative Hub, located on Portobello Harbour, was opened in mid-2017 but will be forced to close in December 2018 because of a planned hotel development in the area. Commenting on the current situation, MART have said that the continuing rise in property prices is making it increasingly difficult for them to maintain a sustainable business model.
Other longstanding studio providers include Pallas Projects/Studios, who have operated studios in 14 premises across the city over the last twenty years, in order to stay one step ahead of the developers. Pallas currently provide studio spaces to 20 artists, with rent starting at €200 per month. Independent Studio Artists Ltd are supported by the Temple Bar Cultural Trust and offer 10 purpose-built studios at €160 a month. Temple Bar Gallery + Studios have 30 spaces. Around 12 new studios are offered each annually. There is also Graduate Studio Award available, with applications in January each year.
In the north of the city, A4 Sounds are another affordable option, offering  'modular' studio memberships. Membership is €75 per month plus options for a private studio desk (€100 per month), private workshop desk (€130 per month) and personal storage (€10–30 per month). Membership also gives access to a discount scheme with a number of businesses in the city, as well as access to studio facilities, including a workshop, darkroom and screen-printing equipment. Ormond Studios, an artist-run studio space on Ormond Quay, currently offers studio membership to eight artists.
As well as the general workspaces mentioned above, there are a few temporary studio spaces that artists can avail of in the city. Since 2012, DIT's 'Summer Studio Initiative' has let artists use their studios from 21 June until 1 September free of charge, along with access to the DIT Library. The only requirement is that artists should be completing a body of work for exhibition, with an open-call usually going out in April each year. Other open calls include Fingal County Council's Loughshinny Boathouse Artists' Studio. This restored boathouse space, located at the edge of Loughshinny Harbour, is a subsidised day studio for artists, that is available for three months to one year. Applications are currently open, with a deadline of Friday 28 September at 4pm. Information for applications can be found via the Fingal Arts Office website (fingalarts.ie).
To save on rent for a studio and accommodation, it is also worth applying for residential studios like Fire Station Artists' Studios. Located on Lower Buckingham Street, FSAS provides access to live/work studios (which cost €411 to €628 per month), sculpture workshops and innovative digital technology such as 3D modelling. Fire Station's International Curators programme means that residents can meet up to ten curators per year. Other residential artists' studios include Residential Spaces, which consist of two properties at Albert Cottages, Hampstead Park, and St Patrick's Lodge, located beside St Patrick's Cathedral in Dublin City Centre. Rent for each property is €700, with WiFi, TV and phone included. Other studios of note in Dublin include Block T, Talbot Gallery and Studios, Tara Building and Steambox (the studio group for the Independent Museum of Contemporary Arts).
Christopher Steenson is Production Editor of the Visual Artists' News Sheet.
Image Credits:
Creative Exchange Studios, Belfast; photograph by Malachy McCrudden
Vault Artist Studios, Belfast;. photograph by Cambell Photography
Tara Building, Dublin; image courtesy of  Zak Milofsky