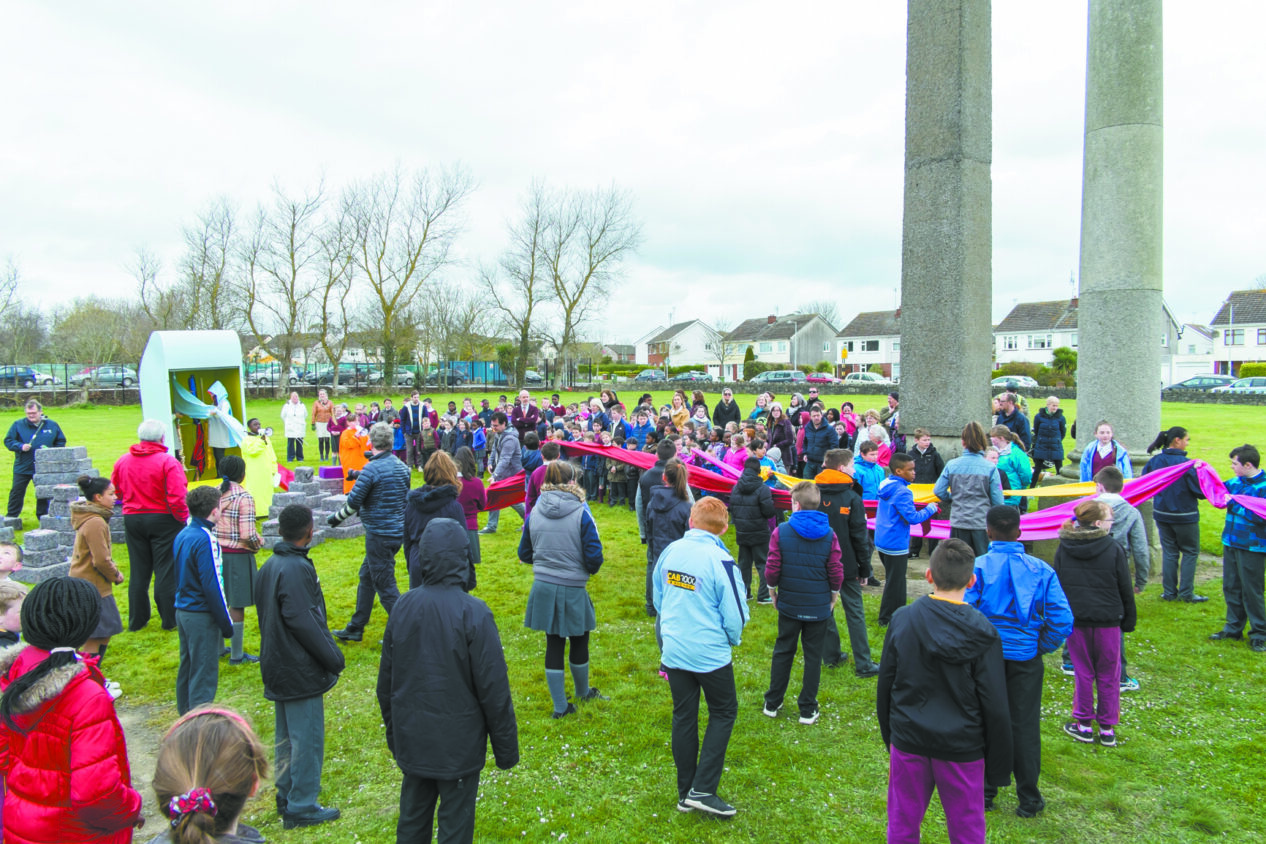 RHONA BYRNE AND YVONNE McGUINNESS SPEAK ABOUT THEIR COLLABORATIVE PUBLIC ART COMMISSION 'MOBILE MONUMENTS'.
Commissioned by Fingal County Council Arts office for their 1916 Commemorative Public Art Commission, 'Mobile Monuments' was produced as part of the 1916 Centenary Programme over a six-month period. The project involved three trikes with mobile sculptures, which turned into performance platforms becoming 'forms in action'. The budget for the project was €35,000 and our proposal was selected through an open call submission with two rounds.
We have been friends for years but were living in different countries. Whenever we met we would eagerly hatch plans for future projects together. In 2015 we were finally living in the same place so decided to respond to the project call out to try and make our ideas a reality. The brief sought proposals that would "Remember, Reflect and Re-imagine" the events leading up to the 1916 Rising in Fingal. Both of our practices involve making, doing, collaboration, performance, participatory processes and public projects that are often catalysts to generate other narratives for participants. Our response to the brief was to try to develop a project that would look to the past but focus on future potential. Our project aims were to explore ideas around trust and collaboration, fast and slow networking, the passing of things and information between people and place, the materialisation of memory and myth, and the creation of social memory. We sought to make work that looked at covert communication and movement of objects, letters, objects etc. which had slowly travelled across the vast area of Fingal and connected different communities.
As our proposal fleshed out we focused on inviting both participants and members of the public to consider two key elements of the 1916 Rising time period: the slow movement of information (in contrast to the instant communication we now have) and the gathering of people around public platforms, ideas and manifestos that had the potential to change the social and political environment – remembering that the activities of the rising and their subsequent outcomes arose simply from ordinary people thinking about extraordinary things.
We had the continued support of Fingal County Council Arts Office Public Art Co-ordinator and Curator Caroline Cowley, who worked closely with us on the project. The 1916 commemorative committee supported connections to community groups and schools. Ideally, this kind of engagement requires an extended period of time to build and develop relationships, but this project happened in a six-month period and was broken up by three seasonal holidays. However, given that there were endless reflective and commemorative projects around 1916, people were aware of the context. This gave us good groundwork and allowed us to question how 1916 was being commemorated throughout our project. Keeping the time constraints in mind, we worked with a select number of groups that represented the different areas of the Fingal jurisdiction. The localities we chose to work in were very much on the outskirts of Fingal. Multiculturalism and the 'new Irish' became of real interest to us, as most of the kids we were working with were not of Irish descent. The students' understanding of the events of 1916 was very nebulous in the sense that they had just been taught the facts.
We set about working with Swords Senior Citizens, Rush ICA, Swords Educate Together, St. Mary's National School, Garristown, St. Catherine's National School, Rush and Castaheany Educate Together. We delivered approximately 20 workshops with about 500 people. These included discussion, writing, performing and making. We wanted the schools and senior groups to collaborate and to form the project through the workshop process, developing the content through making props, working out text, devising performances and ultimately performing in them. Within the workshops we made a concerted effort to connect to the spirit of the rising and the language around it. Words like 'freedom', 'future', 'radical', 'agitate', 'responsibility', 'power' and 'energy' became the backbone of our workshops. We questioned how we could empower and mobilise people to consider the idea of activating social changes locally that could potentially have a wider impact.
In tandem with these workshops we were designing and fabricating the trike sculptures or Moving Monuments. We bought three trikes and stripped them down while we formed a team to help the monuments take shape and become mobile: steel fabricator Matt Fitzsimons (Fingal steel), bike mechanic Gary Sheehan, engineer Peter Brummer and Caroline Cowley all helped us negotiate the complexities of getting these sculptures on the road. How would they behave in bad weather conditions or on different road surfaces? What would they sound like? What load could they carry? And, most importantly for us, how could we make these unidentifiable objects? We started looking at post boxes and electricity boxes around the city. There are so many 'forms with a function' that exist in our built environment but that go unnoticed. Starting with small lumps of clay and scaling up through numerous variations of models and templates we constructed three shapes from aluminium. We wanted them to be light, quiet and to float through the landscape like secrets. The materials we worked with were transit blankets, event carpet, used for movement and gatherings, and satin often used in processions and ceremonies.
We had an endless to-do list that required strategic timetabling: fabricating the monuments, workshops with participants, devising performances, planning events and routes, and creating props. We noticed how well we were working together; somehow our skills matched and or complemented each other. We found ourselves switching roles mid task without even realising. It was a working relationship that was really put under pressure, and naturally there was the odd tense and difficult moment, but we always laughed about it later. Working collaboratively furthers the scope of how far you push an idea and helps with the decision making-process. Having a short and definite timeframe meant that we had to focus, while having Caroline Cowley as a third collaborator kept the process moving. We ended up creating a much more ambitious project than our initial proposal had aimed for, so this stretched our resources and finances to the max. Nonetheless we both seemed to thrive under the pressure and overall had so much fun working on this.
The project culminated over a three-week period when the bikes toured to different destinations around Fingal. We planned three large events that we saw as movements, weaving past, present and future together. The monuments floated like ghosts around the towns and housing estates of Fingal.
We invited Paddy Cahill, who filmed the journeys from his own bespoke bicycle built for filming. The cyclist Vincent Cronin, Michael McKenna, Harry, Charlie and Vincent from Balbriggan and Michael Carol from Skerries cycling initiatives moved the monuments with great stamina around the county. We had fixed assistive motors on the trikes to help with the many hills.
When the Mobile Monuments arrived to their destinations on three consecutive Fridays, they ceremoniously transformed into a platform for performance. Props made by the schools and senior groups were used for each movement. Soft blocks featuring language used around the 1916 Rising that we had developed during the workshops were sewn onto the blocks. These were assembled as monumental structures and placed in each location during the performances as a collective act by the participants, who chanted: "We weave our history. We weave our future". The children carried the banners made by the senior citizens' clubs and read their own visionary proclamations, which were both hopeful and moving. Each event concluded with a performance by rap band The Hash Tags from St. Catherine's Primary School, who came on tour with us and performed at each event. They rapped about contemporary life and their vision for Ireland through a combination of spoken word, hip hop and Irish dancing. We both became performers in the movements in order to direct the timing of the events as we had little rehearsal time. Our costumes were intentionally surreal, as if we had come from an imagined future to invite the audience to re-imagine theirs. We hope that in people's imaginations the Mobile Monuments are still travelling around the world arriving at various destinations, providing a platform for people to gather and give voice to an undiscovered future. Hopefully they are inspiring and mobilising people to change their social and political environment.
Images: Rhona Byrne and Yvonne McGuinness, Mobile Monuments and Moving Monuments; photos by Brian Cregan