Ronnie Hughes & Evgeniya Martirosyan 'Outflow'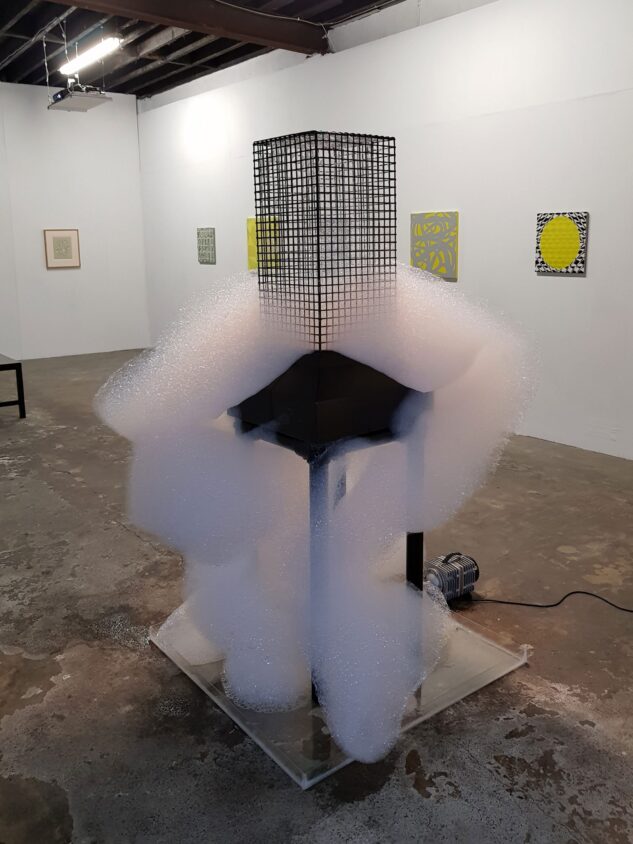 126 Artist-Run Gallery, Galway
16 – 29 July 2018
'Outflow', a two-person show at 126 Artist-Run Gallery, was one of the highlights of this year's contemporary art offerings at the Galway International Arts Festival. It was a thoughtful and considered pairing of two very different artists, curated with sensitivity by Stephan Roche. The intricate, puzzle-like, abstract paintings of Ronnie Hughes were teamed with Evgeniya Martirosyan's sculptural mechanisms and enigmatic film. The two bodies of work both contrasted and complemented each other, each presenting different interpretations on themes of accumulation, pattern and system theories.
Numerous abstract figures and forms populate Hughes's intimately-sized paintings, which draw the viewer in close. I was reminded of childhood colouring sessions and the pleasures of mapping geometries and setting colours against one another. The conundrum in his work lies in the viewer's expectation that these patterns offer a solution to themselves, but like an Escher labyrinth, they end up in contradiction. With humour, Hughes brings our eye on a journey around serpentine paths and linear motifs, but these paths lead nowhere, and his densely-layered designs are confounding. According to Hughes, the "brink of collapse" is the state he hopes to attain in his work. There is a sense of diagrammatic or scientific formulae gone wrong here. In works such as Geolu (2011) and the 'Refraction' series (2017), he plays with striations in space and infinite outlines with different degrees of density. The squared, anti-perspective logic of his forms calls to mind the aesthetic of other Irish painters including Gillian Lawlor, though without the dreamlike sense of discomfort that her work often evokes. Hughes's emphatic calligraphic lines also channel the gestural work of contemporary American painter, Brice Marden.
Working with handmade acrylic co-polymer paints, Hughes generates a milky plasticised veneer over the substrate, which sometimes includes collaged elements. This gives the eerie impression of a surface upon which something lives and obtains its nourishment. Narcissus (2014) exemplifies how his innovative techniques are put to use, with a huge sun-like form floating in condensed three-dimensional space. The viewer is reminded of Icarus, another subject of classical mythology, who perhaps suffered something of Narcissus's complaint, being sucked close to a dangerous vanity.
Meanwhile on the floor, in front of Hughes's paintings, a large apparatus uses another form of suction. The Shape of Emptiness by Evgeniya Martirosyan siphons foam into a precisely constructed steel armature. The flow is mesmeric; slowly changing and evolving, collapsing and reforming again like an algorithmic soufflé. The material accumulations of American sculptor Tara Donovan come to mind, in the intricate and ingenuously simple illusions created by the ethereal dispersion and accretion of frothy bubbles. The title of Martirosyan's piece guides us to understand the enigma at the heart of her work: the material she works with is mutable and unstable; the form is transient; and chaos or transformation is her subject matter. Martirosyan's sculptures feel like intruders in the gallery, functioning like science experiments using repurposed industrial machinery. Another work, Dream Machine, invites viewers to turn a functional handle and watch a viscous syrup ooze inside a glass tube, projecting randomised patterns on the gallery wall. The result is vertiginous and beautiful, mimicking various atmospheric or climatic phenomena occurring in nature.
Martirosyan also presents a video and sound installation that addresses similar concerns to those of Hughes's paintings. Chaos Game plays with the subversion and corruption of patterns and energy fields, but with alternative means. The video shows the ever-changing reproduction of multiple organic cells, as they merge and mutate like incessant rain falling on a slant window. The forms onscreen could also be bacteria in a petri dish. They are animated by a repetitive and fluid sound work that fills the gallery space with sensual and hypnotic vibrations. Hughes's paintings are also bathed in this soundscape, to their advantage. The works of these two distinct artists are juxtaposed to produce a well-composed show. The selection is compatible and complementary, but each artist is thoroughly individual and brings their own mode of reality to the space.
Áine Phillips is a visual artist, writer, curator and academic. 
Image Credits:
Evgeniya Martirosyan, The Shape of Emptiness; image courtesy of 126 Artist-Run Gallery
Ronnie Hughes, Narcissus, 2014, acrylic co-polymer on plywood, 42 x 40 cm; image courtesy the artist