VAI Experiment! Award: An Inspector's Eye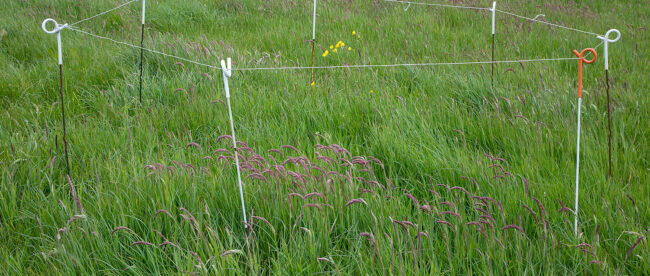 MIRIAM O'CONNOR DISCUSSES HER RESEARCH ACTIVITIES AS PART OF VAI'S 'EXPERIMENT!' AWARD.
In early May, I was announced as recipient of Visual Artists Ireland's Experiment! Award. Devised as part of their 40th anniversary programme, Experiment! is a pilot initiative that provides an alternative form of residency for artists, granting funding to the recipient for time to experiment, research, undertake training or project development. The programme is targeted towards artists who, due to work, family or other commitments, are unable to avail of traditional residency opportunities. Not so long ago, as VAI were developing this initiative, there was no way of knowing that a global pandemic was about to unfold, and that the need for remote residency models would soon come into sharp focus.
Earlier in the year, I had concluded a long-term body of photographic work, 'Tomorrow is Sunday', a project that engages with my return to the family farm, following a bereavement in 2013. At the time of writing, this work is being exhibited at Sirius Arts Centre, Cobh, and a solo presentation will take place at the Ashford Gallery in the Royal Hibernian Academy, Dublin, in Spring, 2021. Despite these key career accomplishments, producing the work had been highly challenging, often curtailed by everyday demands of working on a farm. I frequently felt like the time I could physically attribute to my art practice was compromised.
Unexpected developments, such as a recent farm inspection by the Department of Agriculture, compelled me to begin thinking about new ways in which farming and art practice might endure in a more harmonious fashion. A key directive arising from the Department of Agriculture's inspection requested clearing back an area of marginal land on the farm, which was deemed incompatible with animal grazing. This scenario meant additional work, on top of an already demanding schedule. It was almost the straw that broke the camel's back; yet it acted as an instrumental catalyst for this research. The Experiment! Award thus presented an ideal opportunity for me to test a hypothesis in my proposal, which aimed to position daily farm tasks as artistic endeavours and the farm itself, a site for artist residency. Through acts of farm labour, this research period would foster conditions in which new understandings and approaches to farm work might be activated. Engaging with some of the characteristics and nuances of inspections in a general sense, compulsory tasks would be approached through a different prism, but nonetheless, with a genuine sense of purpose that the job should be accomplished. With such fixations in mind, I was, it seemed, on course to become my own inspector of cattle, fences, fields, ditches and drains.
Over the last number of months, various inspections have been conducted which blurred the boundaries between functionality and absurdity. I began my attempts to reclaim marginal land by using a strimmer, hedge clippers and loppers as tools for art making. Although this arduous task continues, modest progress has been achieved. So far, I have revealed a large rock at risk of being devoured by furze bushes and discovered a riotous looking rose bush, which I intend to propagate by taking stem cuttings later in the year. The idea that this rose bush could take root in other parts of the farm, or in alternative places is particularly appealing. In another study, the purchase of a new lawnmower – a novel tool for mark-making – has unearthed eclectic possibilities. Throughout this research period, I have become interested in animal actions and consequences, and their capacity to work with me in a collaborative sense by using their subtle – and rather useful – interventions of grazing, digging and path-making. With this in mind, another experiment focused on a buttercup, which caught my attention one day in a field of grass about to be grazed. To prevent this flower from being eaten (who ate the art?), I constructed an artificial fence, to see if their relationship to fencing, in a general sense, would act as a deterrent. I spent a number of days inspecting their behaviour – often making unannounced visits to their field. Eventually, they broke through this placebo fencing system, as one afternoon, on a surprise inspection, the flower had gone. This whole process provoked me to reflect on the rotational sensibilities between grass growth and grazing and the idea that this routine activity might be considered as both performative and ephemeral land art.
The tradition and approaches of land art, the vocabulary of agricultural inspections, and having that sense of purpose, remain central themes in this ongoing research. I'm still rather curious about how photography might assume agency of its own, beyond documentary approaches. If the intention is to tease out common ground between farming and art practice, then, what can photography do? Adopting an inspectoral eye in approaching everyday tasks is a one thing. But what should inspectors point their camera at? Is there a visual language best suited to this role? Are there tried and tested ways to distract an inspector who is just trying to get the job done. And so, this research continues…
Over the last number of months, VAI's Experiment! Award has functioned to support this research period and naturally there are many stones still left unturned. By its nature, the concept of experimenting is as much about trial and error, as it is about yielding definitive results. Although conceived in pre-COVID-19 times, this timely initiative communicates that VAI are on the pulse in recognising the challenges faced by many artists in accessing 'off-site' residency opportunities. Correspondingly, the programme questions preconceived ideas of what a residency can be, making way for something more fluid to be imagined. While the vexing conundrum of what to do while on residency might still persist, what we become as artists, or what happens to us while on residency, remains on my mind. Is it possible to replicate those feelings and responses in a setting that is already overfamiliar?
In recent weeks, I have been invited to take part in the Cow House Studios' 'Supported Summer Residency' programme, an initiative which, in the normal run of events, would see me spend a week, along with a number of other artists, at their studios in County Wexford. Rather than turn down this invitation, due to my individual circumstances, I asked Co-Directors, Frank Abruzzese and Rosie O'Gorman, if my residency could be approached in other ways. After some considered exchanges, Frank and Rosie have generously agreed for my residency to take place remotely (inspector in residence!) and that they will visit me on the farm in County Cork in early August. Although still fine-tuning plans for this event, I am currently taking inspiration from Nancy Holt's, Stone Ruin Tours, a performative artwork where small groups of people were taken on a tour of a crumbling garden with stone walls (see holtsmithsonfoundation.org). Presently, it is anticipated that Frank and Rosie's visit will too adopt an inspectoral role. We hope for good weather, robust conversations and exchanges, while welcoming all and any chance encounters or collaborations that might emerge. Following on from their tour, refreshments will be served afterwards against the backdrop of that newly salvaged rock, located on the marginal piece of land deemed unfit for animal grazing.
Miriam O' Connor is an artist, educator and farmer based in Cork.
miriamoconnor.com