Kevin Kavanagh Gallery, Dublin
9 July – 1 August 2020
Gemma Browne's exhibition, 'Queen of the Dusk', comprises 16 small canvasses filled to the brim with frenetic, loudly colourful expressionist painting. Their diminutive size is emphasised by the cool white expanse of the Kevin Kavanagh Gallery. The show consists of a series of staged portraits of women and girls in domestic environments that appear to be set in the early Victorian period. Ornamental decorative arts and fashion from this era provide a rich source of flourishing motifs that Browne maximises in her crowded paintings. Florid baroque patterns are loosely applied to curtains, dresses, wallpaper, furniture and the miniaturised architecture of dollhouses. Every inch of canvas is busy with hastily daubed lines, criss-crosses, diamonds and swirls. Browne's instinct to obsessively cram the picture plane compresses their narrative content in an unsettling way.
Throughout her career, Browne has explored the impossible standards of beauty imposed on women. In previous work she appropriated the classic magazine head cover image with painted images of doll-like women with exaggerated eyes, cheek bones and petite noses. Her reflex to squash the head into a tiny panel with little or no background margin is continued and expanded in 'Queen of the Dusk', resulting in an uneasy sense of confinement. The difference with this work is that the complexity of the images makes each panel appear like a tiny window into a chaotic interior, inhabited by her female subjects. Browne has introduced the location and paraphernalia of women's lives – the home and bedroom, mirrors, clothes, possessions, style – as evidence of conformity. Embedded in the luminous colour and luscious paint of these scenes are multiple enforced boundaries of consciousness and physicality.
Feeling Lovely Today features the reflection of a young woman (or child?) in an oval mirror placed in front of a window. In the tiny margin a set of open curtains frame a view onto greenery. The subject is trussed into an elaborate dress and wears a floral hat that is casting a purplish shadow over her face. Although Browne's handling of the paint and colour palette is soft and very comforting, the dominant mood is one of longing and separation. Browne has previously painted with an edgy and sometimes deliberately careless approach to the craft, but in this she achieves a satisfying balance between those tendencies and a more seductive approach.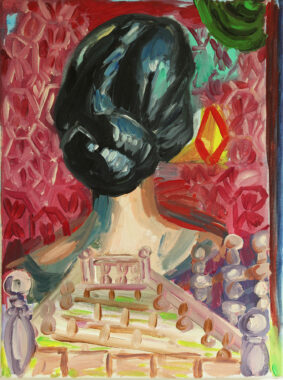 A Mysterious Dress and One of my Many Acts are two works where the subject's face is respectively absent or cut out of a mirrored reflection. In both images a baroque framed mirror tightly fills the canvas. In A Mysterious Dress the garment takes on a life of its own and seeks its reflection in the absence of the subject wearing it; while in One of my Many Acts, the subject's reflection is seen only from the neck down. This playful concealment seems to pass the time for the subject within the mirror, perhaps to the irritation of the viewer, while also seeking relief from being a constant object of desire.
In two other paintings, this spirited disruption vanishes. Meeting the World and She Reigns Supreme have the appearance of formal drawing room portraits. Their features are distilled to emulate the porcelain doll look of the era, modelling the kind of uniformity that ran through Browne's earlier magazine cover paintings. In this enclosed world they become part of the chattels that surround them, while their elaborate hair, clothes and makeup follow a strict regime that allows for little individual identity. As if to emphasise the sense of imprisonment in these paintings, the title of another portrait, Unbreakable, signals a subtle key-change to strength and warmth, reflected in the subject's compassionate expression. Additionally, Browne tames her instinct to sabotage good painting by rendering the work with gentle refinement. In contrast to the sadness of Feeling Lovely Today, the woman depicted in Unbreakable stares out of the painting with resolute agency.
Several paintings feature dollhouses or life-size female figures that resemble actual dolls. This infantilisation of femininity in western society is a well-known phenomenon of disempowerment. Browne's practice has relentlessly tried to disrupt and corrupt the legitimacy of western culture's blasé acceptance of this. These frantic paintings – some sketchy and bare in sections, others seductive and temperate – seem like a cathartic expression of continuing outrage that does have legitimacy. Browne's tendency to casually disregard tastefulness is pitched against her demonstrable facility for very fine painting, which makes her work all the more compelling.
Carissa Farrell is a writer and curator based in Dublin.