Exhibition Profile | EVA 2021: II
GWEN BURLINGTON REVIEWS PHASE TWO OF EVA INTERNATIONAL.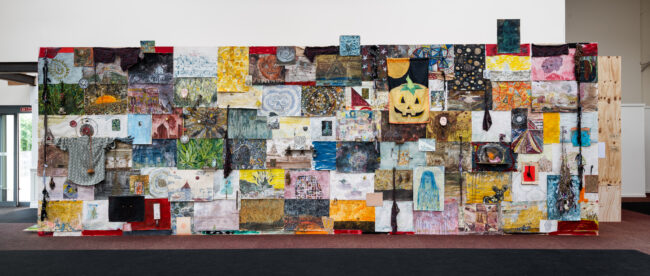 For the second phase of the 39th EVA International, land and its contestation is the ongoing issue in question, admirably maintaining its need for a physical manifestation. Like many other international biennials, EVA typifies the links between local/global relationships in its programming. In this phase, which ran from 2 July to 22 August, EVA constructed an image of an extremely outward-looking nation, with Merve Elveren's curated guest programme, 'Little Did They Know', heavily focused on the reconsideration and reinterpretation of historical knowledge and personal narrative, through mostly archival material.
This is exemplified at Park Point, a large industrial space across the road from a bustling Lidl, on the edge of Limerick City, where the work is strongest. Richard Proffitt's multi-layered, wall-based installation, Time Fades Away (2021), consists of an assortment of paintings on paper, clay sculptures, clothes, jewellery and other ephemera. A pale pink clay face sticks its tongue out; a small white bell hangs from a string; a pumpkin is painted in Proffitt's idiosyncratic style. This is the detritus of a 'personal archive' and as I peer into the psyche of the artist's life, the soundscapes of various video works echo throughout the space. Mario Rizzi's The Little Lantern (2019) plays in a black box nearby, chronicling the work of Danish educator, Anni Kanafani. Sitting in what appears to be her office, Kanafani tells the remarkable story of how she set up kindergartens in Palestinian refugee camps in Lebanon since the 1970s, following the assassination of her husband, Ghassan Kanafani, an influential writer of the Palestinian resistance. These personal accounts are interspersed with clips of the children and their teachers, as well as a theatrical staging of The Little Lantern, a fairytale originally written by Ghassan for his young niece, Lamis, who also died in the car bomb explosion that killed him. Indeed, the emotional heft of these works continues. 
A large multifaceted presentation of the Reconciliation of Blood Feuds Campaign 1990-1991 takes centre stage at Park Point, led by researcher Erëmirë Krasniqi (director of the Kosovo Oral History Initiative). It documents the campaign to end the Blood Feuds in Kosovo at the beginning of the repressive Milošević regime – an era of rival family killings under customary laws that allowed the family of a man whose honour had been offended, the right to kill the person who insulted him, and in turn, allowing the victim's family to likewise avenge their death. This brutal history and the campaign to end it is presented across two screens, comprising oral history in the form of interviews with those affected, along with sometimes contradictory accounts of the public gatherings. A large image, showing two women at a gathering, towers over the space.
Eleven brightly coloured textile works drape over wooden stands, the products of felting workshops held over two years by Hana Miletić – an endeavour in community building and an ode to the traditional 'handwork' of the artist's upbringing in former Yugoslavia. Their bright colours and tactile nature offset Deirdre O'Mahony's Erratics (1995-6), a series of large paintings on unstretched canvas, suspended from the ceiling in a banner-like configuration in the far corner of the room. Speaking to an earthier nature, these elongated shapes, filled with lines depicting a creviced and cracked landscape, are the traced shadows of large boulders on Mullaghmore mountain, located in the 'contested landscape' of the Burren National Park, County Clare. 
Backgrounded by the historical violence of the surrounding work, Aykan Safoğlu's essay film, ziyaret visit (2019), feels like a reprieve, exhibited in a constructed black box, and is the most meditative of the video works at this location. Crossing the boundaries of documentary and portraiture, it tells the story of a visit to Alter Sankt-Matthäus-Kirchhof, a cemetery in West Berlin, through scanned polaroid photographs of the artist's friend, Gülşen Aktaş. At the beginning, Safoğlu states: "This is a film about why I couldn't take photographs for some time." It is a homage to their friendship but also explores a lineage of queer and class struggles through the processes of photography, narrated by the artist's soothing voice and subtle sounds of a scanner.
At Sailor's Home, Betsy Damon Archive: Keepers of the Waters is artfully exhibited across a hallway space. Video footage of the water activism movement (founded in America in 1991) is displayed on an old TV monitor in the stairwell, alongside archival photographs of various events and public performances that took place in Chengdu (Sichuan) in 1995, and Lhasa (Tibet Autonomous Region) in 1996. Diego Bruno's video installation, Cut, 2021, almost incomprehensibly details a 1996 uprising of Cutral Có and Plaza Huíncul in Argentine Patagonia. It effectively demonstrates its intentions to investigate "the capacity and shortcomings of the moving image to account for a popular insurrection". At 51 minutes long, it tests one's patience to sit through a fragmentary, shaky, foreign, non-linear narrative in full.
As expected, a broader sense of fragmentation is acute across this iteration of EVA, which was reconfigured in three phases out of necessity, to be presented episodically over the course of a year. As well as encountering various sites of engagement in this phase – including the in-situ exhibitions, publications, 'Little Did They Know' subsite, and postal projects – viewers also have the opportunity to experience some residual works from phase one, including Aine McBride's sculptural intervention, and/or land, 2020, which functions as an accessible ramp and handrail at the entrance to Sailor's Home. It is therefore difficult to be sure whether one has taken in the programme as a whole, and to what extent the three distinct phases might contain autonomous or overlapping strands. The wide-ranging works, both online and within the exhibition venues, although hard to take in at once are rigorously researched and considered with deep sensitivity. Admittedly, with the foregrounding of so many international conflicts – including the geopolitical histories of Kosovo, Patagonia, former Yugoslavia, Syria, Lebanon and China – it is difficult to get a sense of Ireland's political contexts or landscapes in this phase. However, this decentralised lens, coupled with the archival curatorial model, serves to reflect timely critical concerns within contemporary art, linked to displacement, the experiences of minorities and, crucially, the subjective power the archive exercises over official memory.
Gwen Burlington is a writer based between Wexford and London.