THOMAS POOL INTERVIEWS LAURA CALLAGHAN ABOUT 'APOCALYPSE CHOW', HER IMMERSIVE EXHIBITION AT HEN'S TEETH THAT FEATURED A SERIES OF DINNERS CELEBRATING A FEAST AT THE END OF THE WORLD.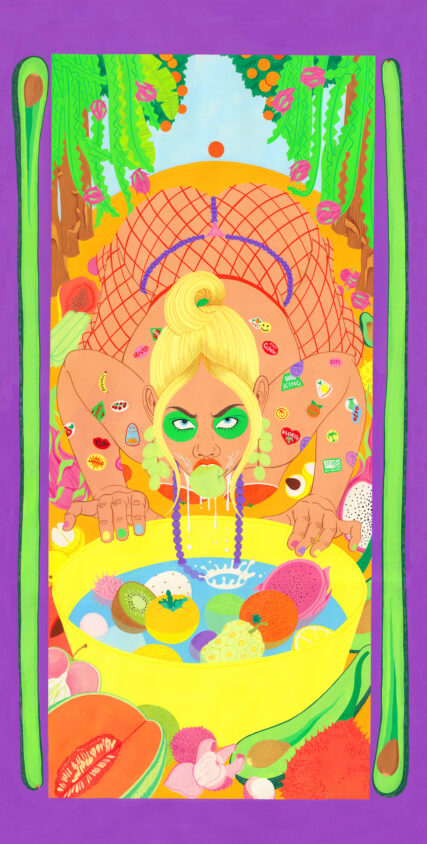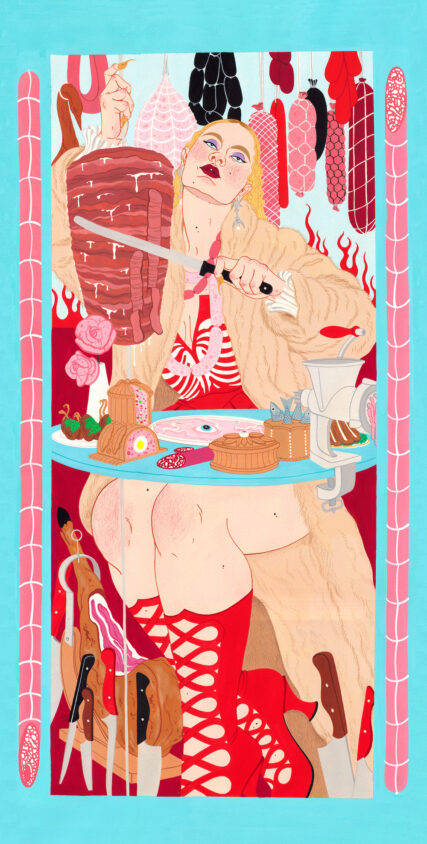 Thomas Pool: What is your background and training, and how would you describe your practice and your ethos as an artist?
Laura Callaghan: I originally studied Visual Communications at NCAD, but after a few work placements in my final year, I didn't feel like a graphic design studio job was the best fit for me. I had always found a way to incorporate illustration into my design work, and it was the area I was really passionate about, so once I graduated from NCAD, I went on to study for a one-year MA in Illustration at Kingston University, London. I wanted the opportunity to build out my portfolio and learn a bit more about the industry, and I've been lucky enough to be kept in work as an illustrator for the past 13 years.
My personal practice has always been an important part of what I do; it has given me the opportunity to put my own ideas and opinions to paper and to explore painted media in a way that client work wouldn't allow. I consider myself an illustrator first and foremost; that is my visual language, but I divide my time pretty evenly between client projects and personal work. One feeds the other and it keeps things interesting for me. My personal work is painted in watercolour and gouache; colour, detail and pattern are important elements that add to the narrative of the piece. I like to think the work is part fashion illustration and part satire – bright and beautiful images that cultivate a sense of unease and hopefully humour.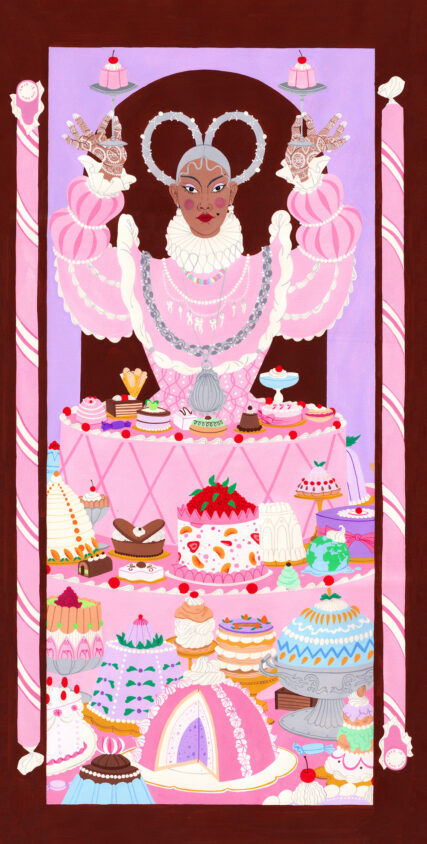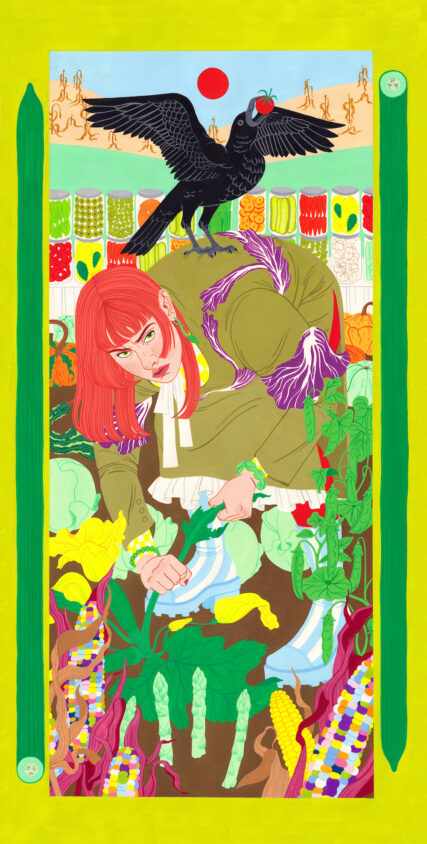 TP: Your latest project, 'Apocalypse Chow' (15 to 20 September 2023 at Hen's Teeth, Dublin) was inspired by a list from the Middle Ages, the Fifteen Signs Before Doomsday. Can you tell us a bit more about this?
LC: So many recent events have been reminiscent of the classic markers of the apocalypse – plagues and pestilence, natural disaster and war. Throw in late-stage capitalism, the ever-increasing cost of living, and technology invading every facet of our lives, and it is hard not to feel like we are living through End Times.
My work has always been rooted in reality, so it is hard to avoid making work that is oppressively pessimistic in tone. I wanted to explore the idea of doomsday but in an over-the-top, colourful, almost celebratory way. The exhibition was a tongue-in-cheek celebration of 'the end', a lavish feast reminiscent of the ecstasy and freedom of Bacchanalia to herald the Apocalypse. The centrepiece of the exhibition was a banquet table. My aim was for every element of the tableware to be custom designed – illustrated crockery, a custom tablecloth, screen printed by Lily Bailie, custom cutlery, and laser-cut coasters. Seachtó floristry provided a beautiful floral centrepiece that captured the feel of the show.
When researching the pieces, I drew inspiration from the Fifteen Signs Before Doomsday, a text popularised in the Middle Ages which chronicles the bizarre events that will occur a fortnight before the end of the world – 'The waters burn from east to west', 'Plants and Trees fill with dew and blood' – standard end of days fare! The pieces in the exhibition represented an alternative, tongue-in-cheek list of signs signalling the end – some fantastical, some comical, some connected to the reality we are experiencing today. I wanted the tone of the show to be fun, darkly comic, and a little surreal, and for the space to have a sumptuous feel that the viewer would feel enveloped in.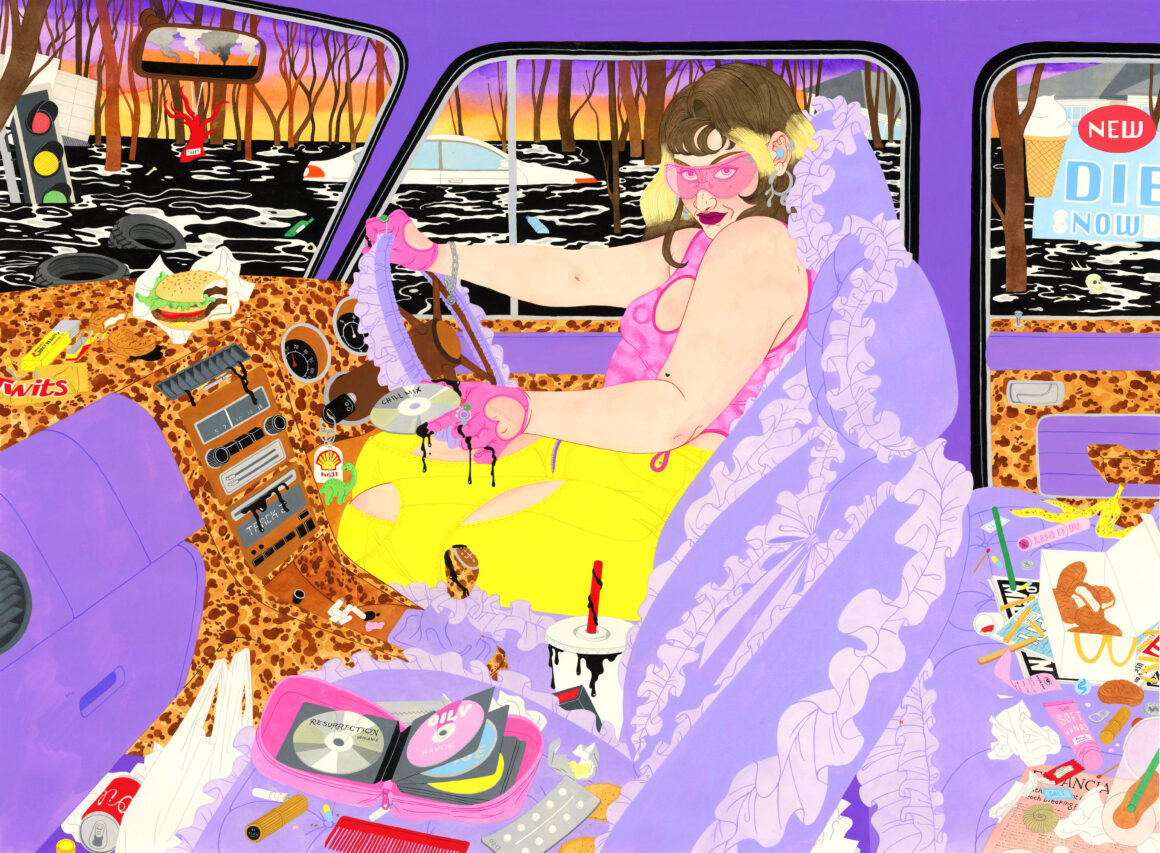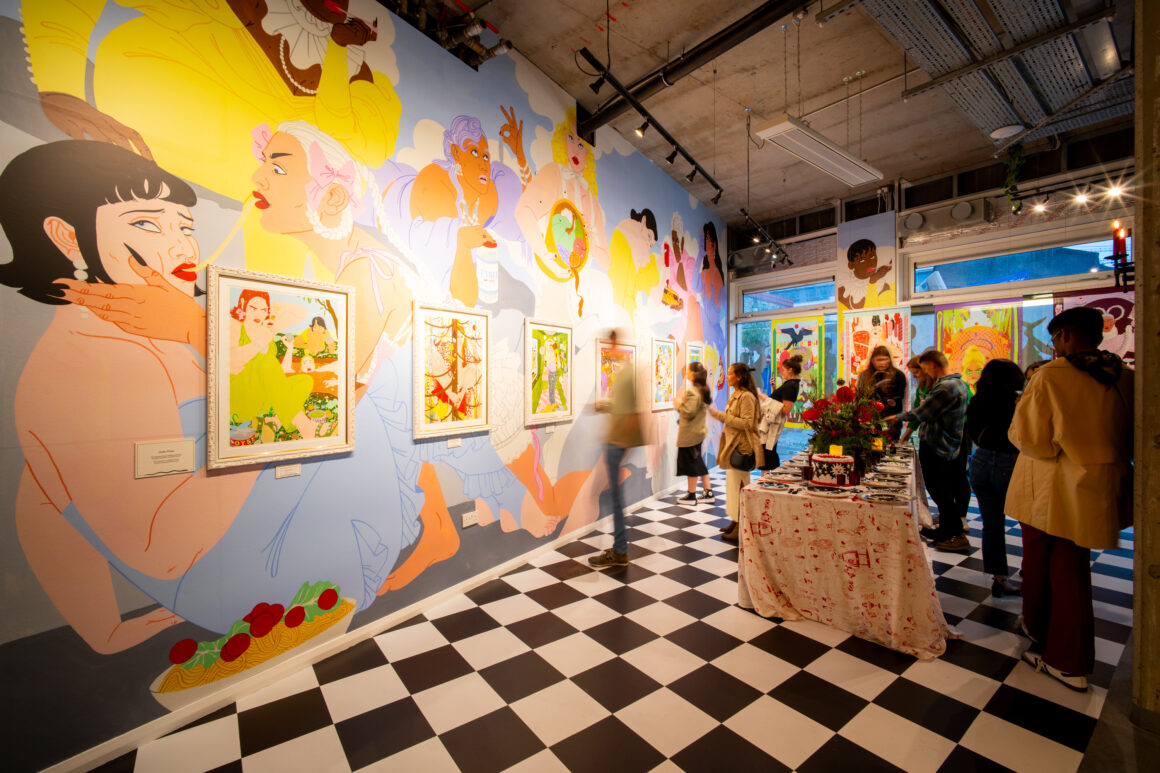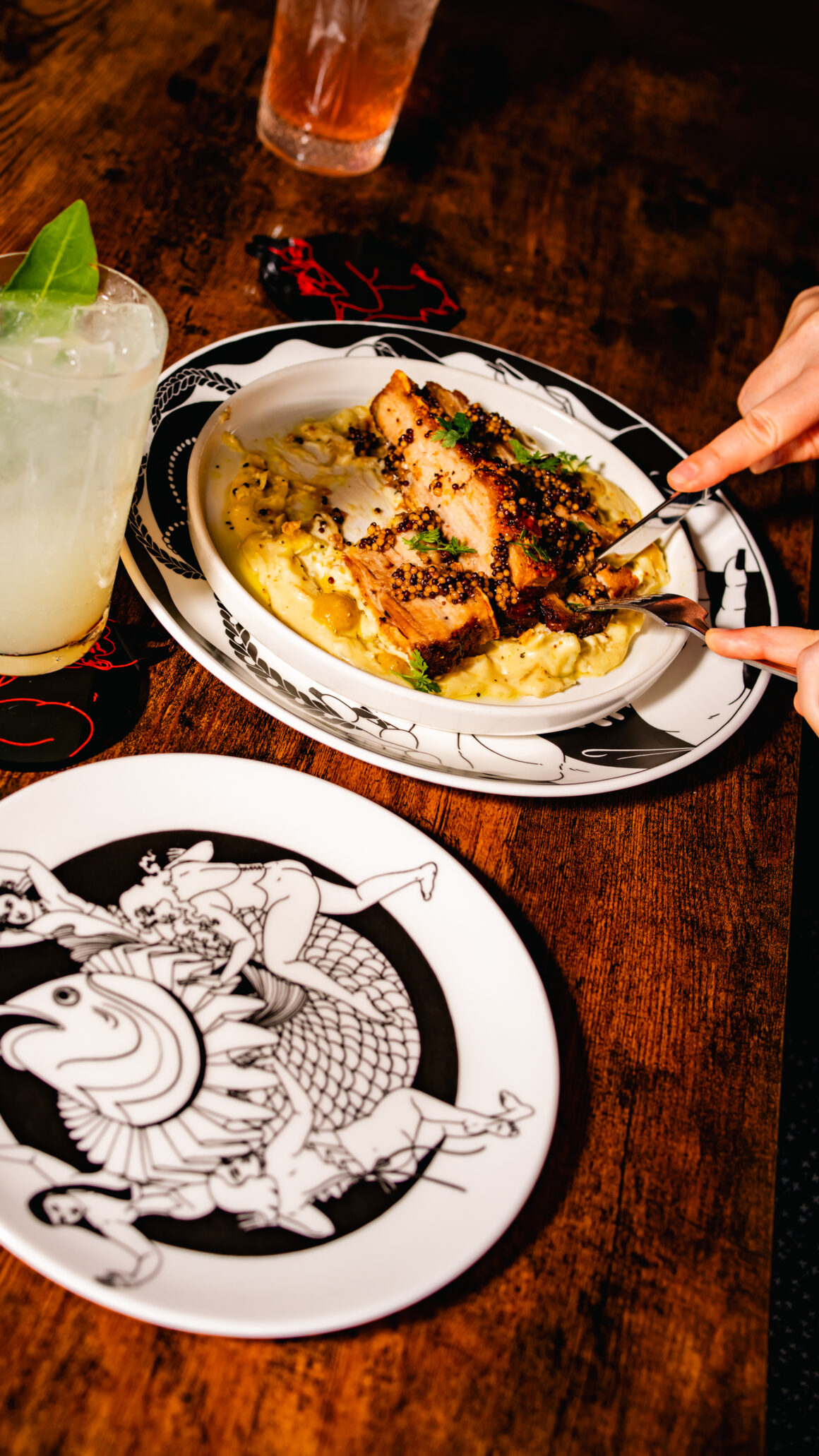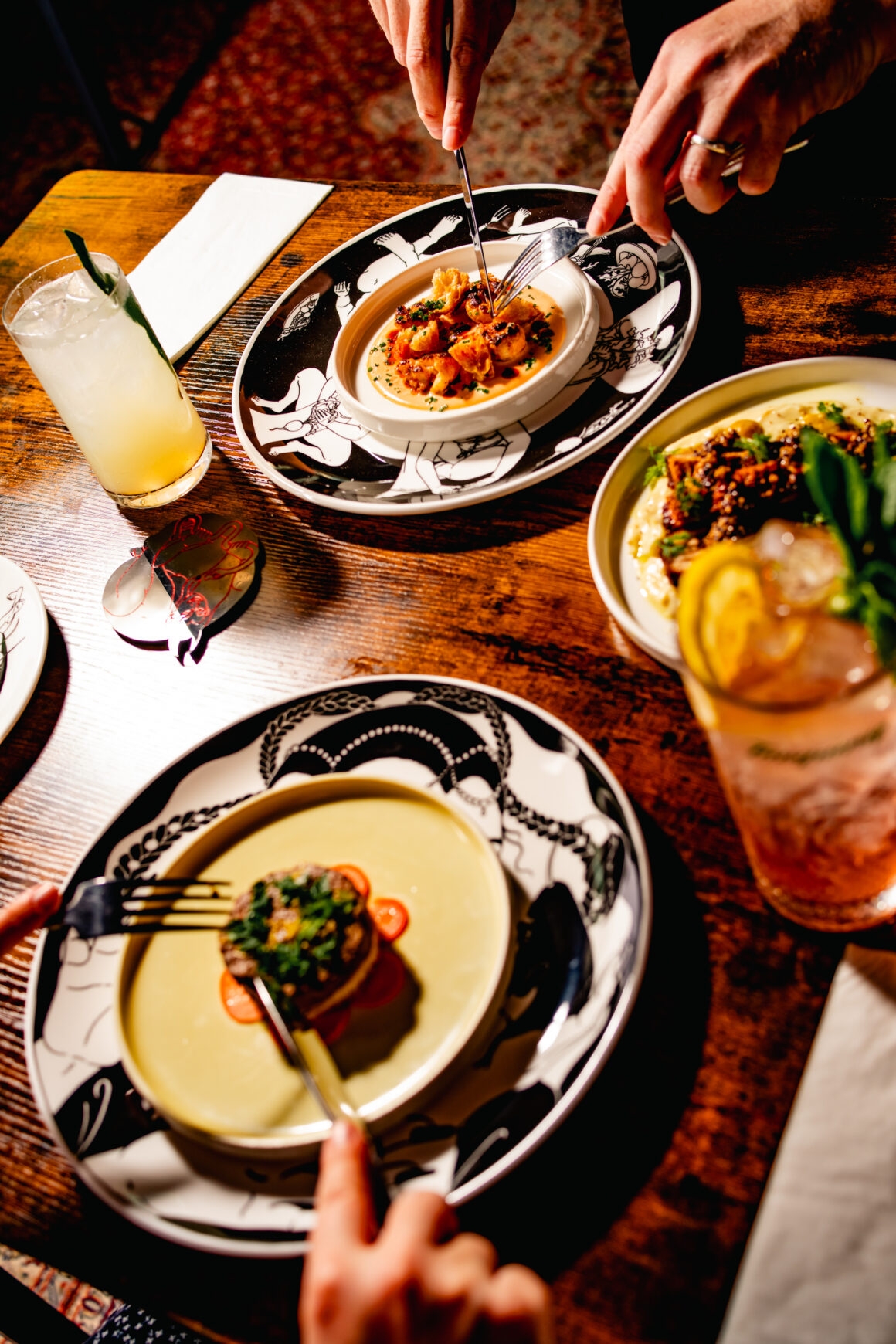 TP: You describe the works in 'Apocalypse Chow' as a convergence of nihilism and food to embrace Bacchanalia before the apocalypse. With the pandemic, acceleration of global warming, and ever-present warfare, do you feel that our hour of doom is imminent? And if so, should we be embracing Bacchanalia while we still can?
LC: Yes, it's an intensely scary, depressing time to be alive. Just this autumn we've witnessed the catastrophic pollution at Lough Neagh and the UK government approving the development of a new oil field off the coast of Shetland. Every day brings new horrors, so I think we should all be getting by in whatever way we can. Hopefully some of that can be productive direct action, but if the bacchanal brings comfort, then why not!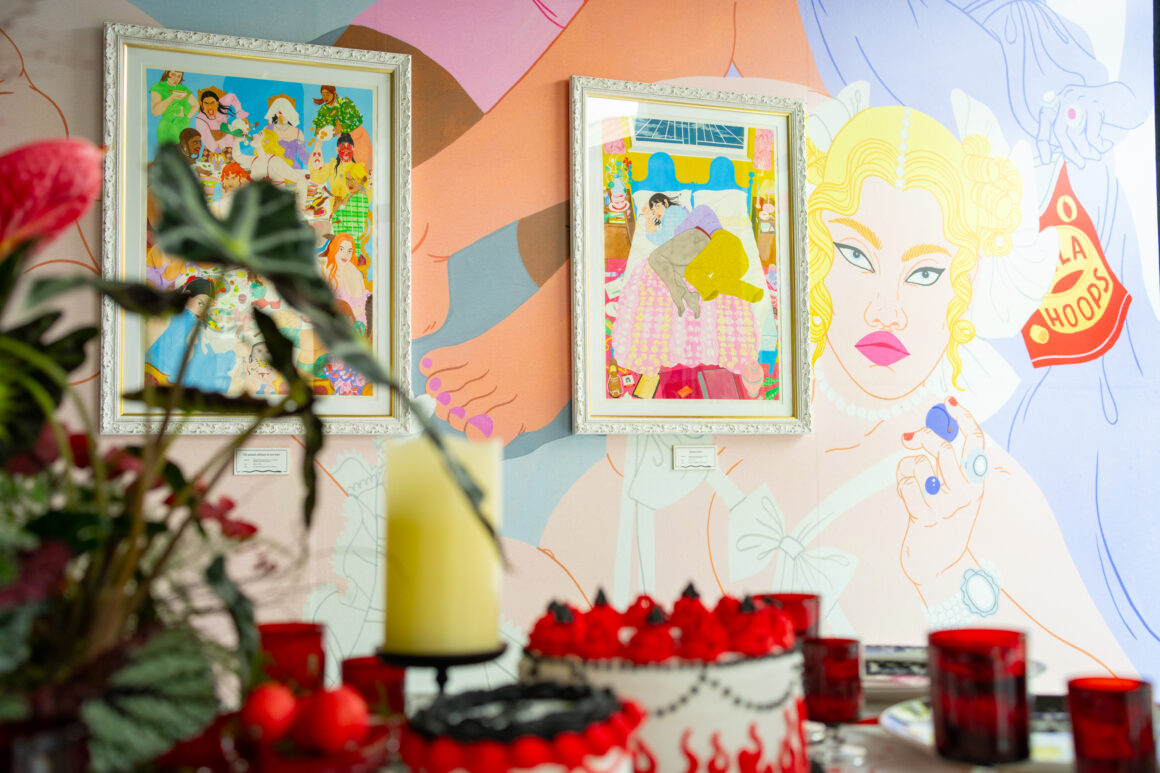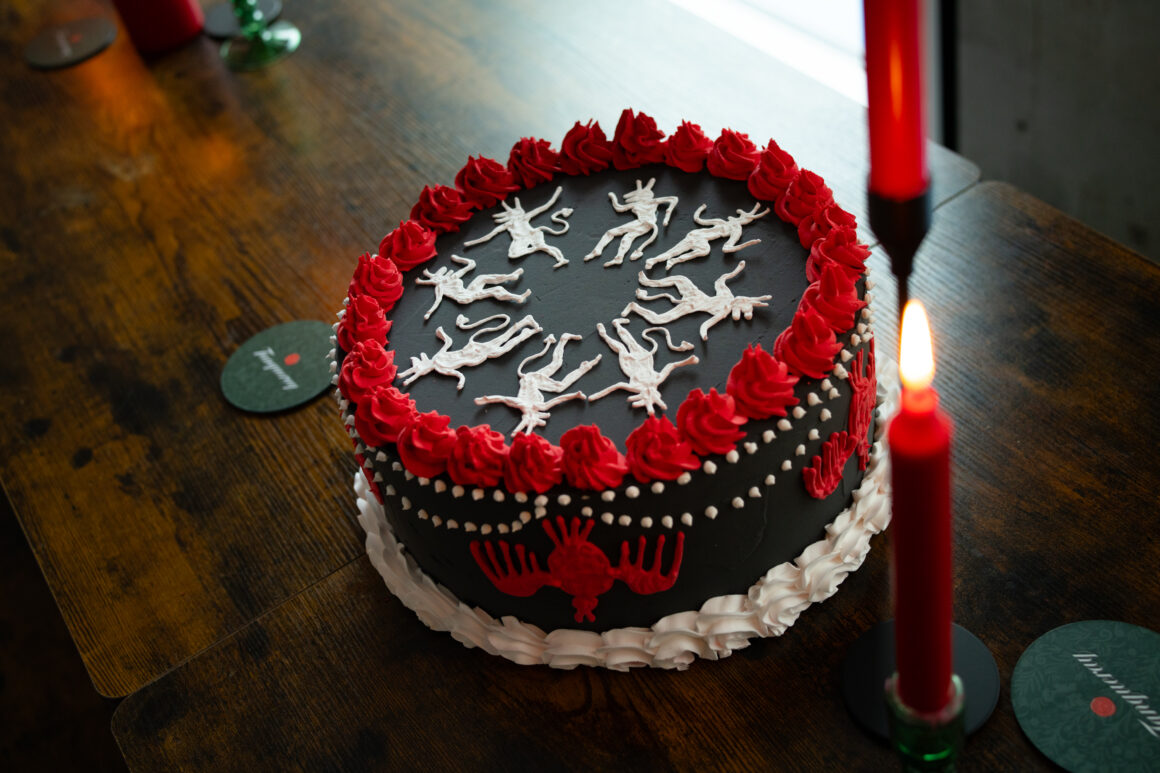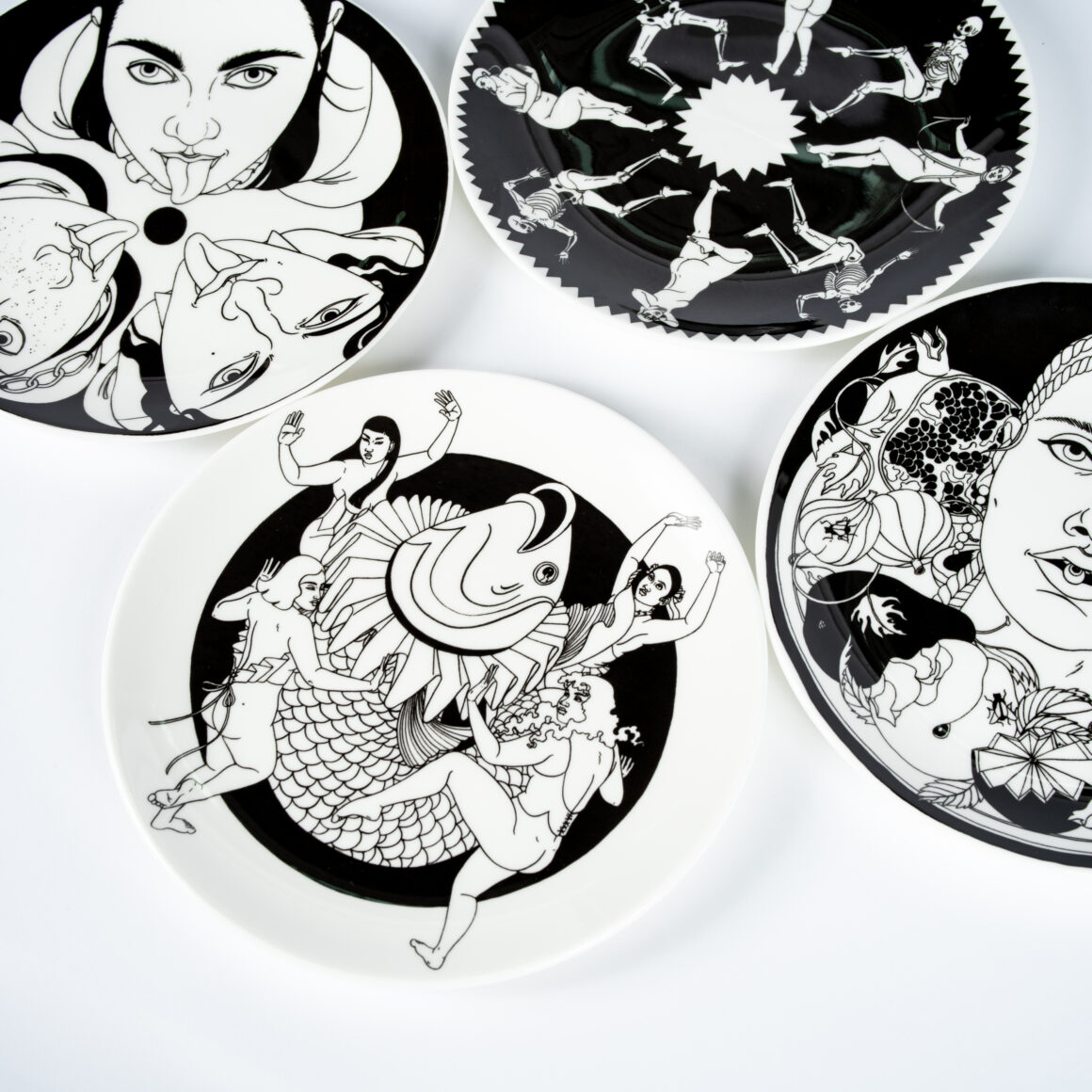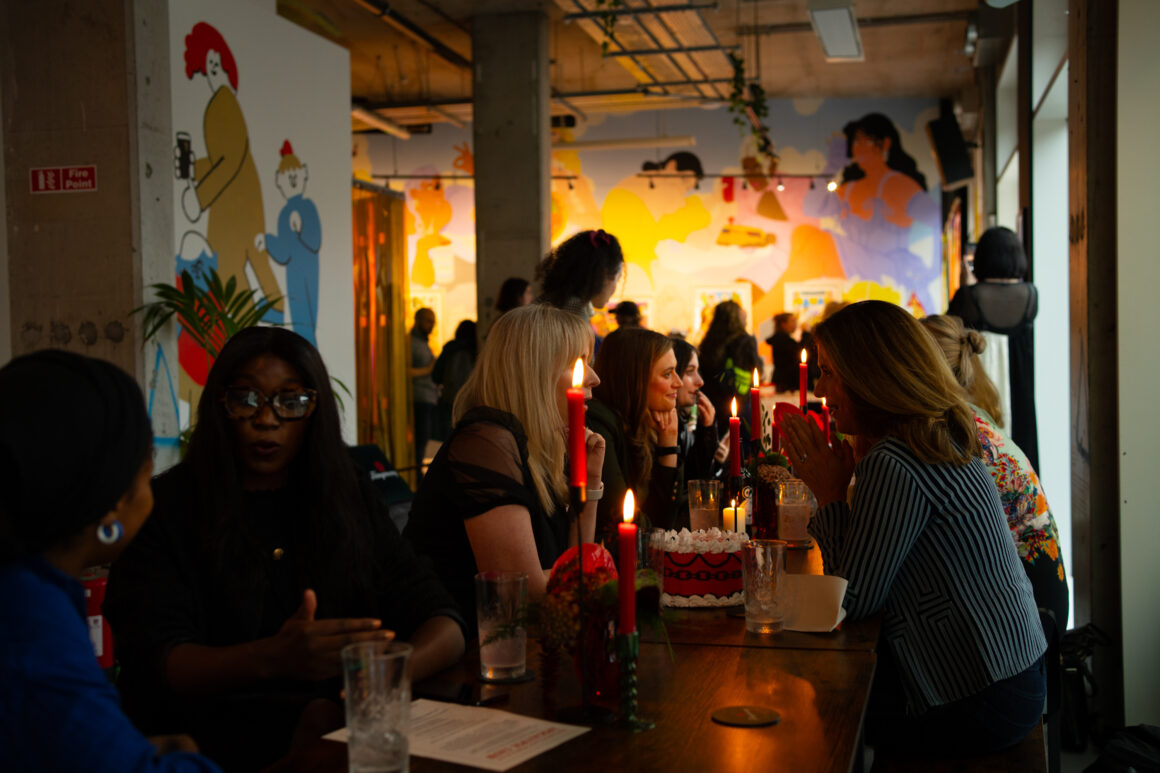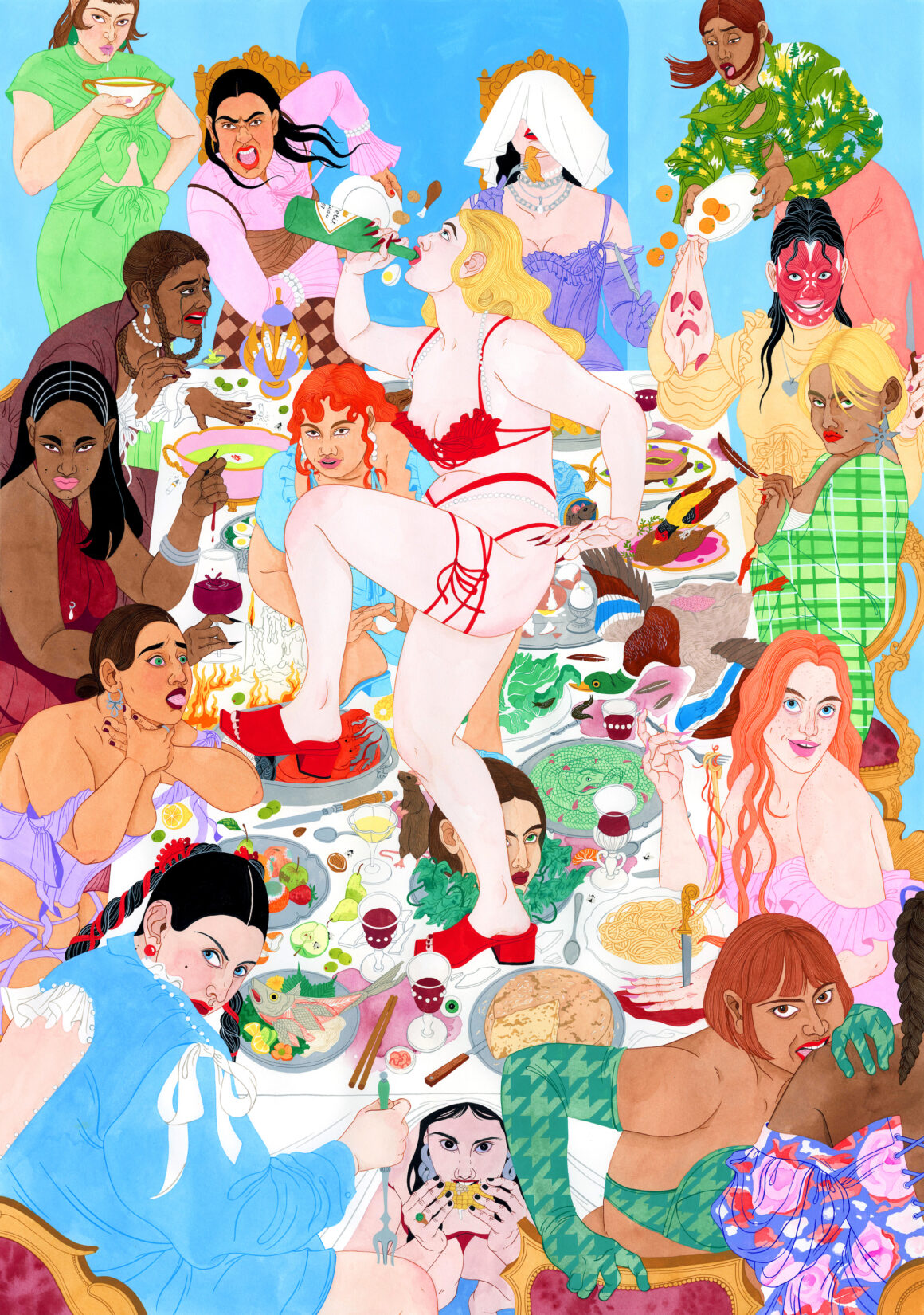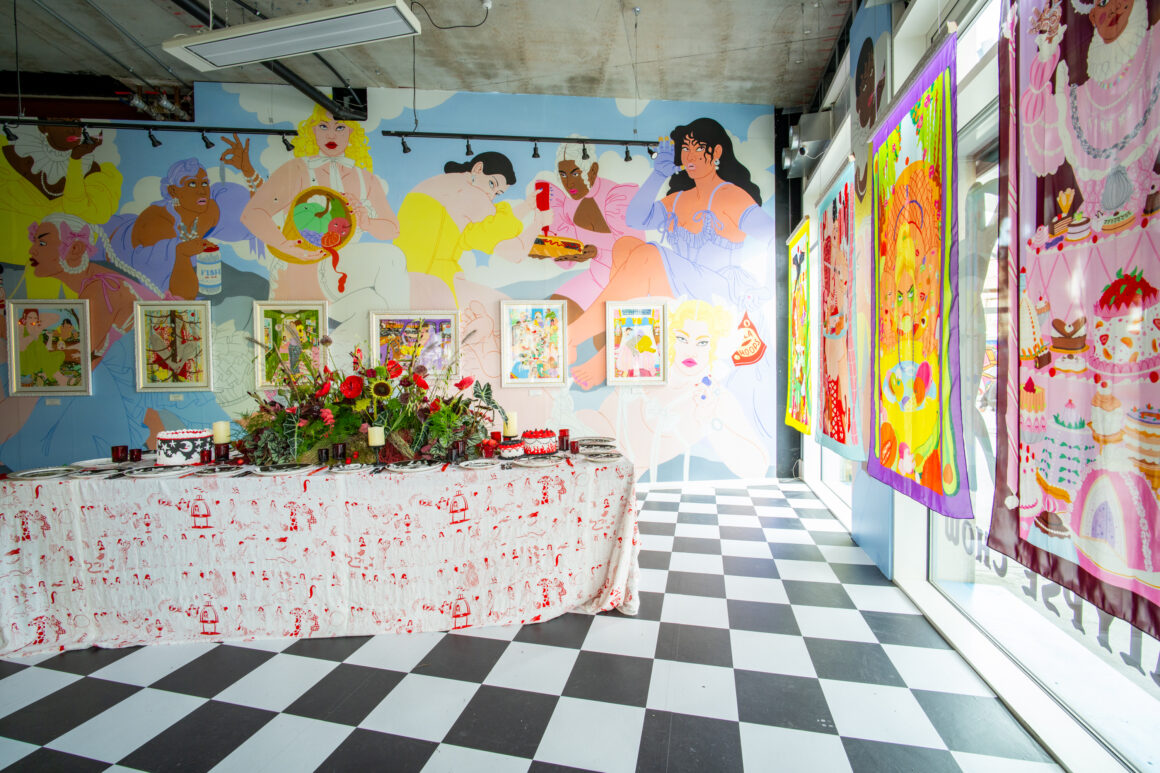 TP: Can you discuss why it was important that food was used as a medium in your exhibition, and whether this has been informed by any cultural or ritualistic traditions or experiences?
LC: Food is my second passion. I spend a lot of time cooking – it is meditative for me in the same way painting can be, so I was excited to find a way to incorporate it into a new body of work. Along with being infinitely visually interesting, food can function as a narrative tool in my work in much the same way as clothing and pattern does. A dish of ortolan can represent excess and our self-interest at the expense of others; a wad of discarded chewing gum (a petroleum by-product) on a passenger seat can speak to our relationship with fossil fuels. The whole exhibition was based around the banquet table. Originally, the show was to take place in October of last year, so I was considering Samhain when planning out the table, honouring the tradition of setting a place for the visiting dead and laying out offerings of food and drink.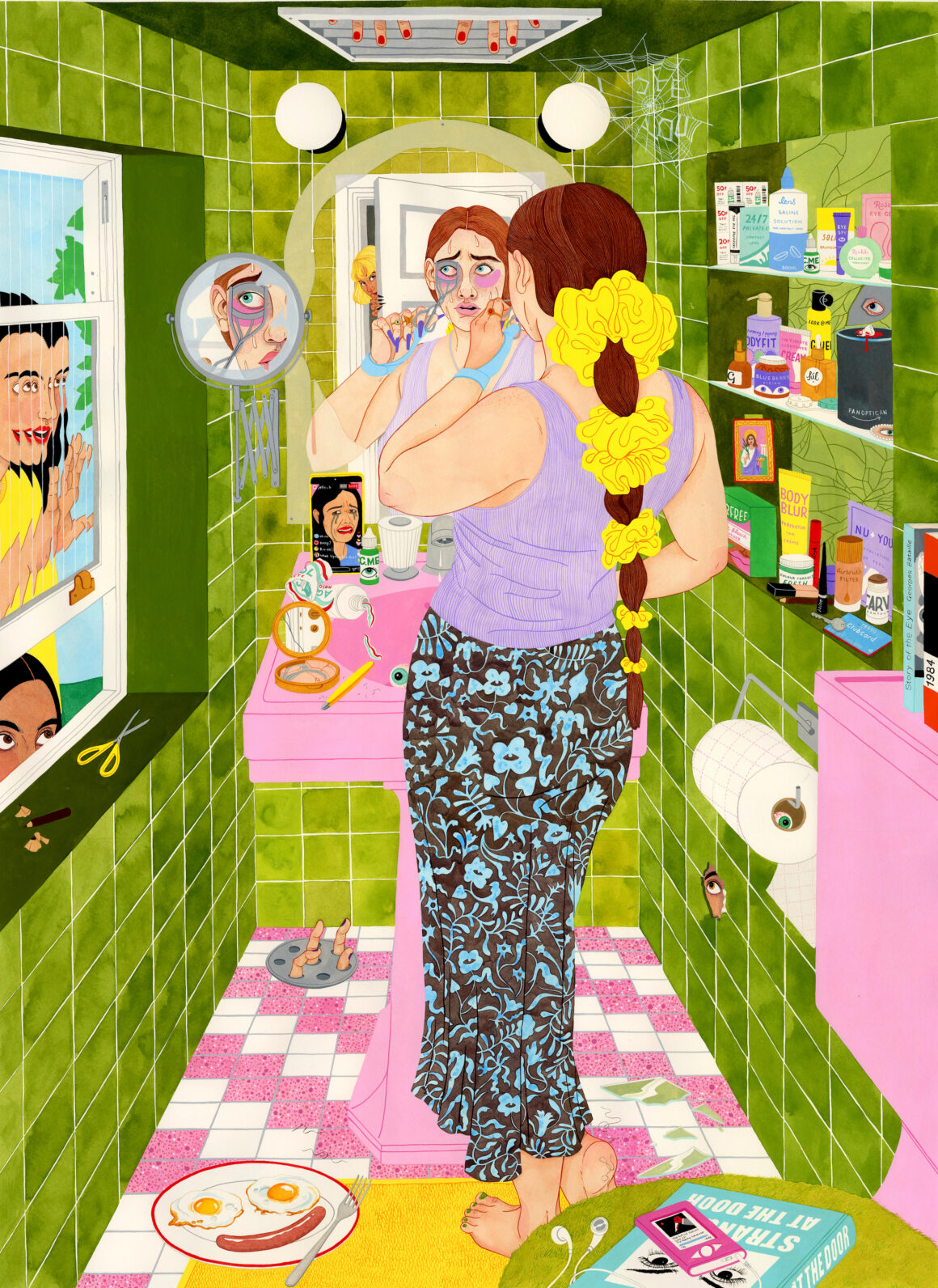 TP: Lastly, what's next, for you as an artist?
LC: I tend to work in cycles, so half the year is spent on personal work and the other half on client projects. I'm focusing on client work for the remainder of the year, but ideas for my next series of personal pieces will hopefully be percolating in the background! I really enjoyed creating the tableware for this last exhibition and would love to make some more functional pieces. As much as painting will always be my first love, there is something very satisfying about making an object that is beautiful and useful.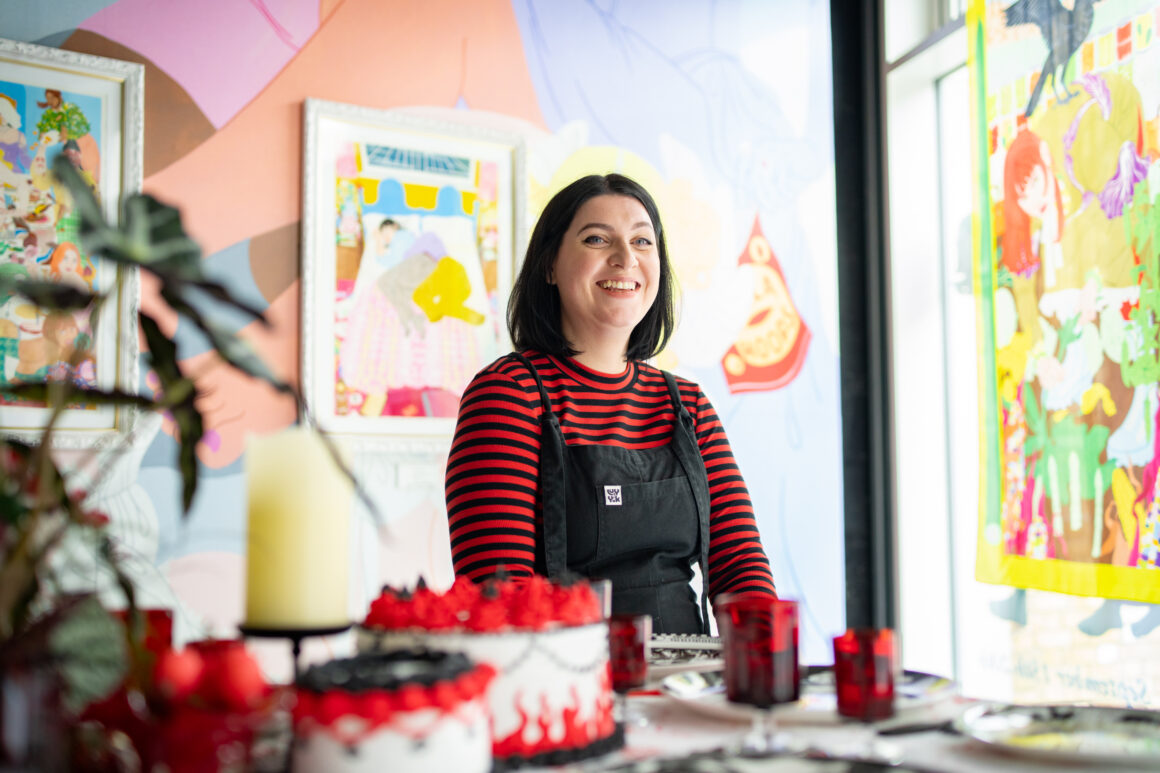 Laura Callaghan is an Irish artist based in Belfast, her latest exhibition, 'Apocalypse Chow' was on display at Hen's Teeth Studios from 15 to 20 September 2023.