Gallery of Photography / National Photographic Archive, Dublin
21 June – 1 September 2019 / 21 June – 2 November 2019
'A Modern Eye: Helen Hooker O'Malley's Ireland' begins with a striking display of wanderlust, inquisitiveness and enviable means. An adventurous artist, born into a wealthy American family, Helen Hooker began her life-long habit of itinerant practice from a young age. Among the early shots, which document people in Mongolia, Japan, Korea and China, is the avant-garde painter Pavel Filonov, with whom she was training in Russia, taken in 1924, when she was in her early twenties. Amidst the artist's trove of photographs – which she donated to the National Library of Ireland – the curation emphasises a salient connection with the modernist aesthetic. Spare, muscular aspects of rural and ancient Ireland are the dominant type, in a show which accommodates many other threads, of a more anecdotal nature.
As a sculptor, these subjects seem to have attracted Hooker O'Malley. Fully aware of the acceptance of photography as a fine art discipline – she met the prominent modernist photographer, Paul Strand, in 1933 – the medium had an auxiliary role within her multidisciplinary practice. As a procedure for framing what is seen, it mediated her dynamic curiosity and urge to capture. Baldly preoccupied with their subjects, there is a connection between her photography of the late 1930s and the influence of the smartphone on contemporary experience. More than a precursor to reflection or display, the very process of establishing a shot augments perception with a new way of attending to phenomena.
Fairy hills, carved bog lands, Neolithic tombs: these subjects themselves register sculptural qualities and are powerfully evocative of time. Hooker O'Malley saw in them – and in the wider horizon of the natural world – something transcendent and mystical. In her poem of 1975, Edward Weston, Photographer, she writes: "those who study reverently/ Observing nature, it marks them all, as creviced rocks by sea". The first-floor atrium space of the Gallery of Photography features multiple large, black-and-white monoliths, stone walls and tiered, rolling land, flush together in repetitive, framed conjunctions. This prompts consideration of these subjects and their unquestioned value in relation to the visual language which is founded upon them. Alloyed to a modernist formalism, forceful, harmonious and uncluttered, the artist's apparent inspiration, found in land and ancient culture, yields a visual rhetoric of vigorous but elusive spirituality.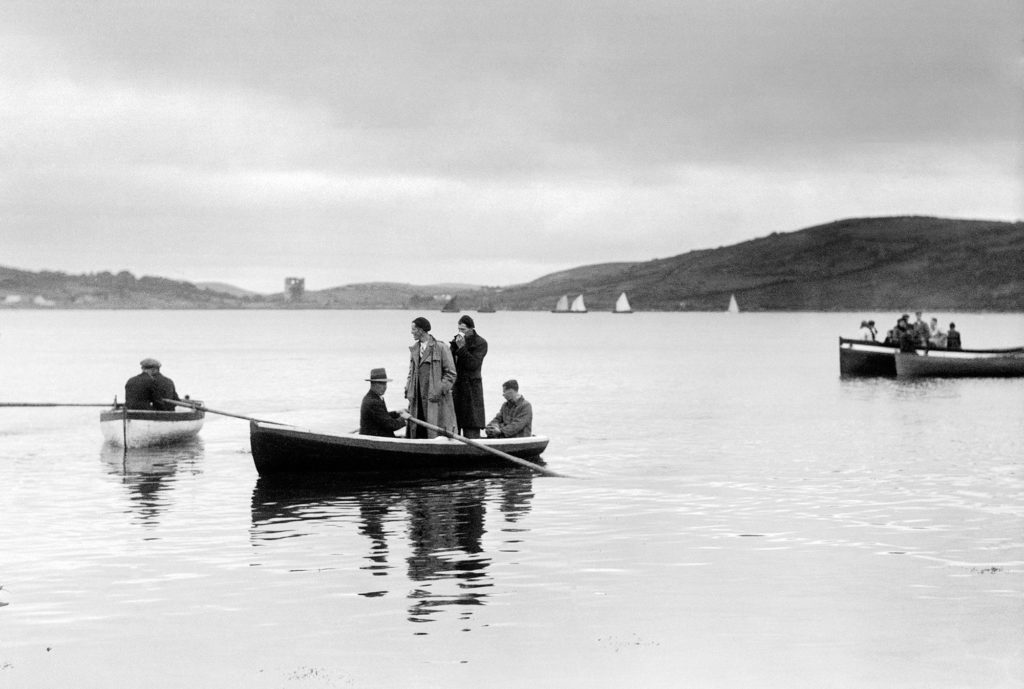 This is somewhat alleviated where the pictures feature people. Even when teetering distantly on a precipitous shelf of cut bog, human forms defy an insistent suggestion of harmony with land, nature or milieu. Blowing up the discordance are a series of largescale prints onto the gallery wall, showing a brisk turf-cutting competition set low in the ground. Men's bodies appear slanted, absorbed in action, signalling private experiences we cannot know. Many more images of west Mayo, taken in 1938, are distinguished by similar human recalcitrance. Prints of a regatta taking place off Clare Island are dominated by an undulating cliff face, dramatically separating the boats upon the water from gathered onlookers, who seem to decorate the coastal sweep with their peaked caps. Meanwhile, on the beach at the Carrowmore Races, the crowd spills in the direction of the waves, with riders on horseback dancing by. The camera is generally shown their backs.
Remembering that Hooker O'Malley was a relatively privileged outsider attempting to harvest lofty inspiration from these vignettes – she was unsatisfied with life in Mayo1 – we are conscious of occupying a comparable perspective on such images. We mine these material indexes of real lives for something quaint, unfathomable or appalling, mingled in a potent aesthetic hit. Later Kodachrome portraits – in which compositions are more subtle, lacking the mystical architecture of pattern and landscape – offer arguably more effective approaches to the dovetailing of people and place. Highlights include a shot, taken from below, of her friend, the writer Mary Lavin, at the artist's Ballsbridge mews in 1975. Another image from the same period shows a woman and baby seated on a train, a plain example of what is everyday and fascinatingly enigmatic.
Danny Kelly is an artist based in Dublin.
Notes
1 Roy Foster 'Hillside Men', London Review of Books, 16 July 1998.
Feature Image: Helen Hooker O'Malley, Islanders watching the Regatta, Clare Island, Co. Mayo, 1938; image courtesy of Gallery of Photography Ireland and National Photographic Archive.