Critique | HOME: Being and Belonging in Contemporary Ireland
The Glucksman, University College Cork, 11 May – 31 October 2021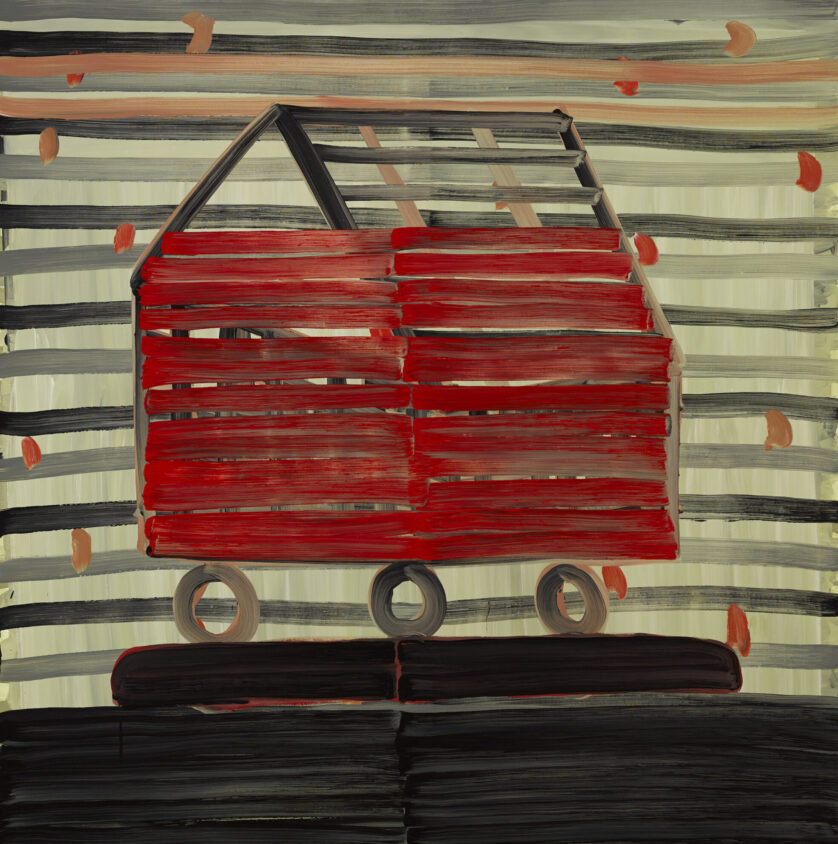 Thinking of 'home' today, it is hard not to attach its suffix 'less', while 'housing' is stuck with its roommate 'crisis'. The group exhibition, 'HOME: Being and Belonging in Contemporary Ireland' at The Glucksman, turns its glance towards a more general sense of home, one tied to notions of 'belonging' and 'national identity'. This show is the third in a series connected to the gallery's programming for the decade of centenaries. It also arises more obliquely from a unique moment in history, when people were largely confined to their homes during the global coronavirus pandemic.
The first work encountered in the show alludes to the refugee crisis. Martin Boyle's Somewhere Else (2017) – thirty-six pieces of crinkled, reflective golden material, derived from torn-up survival blankets rotating on the wall – contains connotations of shelter, while making reference to that displaced and distant 'other' of home, 'somewhere else'. On tables across from this are placed a series of eight 3D-printed black MDF models of buildings with accompanying text, one of which is the fascist era Palazzo della Civiltà Italiana, re-framed as the City Hall of a re-imagined capital of Ireland. The text utilised in Doireann Ní Ghrioghair's Declaration of the State Metropolis at Tara (2019) is from the early 1940s and written by the architect of the Garden of Remembrance while he was a member of an extreme right-wing group that fantasised about Ireland as a Catholic Fascist hinterland. The work probes an absurd and sinister imaginary that has only recently been forcefully contested in Irish society. 
Three artists respond to the theme through painting. Sinéad Ní Mhaonaigh's work, Teorainn No.6 (2019), uses a layering of large brushstrokes to depict what looks to be a shack on wheels. Viewing the large horizontal brush strokes representing the planks of the 'shack', one tries to make sense of another internal structure that seems to be hidden within this 'limit/boundary'. Kathy Tynan and Ciara Roche's paintings are similar in style, each depicting 'unremarkable' interior and exterior scenes, respectively. Where Roche depicts shopfronts, most interesting at the level of signage and text displayed on these buildings, Tynan's interiors play with notions of empty spaces and 'paintings within paintings'. 
Sara Baume's Talisman (2018) assembles 100 little houses, made up of combinations of basic 3D shapes – pyramids, cones, cubes and cuboids. It is simple but very effective. The serial use of shapes nods to LeWitt, while the constructions just looked strange. Somehow this display has reduced architecture to an absurdity: "Is that all houses are… a few shapes stuck together?" Opposite is James L. Hayes work, consisting of plaster casts of the back of a canvas, repeated 63 times. With the canvas supports and interior on display, we are looking at the 'architecture' that allows the canvas to transmit images. A second work, Homegrown (2017), consists of a unique bronze cast of three stalks of asparagus, tied together by a loop of string, wound numerous times around their width. 
Kerry Guinan's Landscapes (2018) consists of two photographs. One depicts a field with reeds blowing in the wind, while in the other, a building developers' hoarding abruptly curtails our view, an allusion to the 'cutting off' by private developments of swathes of our cities. 
Julia Pallone Gate Keepers (2012-19) consists of snapshots of the ubiquitous plastered walls that defend the lawns and bungalows of rural Ireland. Amanda Rice's photographs play with making-strange remnants of older architectural endeavors, while in her video, Site Where a Future Never Took Place (2015), the camera moves slowly through a disused building, the soundtrack an ominous hum. 
Julie Merriman and Tinka Bechert engage notions of 'home' at the level of style – the former with prints employing repeated images of housing estates to form off-kilter grid designs; and the latter, in New Flags (2020), by repurposing patterned fabrics to create textile assemblages attached to canvases. 
The rural aspect of Irish identity is touched upon in two videos – Mieke Vanmechelen's atmospheric Residual Minority (2019) and Treasa O'Brien's The Blow-In (2016). Vanmechelen documents the birth of a calf to a drone soundscape that includes an organ-like motif, surprisingly adding a mild celebratory tone to the video. O'Brien's film portrays some inhabitants of the community of Gort, County Galway – a mix of locals and 'blow-ins' from Brazil, Romania and the village down the road – through the eyes of a main character, who interestingly has a sense of liking her own mode of 'not belonging'. 
Eileen Hutton's video, Becoming (2020), is a short two-minute loop depicting a swallow snuggling into its nest. This display of the simple pathos of animal existence works nicely with the theme to shift our thoughts into the fundamentality of some form of home or stable habitat for the flourishing of all species. Similarly, Brian Duggan's more conceptual piece, Breath I Mean Something More Than Air (2020), displays documents and filters from measurements of air quality. It makes us think of the natural environment and technological innovation as integral contributions to what we call home. 
The show contains interesting approaches to the theme of home yet fails to fully engage with some of the most current topics connected to this key socio-political issue, such as the continued failure of government to invest in a comprehensive social housing policy, the sweetheart land deals for developers, and the bulk-buying of Irish real estate by investment funds, which has resulted in escalating homelessness, precarious rental situations and individuals being priced out of cities, due to the core issues of supply and affordability. Not that an exhibition focusing on the housing crisis would change anything, but it would serve to bolster the exhibition by offering insights into the contemporary material conditions necessary for a sense of home to be built.
John Thompson is an artist, writer on art and philosophy and researcher whose interests are conceptual art, politics and materialist philosophy.