Book Review | What Artists Wear
Charlie Porter, Penguin, 2021, 376 pp.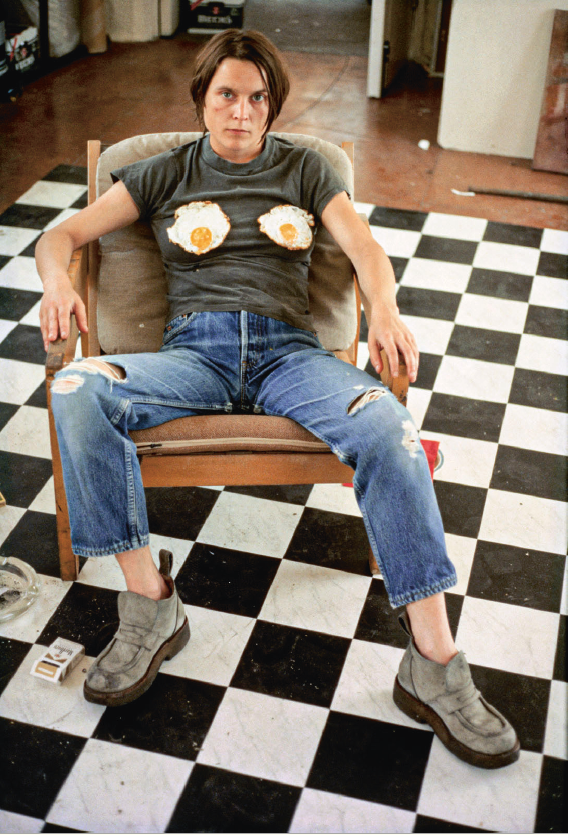 There is a glossy exuberance to how people dress in Dublin right now, markedly different from how we all looked a few weeks or months earlier, shuffling between home and the supermarket. Emerging from a pandemic – back to studios and exhibition openings – means a change in how we present to the world and how we dress for work, even if we are only re-describing our work selves to ourselves. We are all changed, and we may choose to signal those changes, and the possibilities they open up, through what we wear.
A graphic designer friend often wears a pencil in his top pocket. He doesn't really use it, but the pencil reminds him and his clients that his work is based in craft. Another friend, an artist who works mainly in video, describes how she cuts her nails before a big project, a residual ritual from her training in ceramics.  
In Charlie Porter's new book, What Artists Wear, a number of artists describe an attachment to a particular item of clothing worn in the studio; others, Frida Kahlo or Picasso for example, are identifiable by a particular clothing item or style. The studio wear is often an old garment that used to be worn 'out', or workwear from another making or fixing based profession, adapted so that it is fit-for-purpose. Sometimes it involves wearing the same garment repeatedly until it takes on a role, similar to but not exactly like Winnicott's description of a transitional object, a 'blankey' or comfort item that has accumulated smells and patinas from previous work.1
How is what artists wear different enough from what other people wear to merit special attention? How artists wear clothes is often imagined as stemming either from a desire for flamboyance or unconcern (or accidentally flamboyant unconcern), close to the common portrayal of a preoccupied professor as 'nutty'. Porter's book undoes this with careful concern, both for the clothing and the wearer. Where he doesn't know the artist and what they tended to wear, he visits their clothing and picks over it for us or elicits a reliable testimony from someone observant and close. This is how we discover that Joseph Beuys's (often emulated) hat functioned as a way to cover over a metal plate in his head, which used to get cold. 
Early on, Porter identifies a 'defiance' in relation to how artists wear clothes, but it could also be considered 'taking liberties' with materials, etiquette, and status. There are descriptions of crusty patches on cashmere, paint splattered overalls under Comme des Garçons suits, and Agnes Martin's fittingly quilted Sears and Roebuck work jacket, all of which demonstrate a particular approach to suitability or appropriateness.
There's a slippery cliché that artists are class-migrators. Porter addresses this by looking at some of artists' clothing as workwear, clothing for making, often borrowed or hacked from other labours. Porter notes Andy Warhol's switch from the chinos he always wore, to black jeans and then to blue jeans which were a more legible link to his working-class, middle American roots, as well as ubiquitous city wear.
Bill Cunningham, the photographer and chronicler of fashion in New York, dressed unfailingly in a blue workers' jacket from the French department store, BHV. Described as 'bleu de travail', it was picked up for about 10 euro in a DIY shop in Paris and functioned as a personal uniform – specific but unremarkable – which afforded Cunningham the possibility of gliding from streets to runway shows as he documented what other people wore, the jacket's handy pockets filled with film and lenses. After Cunningham died in 2016, photographers gathered at New York Fashion week wearing versions of the blue jacket (now known as 'The Bill') as a tribute. Cunningham must have known that this might happen. 
In What Artists Wear, Porter often writes in a long ellipsis, gently returning us to an item of clothing in a way that defines how its symbolism has altered. Yves Klein wears a tuxedo while a group of women, employed by him, performatively imprint their body shape in his patented Blue onto canvas or a wall. General Idea had parodied this in Shut the Fuck Up (1985), where we see a rather abject stuffed poodle covered in blue paint spinning in front of a large painted X. Porter takes the menace in the distance and power-signalling of Klein's tuxedo seriously – "Tailoring is not neutral", he notes. Much later, after having described the queering/querying of the male power suit by Georgia O'Keefe and Gilbert and George, he remarks on how David Hammons oils his own clothed body, leaving the bluish imprint of his jeans on the paper.  
Mark Leckey spoke about 'casuals' in Temple Bar Gallery + Studios a few years ago and his film, Fiorucci Made Me Hardcore (1999), documents this form of dress, as worn at Northern Soul events. For Leckey and his peers, casual clothing was something that could only be worn by the 'well-off' and so labels like Fiorucci became desirable as a way to overturn this. Charlotte Prodger worries on the possibility of appearing queer in a rural setting, where the nuances of what she is wearing may not be read. David Hockney describes how his father wore a suit decorated with cut-out paper dots. "He taught me not to care what the neighbours think", Hockney tells Porter, but if the neighbours hadn't noticed, his father may not have done it, and Hockney's subsequent experiments with dress could be read as a rehearsal in audience, as well as aesthetic, development.
There is a devastating moment when Porter, by his own admission, assumes that a paint-covered pair of loafers belong to Jackson Pollock. They are Lee Krasner's; Pollock's are pristine. Earlier Porter has told us that her career suffered because of his alcoholism and mental illness. In this light, Pollock's clean shoes seem as troubling as Yves Klein's tuxedo.
Porter leaves out, probably rightly, some kinds of specific performance wear and wearable sculpture, such as Hélio Oiticica's Parangolé Capes, or Franz Erhard Walther's fabric performance-forcing works. VALIE EXPORT's chaps and Lynda Benglis's dildo don't get a mention either. But these categories are different: they are costumes or actual artworks in themselves. This project covers everyday dress practice for artists, from workwear to awards ceremonies; all part of the job, but not the job itself.
Vaari Claffey is a curator based in Dublin.
Note:
1Donald Winnicott, 'Transitional objects and transitional phenomena; a study of the first not-me possession', The International Journal of Psychoanalysis, 1953, 34 (2), pp 89-97.