The North is Now
JOANNE LAWS INTERVIEWS MEMBERS OF THE BELFAST-BASED ART COLLECTIVE, ARRAY.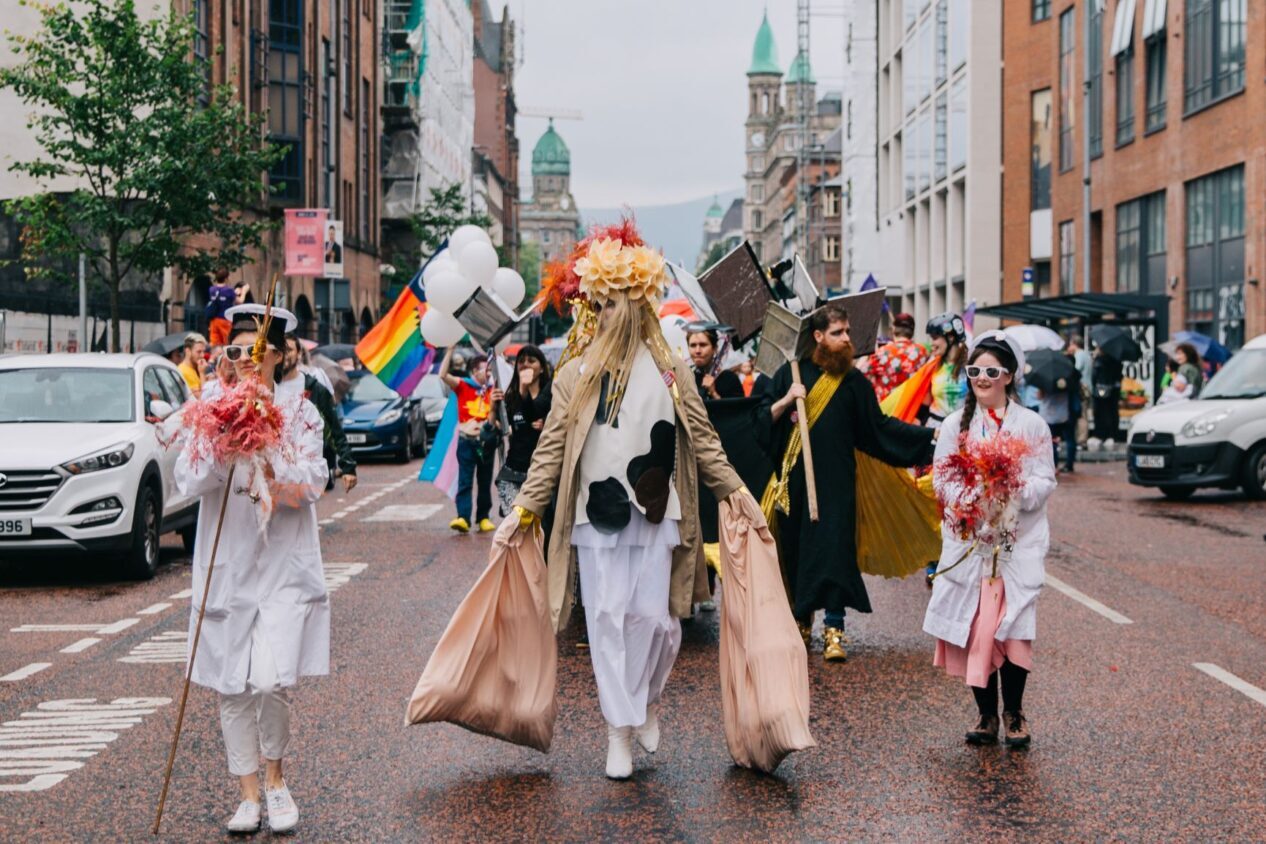 Joanne Laws: We were thrilled to hear that Array has been nominated for this year's Turner Prize, along with four other UK-based art collectives. Do you have a sense of the work that led to your nomination? 
Emma Campbell: It still does feel very bizarre when people congratulate us! As far as we understood from the jurors this year, they were specifically trying to look at arts collectives who had in some way kept up a version of their practice during lockdown, perhaps around issues of community cohesion. They also mentioned the 'Jerwood Collaborate!' exhibition we did in London, but to be honest, our social media presence seems to have been a big part of it. We were also asked to do a video for A-N, because they had a special series on artists and social change, which the jurors mentioned. 
Clodagh Lavelle: Normally nominations are based on an exhibition that has happened previously, but because no galleries were really open last year, it focused on groups who were still visibly trying to work together in isolation. We created videos together, made online work and kept that sense of community alive through birthday nights and dress-up Zooms like the QFT screening of the DUP Opera, for example.
JL: What was the rationale for originally establishing the Array collective? Did you have any founding principles, in terms of your collective identity, or how you might define a discourse or build communities for your collaborative practice?
EC: It happened organically at first, because there are lots of overlaps between friendship, art practice and community practice, but also because we were all just at the same rallies and protests. It wasn't as if we were dropping into another community to speak on behalf of anyone else; all of us were in some way directly affected by the stuff we were protesting about, like equal marriage and abortion rights. A couple of people from Array were running an activist stall, while others were doing stuff with Outburst and Pride, but it wasn't until we were asked to do the Jerwood exhibition in London, that we began to formalise our work. 
CL: For the Jerwood show, we realised that we were a collective, rather than just 11 people putting in a lot of work. We didn't talk about our values before that because they were implicit in some ways, but we did write a statement for the Jerwood exhibition and organised a symposium with 'house rules' which outlined being respectful to one another and having the craic, whilst talking about some serious issues. We're all about hospitality and activism and karaoke and food and dancing and acting the maggot!
JL: The political situation in Northern Ireland is central to your projects, which often take the form of public processions, rallies and material activism on issues like reproductive rights or equal marriage. What is the role of art in giving visibility to national conversations such as these? 
EC: I think art was really central to the campaign for abortion rights particularly. I think what works really well at protests are these kind of repetitive motifs – like Leanne Dunne's repeal jumper, for example – which people can very easily identify with, as part of a larger community. Artists can also bring a bit more reflection and nuance to conversations on sometimes difficult issues. Because these issues are so serious and traumatic for many people, it's nice to be able to have something that can lighten the load a little bit with a sense of humour. I think colour and spectacle is really key. It's been important for social movements for hundreds of years, when you think of trade unionist banners or Suffragettes banners, the Irish rebellion and so forth. However, none of us are under any illusions that it's the art that makes the change. We are very aware that we are a small part of much larger movements, where there's a lot going on. 
JL: Many of Array's members have backgrounds in artist-led spaces, most notably as former directors of Catalyst Arts in Belfast. Has this artist-led grounding and DIY ethos has shaped your working methods? 
EC: Neither of us have been involved with Catalyst but others have. The unpaid directorships can make them inaccessible for some, but others gained good insight and experience. Array are careful enough to not take on work that would push us beyond our reasonable capabilities as a group. We've made decisions to decline work before, just because we thought we couldn't take it on, since it might not be good for everybody's mental health or whatever. Lots of us are involved in community activist organisations, some work with young people, a number of us work with Household, and these kinds of things inform what we do.
CL: And the culture is definitely changing, as we are becoming more aware of artists working for free. The labour exchange model of days gone by – "I'll help you out, you help me out" – has lessened as we have more life commitments, homes, children etc. There can be a lot of burn-out in the arts, especially within that model of working and it limits who can take part as well. The whole Turner thing is a big deal, and it came as a surprise. One of the things we have for this project is a self-care/mental health message thread, in case anyone finds it too overwhelming, so that we can be there to support each other.
EC: We're very clear with each other that we don't expect everyone to be putting in 100% all of the time. That's one of the joys of having 11 of us. People have multiple day jobs and caring responsibilities, so it's very much about making accommodations for that and making sure that nobody feels too much under pressure. There's also something in the safety of being with your people – the kind of people you don't feel like you have to explain yourself to all the time. 
JL: It's worth considering the dynamic of friendship – which, historically, has sustained all kinds of co-ops, collectives and artist-led projects. While artistic collaboration, peer support and shared labour are all central to the process of making things public, it is friendship and the desire for collectivity – the parties, shared meals and common interests – that allows these things to endure. Are you all good friends?
CL: I think that is absolutely key. We enjoy each other's company and have a deep love and respect for each other. Because of the culture of doing everything for nothing, you could so easily give it all up, if you were driving each other soft. We drink together, we dance together, we enjoy sparking off each other and coming up with ideas and all of that is definitely rooted in friendship and care for each other – that's more important than anything else. Yes, our careers as artists are important to us, but our relationships and love for each other is key. 
EC: And I think that even extends beyond the 11 of us in Array. We don't just lift up each other's work; we also want to share with our other friends in the community and draw attention to other people and bring them onboard. There's something really welcoming about the arts community in Belfast. It's really small and supportive and there's generally a sense of camaraderie and pulling each other through some awful shit as well, not just the cultural backdrop of being in the north but also what Clodagh was talking about – this idea of being instrumentalised for your labour as an artist and the precariousness of our spaces. Even at a base level, Array have been my childcare on occasion; we've been through many life events together and it's nice to have our art family. 
Array Collective are a group of individual artists rooted in Belfast, who join together to create collaborative actions in response to the socio-political issues affecting Northern Ireland. 
arraystudiosbelfast.com
The Turner Prize exhibition will take place at the Herbert Art Gallery and Museum in Coventry from 29 September 2021 to 12 January 2022, as part of the UK City of Culture 2021 celebrations. The winner will be announced on 1 December 2021 at an award ceremony at Coventry Cathedral broadcast on the BBC.
theherbert.org