LÍVIA PÁLDI REPORTS ON THE DHAKA ART SUMMIT 2020 WHICH TOOK PLACE IN BANGLADESH IN FEBRUARY.
In light of the growing pandemic crisis, social distancing and the rush towards digital space, the week I spent at the Dhaka Art Summit (DAS) now feels like both a mirage and a rare privilege. The large-scale art event was organised in one of the world's fastest growing megacities with a population of over 20 million, of which slum-dwellers make up 40% – largely those escaping climate-induced disasters in rural and coastal areas.
DAS was founded by the Samdani Art Foundation (SAF), a private arts trust established in 2011 by collectors Nadia and Rajeeb Samdani to support the work of contemporary Bangladeshi artists and architects.1 SAF serves as the principal funding body for DAS and is led by Artistic Director and Curator, Diana Campbell Betancourt, who has also been the Chief Curator of the Summit since 2013.2
Since its inception in 2012, DAS has expanded and branded as a transnational art event, an internationally well-connected regional catalyst that boosts artistic and curatorial production and exchange in the wider regions of South East Asia, Oceania, Africa and the Middle East. DAS has a powerful network of advisors including institutional partners (Asia Art Archive and Para Site, Hong Kong), museums (Tate, Pompidou, Museum of Modern Art Warsaw), private galleries (White Cube), and biennales (Kochi, Liverpool, Sharjah). Interrogating the space that art history occupies in societal and political reflection, central to DAS is the aim to build an ecosystem supported by various strands, including the MAHASSA (Connecting Modern Art Histories in and across Africa, South and South-East Asia). This collaborative research project – involving intensive seminars, distance learning sessions and public lectures with international faculty and emerging scholars – fosters research and critical platforms on modernist histories and intersectional approaches.3 Connected to this, the collective research project, 'Seismography of Struggles: Towards a Global History of Critical and Cultural Journals', headed by French art historian, writer and cultural critic, Dr Zahia Rahmani, was presented as an hour-long multi-channel video and sound installation within the Independence Movement section.
Betancourt refers to DAS more as "a holistic project" than a biennale; as a "cumulative exercise of sharing and building knowledge and community together". With reinvention programmed into the very core of its operation, DAS has shifted from an art fair format (partly modeled after the India Art Fair) to a non-commercial, research-based platform. Now running for a week, it attracts an exponentially growing number of local visitors from all walks of life (the last edition had an estimated half million floating through, with an incalculable number of selfies made on site).4 There is a mix of returnee artists, new emerging positions (also supported through the Samdani Art Prize5), new commissions and pieces from various collections, including those of the founders.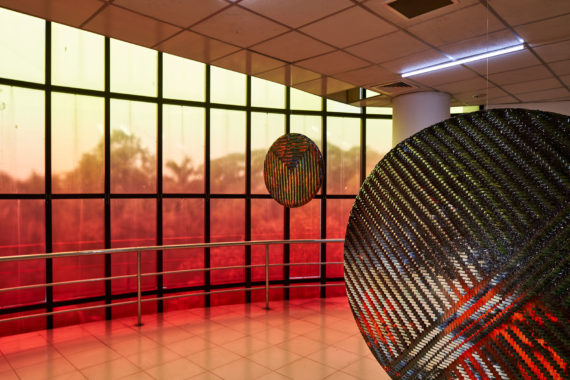 This year's edition, 'Seismic Movements' (7–15 February 2020), used the analogy of tectonics to cross-examine the impacts of neoliberal capitalism, climate change and momentous events in social and political histories in the wider region. This involved revisiting colonial and modernist histories and independence struggles, with a set of intertwined values around secularism, language, culture and nationalism to inquire into queer and feminist futures – all within a design that aimed to reduce the event's ecological footprint.6
Hosted as usual by the state-sponsored national cultural venue, the Shilpakala Academy (which also served as the site of the first Asian Art Biennale in 1981) more than ten curated exhibitions were spread across four floors. Organised within seven 'movements', they were accompanied by workshops, seminars, a forum for artist-led initiatives and programme of screenings and talks, entitled 'Rituals for Temporary Deprogramming', curated by The Otolith Group.7 The group also screened their experimental documentary, O Horizon (2018), which revisits the environmental pedagogy of polymath and educator, Rabindranath Tagore, and his Visva-Bharati campus at Santiniketan (West Bengal).
Walking distance from Shilpakala is the Faculty of Fine Art, Dhaka University, whose buildings were designed by the ground-breaking modernist architect, urban planner and educator, Muzrahul Islam. The group show dedicated to his complex legacy also reflected on (through contemporary positions) his sensitive dealing with the fragile social, political and climactic conditions of Bangladesh. Islam's practice stretched over the post-partition times (1947) followed by the independence movement of the exploited East (from West Pakistan) and the hard-fought independence of 1971, preceded by a traumatising war. Rana Begum's spiraling installation, a growing set of ink fingerprints by DAS participants in the corridors of the Academy, led variously to Aditya Novali's rotatable paintings, the delicate symmetry of Ayesha Sultan's marked clay-coated paper works, and the premiere of Fog Dog by Daniel Steegmann Mangrané, filmed at the Arts Faculty premises.
'Social Movements and Feminist Futures' brought together a great selection of intergenerational works reflecting on colonial history, violence and displacement. Opening with Barti Khehr's monumentalised hybrid sculpture in the garden, this section included the large-scale fragile casein tempera mural, Beyond Loss, by Delhi-born Nilima Sheikh – a witness to her engagement in the women's rights struggle and her involvement with Kashmir. The section includes a mesmerising cabinet install of collaged sculpture and photo works by Huma Bhabha and a collaborative memorial quilt made by activist and documentary photographer Taslima Akhter and the Bangladesh Garment Workers Solidarity (2017). Portraits were sewn by families commemorating the victims of the collapse of Rana Plaza, the nine-story garment factory complex near Dhaka that took 1,134 lives (mostly women) in 2013 and was described by the unions as "mass industrial homicide". The textile sector accounts for more than 80% of the country's manufacturing income.
Central to DAS was the three-day 'Condition Report 4: Stepping out of Line – Art Collectives and Translocal Parallelism', curated by Dakar-based RAW Material Company.8 Prepared during a week-long workshop to explore shared principles that nurture local organisations, CR4 was also where many of the contradictions and fissures became apparent, including how radical critique and investigation can be positioned within a commercially backed scenario.9 It kicked off with a live session by experimental music group, Akáliko10, and video address by critical theorist, Elizabeth A. Povinelli.11 The hub, housed in an open structure on the ground floor, was strongly connected with the exhibition and meeting platform, 'The Collective Body', presenting over forty collaborative art initiatives from across the globe, representing a wide array of activities, rural and urban contexts and engagements in collective making with different publics. Most are involved in arts and crafts pedagogy, heritage protection, climate activism and raising awareness of gender inequality, domestic violence and violence against one of the world's largest refugee populations, Rohingya Muslims from neighbouring Myanmar.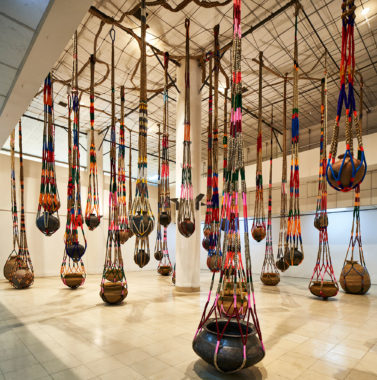 Undoubtedly, this was the most dynamic and inspiringly uneven part of the Summit. It included: Saigon-based Art Labor's 'Hammock café'; extensive documentation of the first road-trip collaboration between Invisible Borders / The Trans African Photography Project, Drik Network, Pathshala and Chobi Mela12; an engaging VR presentation of the last residency project by Uronto13, an artist community that works with lost memories of historical sites and conscience; sewing-storytelling events by the Maori Mata Aho Collective14; Stitching Collective by Jakarta-based Gudskul; and a performance-presentation by Laboratoire Agit'art with Otobong Nkanga (who also readapted her ongoing Landversations project for DAS).
It always seems unfair to pick out only a few works, but Phan Thao Nguyen's Mute Grain (2019), a three-channel work based on a famine in Vietnam induced by the Japanese occupation during the Second World War, was a highlight of the summit, as were Shezad Dawood's fabric hangings, Kamruzzaman Shadhin's monumental sculptural work, The Fibrous Souls (2018-2020) – realised in collaboration with Gidree Bawlee Foundation of Arts – Clarissa Tossin's work, A Queda do Céu (The Falling Sky) (2019), addressing ecological precarity, and Munem Wasif's expanding series of works on borders and constant flow of Rohingya migration.
The curatorial address – to find "commonalities" and to "emerge from this sediment to heal, imagine, design, and build new forms of togetherness", while also asking "What will coalesce and fossilise our presence on this planet for lifetimes to come?" – reads very differently, since the eruption of the global pandemic. This will profoundly alter modes of production and distribution, including perhaps, jeopardising the future continuation of DAS as well as the soon-to-be-opened museum/residency/sculpture park complex, Srihatta, in the north-eastern city of Sylhet.
Lívia Páldi is the Curator of Visual Arts at Project Arts Centre, Dublin.
Notes
1 See samdani.com.bd/dhaka-art-summit
2 Until 2018, Diana ran Bellas Artes Projects, a non-profit international residency and exhibition programme with sites in Makati City, Manila, and Bataan in the Philippines. In 2018 she served as the curator of Frieze Projects in London.
3 Partners include Asia Art Archive (Hong Kong) and Institute Comparative Modernities at Cornell University (USA). Following their first set of meetings last year in Hong Kong, they convened during the last edition of DAS. Supported by the Connecting Art Histories grant from the Getty Foundation.
4 DAS is free to visit and an extensive Art Mediation Programme in English and Bangladeshi started in 2018 with volunteers trained through a series of workshops supported by the Swiss Arts Council and Hochschule Luzern.
5 The winner of this year's award is Dhaka-based Soma Surovi Jannat. The exhibition was curated by Philippe Pirotte, Rector of the Städelschule and director of Portikus, in partnership with Goethe Institut (Bangladesh) and Delfina Foundation (UK) that hosts the winner for a residency.
6 Catalogue downloadable: seismicmovements.com
7 Geological, colonial, social, independence, collective, spatial and modern.
8 Envisioned by Koyo Kouo (founding director of RAW Material Company), Marie Helene Pereira and Dulce Abrahams Alttass (public programmer at RAW) the gathering brought together different collectives from Africa, South East Asia, Australia, South Africa, New Zealand to address forms and ways of producing and cooperating within non-hierarchical structures. Condition Report started in 2012 with a gathering discussing institution building in the African continent.
9 artsoftheworkingclass.org
10 akaliko.xyz/the-akaliko-story
11 Elizabeth A. Povinelli is Franz Boas Professor of Anthropology and Gender Studies at Columbia University. Her books include Geontologies: A Requiem to Late Liberalism (2016); Economies of Abandonment: Social Belonging and Endurance in Late Liberalism (2011), and The Cunning of Recognition: Indigenous Alterities and the Making of Australian Multiculturalism (2002). She is also a founding member of the Karrabing Film Collective.
12 invisible-borders.com
13 Uronto was founded in Dhaka in 2012. The Uronto Residential Art Exchange programme involves pop-up residencies, site-specific workshops at mostly endangered rural sites of local heritage buildings. urontoart.org
14 mataahocollective.com; gudskul.art
Feature Image: Héctor Zamora, Movimientos Emisores de Existencia (Existence-emitting Movements), 2019-2020; performative action with women and terracotta vessels; courtesy of the artist and Labor; photograph by Randhir Singh