MEADHBH MCNUTT PRESENTS HER WINNING ESSAY FOR THE DCC/VAI ART WRITING AWARD 2020.
Towards the end of the first COVID-19 lockdown, the term 'digital fatigue' began to circulate. I did not critically assess this term as I came upon it; I simply agreed with all who mentioned it in passing, a tiredness rising up from stiff knees to strained eyes. Digital fatigue is a specific sensation brought on by navigating an increasingly complicated social space, while sitting like an inanimate object in a chair. The internet is the place where I, as a freelancer, go to seek information, find perpetual new work and to socialise – the lines frequently blurring. The way that I watch content on portable devices has also changed. Muscle memory kicks in. Attention is a scarcity online and under current circumstances, my eyes have grown tired of sifting through competing content. I instinctively search for the synopsis, skipping everything peripheral.
Under COVID-19 restrictions, digital consumption has reached new levels. Art institutions have had to find ways to adapt their activities by migrating online, programming everything from podcasts to virtual exhibitions. Referencing Marshall McLuhan, writer Nicholas Carr recently said in an interview with Ezra Klein, "In the long run, a medium's content matters less in influencing how we think and act… Media work their magic, or their mischief, on the nervous system itself."1 Carr argues that a world defined by the written word is individualistic, disciplined and hyper-visual, while a world defined by scrolling and social feedback is addicted to stimulus – waves of information and affirmations of identity. The internet is bursting with information and creativity, but it is also the hub of the 'attention economy' – a term coined by psychologist, economist and Nobel Laureate, Herbert A. Simon, to describe the state in which "a wealth of information creates a poverty of attention."  In pursuit of this attention, digital marketing takes into account the embodied experience of online interaction. Algorithms either provoke or affirm, leaving little space for the kind of 'contemplative ambiguity' demanded by the artistic encounter. Though visual art broke away from the church in the 1800s, traces of the sacred linger in the embodied artistic encounter. We grant artistic spaces a nominal separateness from social value and utility – an ambiguity drastically at odds with the algorithm. How does this ambiguity hold up online? And what kind of mischief does it work on the material world?
Viewing Rooms, Film Screenings & Digital Platforms
Since the COVID-19 cluster at Tefaf's Maastricht fair, commercial galleries and art fairs have rushed to digitise. For fair goers, the accessibility of the online viewing room is attractive – no flights, accommodation or queuing. Not unlike a browse through Artsy, Frieze Viewing Rooms are a uniform catalogue of faithful reproductions. The sight of a bench at Art Basel creates at least some sense of architecture. Commercial galleries like David Zwirner deviate slightly, settling on a scroll-through of images and contextual information. However accessible and educational, I would struggle to call this sort of documentation an exhibition.
Film screenings are another obvious choice, as a digital format already familiar in the gallery setting. This includes the curation and online presentation of artists' moving image work, as well as the circulation of film documentation to supplement or extend physical presentations that have been curtailed, due to public health restrictions. Notable examples of the former include 'Isolation TV', developed and curated by Vaari Claffey; The Glucksman's exhibition and online screening programme, '1,2,3,4 – Dance in contemporary artists' films', curated by Chris Clarke; and 'IMMA Screen', an online screening series, showcasing film and video works from the IMMA Collection. Kari Kola's Savage Beauty – the world's largest site-specific light installation, set in Connemara – was one of the first post-COVID casualties for Galway 2020 European Capital of Culture. With public interaction not possible, a beautifully shot video was uploaded in time for St Patrick's Day. EVA International took a phased approach for its 39th edition, with a blended programme of venue-based, offsite and online presentations, as well as a dedicated website, animated with elements of physical interaction, including printable posters, designed by Ciara Phillips, as well as a free neon publication by Melanie Jackson and Esther Leslie (which arrived through my letterbox yesterday), focusing on the cultural significance of milk.
There are many digital platforms, such as flatness.eu or seiren.org, which challenge the viewer, but in ways that evoke wonder. Marie Brett's Day of The Straws also comes to mind as an interface with a sprawling, organic feel. Designed as a 'cyber vault', the timely work researches fading Irish cultural lore and its changing role, with regard to modern perspectives on health. Digging through audio files and dipping into portals, the experience is one of curiosity and intimacy. Of course, such a format can hardly cater to the neutrality expected of big institutions. And not every artist can, nor should, create digitally-specific work.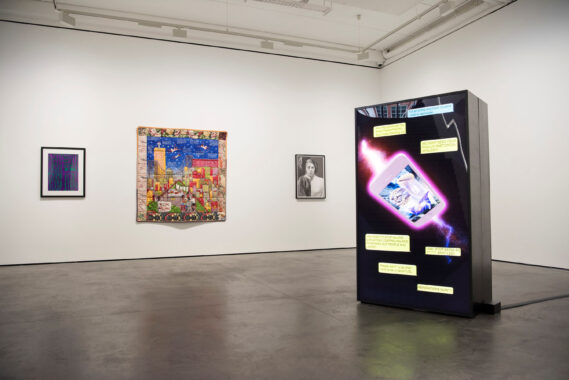 Gamification & Virtual Tours
An artwork is encountered through its curation and circulation, as well as its production. Architecture and navigation are just as important within online space. The virtual tour is one way to facilitate texture, while experimenting with navigation. Museums across the globe have opted for the Google Arts and Culture platform (basically, indoor Google Maps with better resolution). The thought of Google extending its influence in the cultural workplace is unsettling, and while it is exciting to stroll through a 3D rendered museum in Korea, the navigation can be jarring – I can't zoom in close enough to see the artists' names.
In May, I exhibited a pixelated reconstruction of my own photographic work, as part of 'The Minecraft Gallery' – a virtual exhibition space launched near the start of lockdown. In collaboration with the Regional Cultural Centre, designer-curator Joe Fahy built the exhibition space and reproductions of featured artworks using building blocks of the sandbox video game, Minecraft. The exhibition launch was one of my more memorable online social interactions during the initial lockdown. A relatively simple download process allowed me to explore the space as an avatar and chat with other visitors via the text box. My work, an image of an iconographic hand gesture, entitled ICXC, looked eerily anthropological, when upscaled and presented to (handless) pixelated avatars. The choices we make in video games can provoke all kinds of self-introspection. Danielle Brathwaite-Shirley's Black trans archival project, titled WE ARE HERE BECAUSE OF THOSE THAT ARE NOT, is another recent digital platform which operates on choice and confrontation. In Brathwaite-Shirley's sacred portal, Black trans ancestors are honoured, while hypnotic guardian characters evaluate the intentions behind your participation.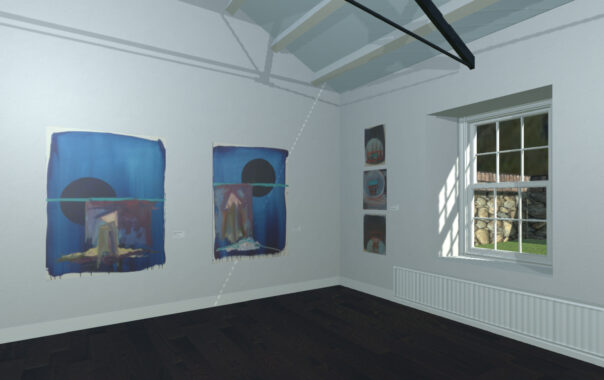 While something is definitely lost in the digital reproduction of artworks, a captivating sense of the uncanny is added. I found this true of Artlink's 'Drawn from Borders', an exhibition reflecting on the centenary of the partition of Ireland. 'Drawn from Borders' was made by animator Mark Cullen from a 'first-person-shooter' perspective (without weapons) using Unity – the software responsible for powering 50% of the world's games in 2019. This exhibition was a particularly emotional one, when we consider how the lack of joined-up thinking, in response to the health crisis across the island of Ireland, has created difficulties in cross-border relationships. Artlink's Saldanha Gallery is located near the border at the gorgeously moody Fort Dunree in rural Inishowen. Given its location, inadvertent visitors make up most of the audience. Participating and resident studio artist, Martha McCulloch, tells me that the virtual exhibition has attracted a completely new, international audience. I notice an extra room in the digital replica, and I pause to question the integrity of my memory. Large-scale paintings appear pleasantly alien in their new digital home. Details, like the sound of my avatar's footsteps, outdoor views and floating video booths, hold my attention.
Opaque Surveillance
Like the border, the internet is an abstract experiment with material consequences. If the art world is to continue migrating online, questions of health and sustainability come to the fore. Online space can be an ethical minefield. On the one hand, social media provides indispensable tools for Black Lives Matter activists and pivotal uprisings like The Arab Spring. On the other hand, we are constantly trading our personal information for access. The neutral appearance of artificial intelligence can obscure the subjective interests from which training sets stem. We use algorithms for convenience and they (read: their designers and corporate stakeholders) use us for our receptiveness to micro-persuasions – gradual yet global shifts in behaviour. By opting in, we come to embody data-based projections. Then there is the carbon footprint, generated by endless streaming and data processing. With tech companies like Amazon, Google and Microsoft siting their data centres here, Ireland has faced fines of more than €250 million for missing 2020 targets on reducing greenhouse gas emissions.  Such consequences are obscured by the appearance of infinite, online 'immateriality'.
Contemporary artists like Trevor Paglen have been working to make visible the human judgments built into technical systems. Paglen's interactive live-stream work, Octopus (2020), gives a bird's-eye view in real-time of his 'Bloom' exhibition at Pace, London (10 September – 10 November 2020). A tapestry of videos occupies the screen – in-situ webcams, image-recognition processes, and snapshots of flowers in classical vanitas paintings. The physical space is a showcase in image-harvesting: photographs of flowers interpreted by artificial intelligence, image recognition webcams and skull sculptures; The Model (Personality) is inspired by 19th-century phrenology, while The Standard Head is based on Woody Bledsoe's automated facial recognition model.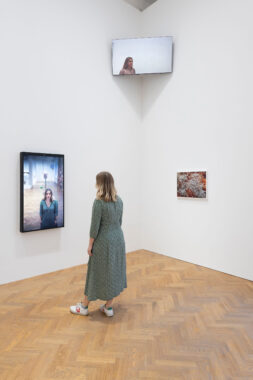 Visitors to the physical exhibition at Pace are warned of the online surveillance, but there is no real alternative viewing option. You must be seen, in order to see. In one clever move, Paglen has appropriated every 'agree' button we've ever clicked on. Online viewers have the privilege of viewing the exhibition anonymously, though they can choose to stream their webcam and have their face appear in the upper corner of the room. A power imbalance is implicit. One morning, I joined to find cleaners mopping the gallery floor. Here, the subject of surveillance had a face, and I was complicit. Such voyeurism brings me back to the early days of Chatroulette, a website created by a Russian teenager called Andrey Ternovskiy for pairing strangers across the globe through chat and webcam, oddly revived during lockdown. Those early chat rooms were the wild west of the attention economy – boring, thrilling and disturbing, from one minute to the next. The value and exchange of one's information changes in a more professionalised internet, less intimidating but more opaque. Octopus stirs up those old feelings of intrusion.
My inclination towards these voyeuristic, interactive and game-like experiences is partly down to a longing for social participation whilst in physical isolation. While it is inevitable that technology will play a larger role in our lives after COVID, psychological dependency and material sustainability are issues that cannot be swept away in the rush to digitise. Artists will find new ways to circumvent the dominance of the algorithm, just as early internet artists capitalised on new technology to subvert the dominance of the traditional gallery system. When the internet was in its early stages of development, these artists created work centring on their relationships with the internet's intrinsic features – namely its interactive interfaces, multimedia capabilities, social networking and microcultures. My hope is that art institutions take note of this critical legacy, as they work to innovate online experiences. As culture continues to migrate online under successive lockdowns, we may reconsider how it feels to be surveyed, as a condition of participation, and ask ourselves: how should participation feel?
Meadhbh McNutt is an Irish art writer whose work traverses criticism, creative writing and critical theory. She holds an MA in Aesthetics & Art Theory from Kingston University, London, and has previously contributed to a range of Irish and international art publications.
Notes
1 Nicholas Carr (2019), 'The Ezra Klein Show: Nicholas Carr on deep reading and digital thinking', producer/editor Jeff Geld, research Roge Karma, Vox Media. https://tinyurl.com/y6oy6v4x
2 Rory Carroll, 'Why Ireland's data centre boom is complicating climate efforts', The Irish Times, 6 January 2020.