Exhibition Profile | Facing the Real
SINÉAD KEOGH DISCUSSES THE CURATORIAL INQUIRIES UNDERPINNING THE RECENT EXHIBITION, 'I AM WHAT I AM'.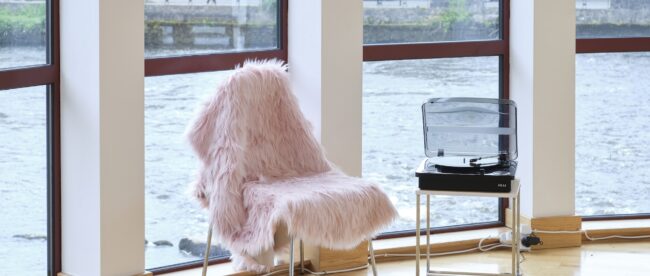 What does it mean to be queer in Ireland in 2021? This was the initial, self-imposed question when starting the curatorial process for the exhibition, 'I Am What I Am' at Ballina Arts Centre (5 June – 31 July). Authentic inclusivity, community and meaningful engagements with each artist and group was the mirror answer to this question. The exhibition and supporting programme – involving five community groups, two government institutions, 28 artists and creators, five invited speakers, one educational film, a panel discussion, four community tours and a sharing event to celebrate LGBTQ+ lives in Ireland – cuts beneath the surface with a feast of all things queer and electric.
A silver pool of water drips from the mirror.
For example, I was very humbled to have Séan Kissane deliver a lecture, titled Queer Histories, concerning his extensive research on twentieth-century Irish LGBTQ+ artists. This lecture from an ambitious and community driven curator was important because Kissane has a genuine interest in uncovering our history as queer people in Ireland. As Kissane puts it, his practice is "focussed on the work of female and queer artists whose work has been critically neglected"¹. There was a high attendance at this online lecture, in which Kissane afforded the audience an extensive Q&A. Another educational outreach lecture was that of the Irish Trans Archive, delivered by its founder and researcher, Sara R Phillips. I was very excited for this lecture (and the wider programme) to reach audiences who may not otherwise have access to such histories, through a comparatively rural arts space such as Ballina Arts Centre. This lecture featured a generous leaning towards the representation of transgender men in Irish history and their fascinating stories². One such story was that of Edward De Lacy Evans, a womanising cad and gold-digger, who moved from Kilkenny to Australia in 1856. 
The drop of water stains her shirt in a pure / unyielding manner.
With the budget, I was able to allocate six commissions for cultural practitioners. For the 'Cross X Generation Commission', established lesbian sculptor, Louise Walsh, and emerging lesbian rapper, Cami, were selected. Walsh made a large sculptural installation of paper, wood, fabric and willow, called To Fruit (and multiply), 2021. This work was designed to interact with the architecture of Ballina Arts Centre and engulf the space with charged feminist power, as presented though a representation of female anatomy. It was a great honour for such a staple in the Irish queer arts community to work on this exhibition. It was also extremely exciting to have up-and-coming Nigerian Irish rapper, Cami, produce a song called CHI, 2021, which was pressed on vinyl with her image printed on the label. The record player was placed on a table with silver chrome legs beside a matching chair, draped in baby pink faux fur³. The record played freely in the space overlooking the nearby river. The song features activists Vic Wonder and Freddie Jacob. The following is an excerpt from the CHI lyrics: 
so i feel like if we're fighting for a one nigeria 
if we're fighting for a nigeria for everybody
queer lives must matter in that nigeria
we can't just throw queer people under the bus
The supporting programme for 'I Am What I Am' included many incentives to engage and benefit the community. This included the sale of the commissioned poster by artist Shota Kotake, with all proceeds going to local LGBTQ+ group, OutWest. I also worked with local artists Michael O'Boyle, Breda Burns and Phelim Webb. At the time of writing, we are yet to host 'Community Storytelling: Hope & Resilience x OutWest', an event within the gallery space for local people to talk about their own experiences and that of their LGBTQ+ loved ones. Special tours for OutWest members, the Irish Wheelchair Association and a tactile tour with the National Council for the Blind of Ireland also form part of the programme.
The sun catches the wet mirror and touches her eyes.
Other local groups invited to participate were the Mayo Traveller's Support Group. I was very privileged to have a number of women from the group – Margaret Sweeney, Donna Muldoon, Lena Collins, Rosie Maughan and Winnie Maughan – collaborate with me to develop work for the exhibition. The group made traditional Traveller paper craft flowers, a paper flower ball and bow in the colours of the pride flag. A traditional Traveller Pocket was also loaned to me for the exhibition, made by a member of their community who had passed away. As a curator who works with community groups, I was deeply moved by such a touching gesture. I feel the Travelling community are not represented as much as they should be in the arts or indeed within wider Irish culture. I feel the same way about the queer community – that many of the engagements with external bodies are superficial representation, and that alone cannot change institutional exclusion. A highlight for me was to exhibit one of the AIDS Memorial Quilts, in collaboration with Queer Culture Ireland (QCI). These infamous quilts – made by family and friends of those who passed away during the AIDS epidemic in the early '90s – are extremely significant, in terms of representation and political awareness through an Irish lens of how the community and their allies responded to the AIDS crisis. Judith Finlay of QCI also provided an in depth talk about the quilts' histories, the work of QCI, and her own involvement in the 'Rainbow Revolution' exhibition at the National Museum of Ireland. I felt having such an artifact would ground the exhibition and mirror the true concepts of 'I Am What I Am' – a real reflection of the community.
She stands fiercely, devouring her own gaze in the mirror.
'I Am What I Am' was supported by Mayo County Council Arts Service / Creative Ireland through the Cultural Diversity Curatorial Award. Special thanks to Sean Walsh (BAC director) and Katriona Gillespie (MCC Arts Office). The exhibiting artists, live event creatives and collaborators were: Shota Kotake, Cami, Louise Walsh,  John O'Brien, Esther Raquel Minsky, Mayo Traveller's Support Group (Margaret Sweeney, Donna Muldoon, Lena Collins, Rosie Maughan and Winnie Maughan), Irish Wheelchair Association, National Council for the Blind of Ireland, OutWest, National Museum of Ireland, National Library of Ireland, Queer Culture Ireland, Austin Hearne, Bassam Al-Sabah, Bernie Masterson, Breda Burns, Breda Lynch, Conor O'Grady, Emma Wolf-Haugh, Garreth Carroll, Isabella Oberlander, Kevin Gaffney, Kieran Gallagher, Luke Faulkner, Michael O'Boyle, Phelim Webb, Pradeep Mahadeshwar, Roberta Murray, Thomas Brawn, William Keohane, Jenny Duffy, Judith Finlay, Séan Kissane, Sara R Phillips, Origins Eile and additional panellists, Róisín Murphy and Darren Collins.
Sinéad Keogh is a curator and multimedia installation artist based in Meath. 
Notes: 
¹Cristina Sanchez-Kozyreva, 'Sean Kissane, Curator of the Edges', Curtain, 3 March 2021, curtain.artcuratorgrid.com
²Each time Phillips delivers a public presentation of the archive, many different facets of the archive are explored.
³The use of baby pink and metallic silver were used as a palette throughout the exhibition. Sensuous queer materials such as faux fur, latex and faux leather were used throughout the curatorial engagements with artworks.