MAIRÉAD MCCLEAN RESPONDS TO OUR QUESTIONS ABOUT HER ACTIVITIES DURING LOCKDOWN.
YOU ASKED: How are you coping during this period of isolation?
I have become preoccupied with how I perceive time, how it seems to expand and contract of its own free will, uncoupled from the chains of chronology. How long have I just spent brushing my hair today – a minute, an hour, a day, a year? Has 'lockdown' altered how I am experiencing time, due to the necessity of having to live more in the present? I read somewhere that the blurring of identical days leads us to create fewer new memories, which is crucial to our sense of time perception. But then, maybe the memories we are making now will cut deeper into our brain than those made when our lives were 'normal'.
YOU ASKED: How has your daily routine changed and what are your thoughts at this time?
At the beginning of the year, I started to reread The Poetics of Space.1 Gaston Bachelard placed special emphasis on the interior domestic space. For him, a house was a shelter which collected and contained past, present and future thoughts, memories and desires.
In April, I moved my studio into my flat because there was no room at the unit in the industrial estate near Bath, where I share a workspace with my husband. His company designs and manufactures pollution masks for cyclists, but with the demand on all kinds of face masks due to COVID-19, our workspace was commandeered as an overspill for the larger logistics centre situated on the outskirts of London. I shout "Art saves lives too you know!" but no one seems to be listening right now.
YOU ASKED: What have been the main impacts of lockdown on your practice?
With this unexpected return to a domestic setting for my studio work, and in the spirit of Bachelard, I find myself thinking even more about my home in Main Street, Beragh, Co. Tyrone, and in particular growing up there in the late 1970s and early-'80s.  There was a lot of tension in the outside world at that time too. I remember the TV's position in the corner of our sitting room. I watch the screen as bombs explode, debris flying through the air, smoke filling the streets. I hear stories of shootings, knee-cappings, hijackings, incendiary devices in premises where 'keyholders' are called back to their shops through transmitted tele-text messages. I can recall this but I'm not sure it entered my memory as I am describing it now, or through some other means. Maybe it wasn't only from TV; maybe it was through books or films or retold to me in stories, all in retrospect. I'm not sure anymore. What I am sure of are the memories I have where my body is more present, my more 'everyday' experiences, are remembered more lucidly. I can still see my teenage self standing at my bedroom window, looking out towards another house which stood on the outskirts of our village. A boy I fancied lived there.
WAITING

It's Sunday again,
I scan the exterior for a trace of your figure about to leave for church,
not mine.
A light switches off
How long does it take to open the front door,
walk to your father's car, get in and drive away?
How long?
a couple of minutes,
tops.
I am watching in slow motion,
I am there now
with you, back then,
that black speck.
You are not here or there anymore
I picture myself
in this memory-time,
this made up head-time,
and it is real
It is from there
that I judge how my time has passed since.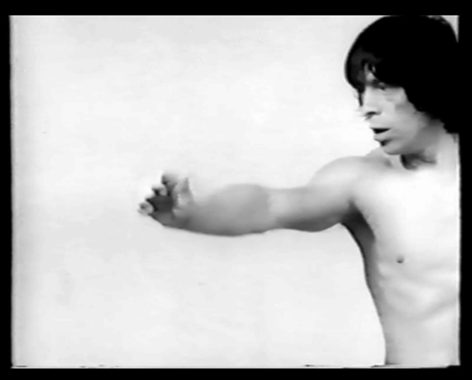 Is time chronology a condition of living that I am trapped in, that we all are trapped in? What preoccupies me is the idea that time is passing me by, or I'm passing it by, or I'm passing on through it, as it continues to roll. Can I perceive it any differently? Can I change how I feel about the pace or speed at which I'm living? I think about editing. I don't edit chronologically. Usually, I find a beginning in the middle or near the end of what I have shot. I then bounce back and forth, shifting and changing speed or direction. I detach an image from its sound and add another sound in its place. That sound comes from a different space, either very close-up or further away.
In the first 16mm film I made at the Slade School of Art in 19912, I recorded my voice saying the words: "To look back but yet to move forward… return empty handed". This was the first time I used my own voice in my work and the memory of the process of making that piece is embedded within the work itself. I remember taking the recording to an industrial-style building to post-stripe and synchronise the edited audio to the final film print. I recall how the man/magician went off into a different room with two things, taped audio and film reel, and came back with just one, the film. When I threaded it through the projector, I watched and listened as an amplified projection of a disembodied me came to life on screen. As I scroll back and forth in my memory to that time, scratching around for more detail, I wonder if I'm thinking more deeply about it now because I have less distractions coming in from my outside world. Maybe that's what happens when we are socially distant from each other, we begin to inhabit our own memory worlds.
YOU ASKED: Are you currently making work (or hatching plans for future projects)?
I am revisiting past work to find material that resonates with my current experience. Ryszard Cieślak – the dancer from my video, No More (2013)3 – pulls at my shirt tail. "It's me again", he says. I start to look at his movement on screen and freeze his body. I capture the instant he dispels a memory from his hand, the second he brings it out through his fingers. I rewind and fast-forward until I find the frame I want. I grab it and print it and the ghost of another memory appears. I cut around his body with scissors and bring him into a different space, a newly constructed world. I introduce him to objects and people drawn from the instructional books my father used to teach his pupils to read. These are descriptive images: a chair, a hat, a jug, no confusion. I call these works on paper The Meeting of Minds. I also realise that the significance of a piece of work made at a certain stage of one's life can change as it enters another. These days I'm writing material that may become a film, songs or poems. In September last year, I presented a performance lecture at the Literature in Exile Conference, at The Centre for Migration Studies in Co. Tyrone, where I sang and played music. I want to do more of this.
LOCK DOWN
"I'm not in lockdown!
I have never been locked down,
I am not 'locked down'
I have not had a lockdown experience!
My father was 'locked up'! Is that the same thing?"
"Really?"
"Yes, he was, but lockdown is not the same as locked-up."
"Right"
"There is a big difference.
Dad was not in his own house,
He was in prison.4
Away from us.
The doors were locked, but not by him."
"Who locked them then?"
"If I voluntarily lock myself in my room, am I locked-up or locked down?"
Mairéad McClean is an artist who works across different media using material from a diverse range of sources.
maireadmcclean.com