FRANK WASSER INTERVIEWS SEBASTIAN CICHOCKI ABOUT HIS GUEST PROGRAMME FOR EVA INTERNATIONAL. 
Continuing until 29 October, the 40th edition of EVA International centres around the theme of citizenship, and comprises the EVA Platform Commissions, Partnership Project initiatives, and a special Guest Programme, 'The Gleaners Society', curated by Sebastian Cichocki.
Frank Wasser: Sebastian, it's an incredibly busy time for you, so thanks for agreeing to talk with me. I wanted to start by asking you about your own practice. Can you tell me about your research methodologies, and how you arrived at the curatorial framework for the EVA Guest Programme?
Sebastian Cichocki: Where to start? I'm very much into assemblies, summer camps, and gatherings. I'm interested in people, and so I work with movements and organisations who are eager to apply artistic strategies in their daily work. My background is in sociology, and I've always been fascinated by the social potential of art. I like to think of art as an apparatus that can bring people together and change things, to open our eyes to new possibilities.
FW: Where or how do these possibilities unfold? What are the contexts that your practice operates within?
SC: I work in the Museum of Modern Art in Warsaw, a public institution which is under construction, and it is just about to open in its final configuration. I've been working with different formats. For me, curating is a lot about usefulness, agency, and doing things with art. This is much more interesting than defining something as art or not art. My natural environment is to be among people who represent different skills, competences, and backgrounds. They are chefs, gardeners, therapists, climate activists, social workers, or biologists, but what is characteristic is that most of them graduated from art academies. Climate and anti-fascist activism, feminist movements, these are all close to my heart. I'm part of the Sunflower community, an anti-imperialist think-tank and emergency centre, working mainly with the large Ukrainian diaspora and its queer community in Poland. Environmental struggle is something I've been working with a lot recently, which evolved from a fascination with land art practices as a possible way of escaping the traditional configuration of the museum. Needless to say, the museum might be an outmoded apparatus, but it is undergoing radical changes.
FW: You have previously spoken and published widely on the invisible histories and ideological frameworks of museums. How does the context of the art biennial differ from that of the museum?
SC: It's fascinating how we can do things in a different way. I love museums and global biennials, but I do feel that they are operating in separate galaxies. It's quite unusual how they are restricted by very specific ways of doing things; the singularity of an artwork, the cult of the authorship, all these obsessive ways of separating art from not-art. Many regulations, which were kind of petrified in the nineteenth century, are still determining what art is. The biennial model follows these protocols; it is mostly novelty that is fuelling this system. The expectation is that you have to present something which is new and unusual, the unknown, the forgotten, the overlooked. In a way, a contemporary focus on 'the marginalised' has replaced the dominance of dead white men in the western art canon. This is quite an insatiable and exploitative system. But actually, this novelty is the last thing I am interested in.
FW: So, does this refusal of 'novelty' underpin the thematic framework of 'The Gleaners Society', your Guest Programme for EVA? Gleaning was originally a farming term, denoting the act of collecting or gathering that which already exists.
SC: Yes, exactly, gleaning is about picking up stuff, the leftovers; it has specific legal and ethical connotations in different languages. The act of gleaning is the opposite of over-production and extractivism, because as you know, we do generate a lot of objects and ideas. The standard biennial is like a potlatch ritual, with the necessity to constantly commission and produce – it's quite a monstrosity. It's hard to believe how time-consuming and exhausting the model is, and I seriously question its sustainability. So, I was thinking about this unique opportunity in Limerick, working with such an open and generous organisation. I was told "you don't even have to do an exhibition!" This was so liberating. Paradoxically, in the end we might end up with a quite conventional exhibition. EVA has such a rich history, albeit hardly visible in the city, but there are small traces of previous editions. It's like a myth, something immaterial and fleeting, that is also treated as a piece of public property. For example, the person who works in the local flower shop will tell you what should be done for an exhibition!
FW: I guess the idea of gleaning also implies crisis. Is this something you're considering?
SC: Yes, the planetary crisis; ecocide, fossil fuel wars, loss of biodiversity. In this sense, it is all about saving the resources that exist. There are so many contemporary versions of gleaning; for example, foraging, free shops, dumpster diving. For me, gleaning is not only a metaphor – it is a methodology. Let's look at the leftovers of the past. There have been 39 editions of EVA. What are those stories, invisible traces, or unfinished businesses? One of the unwritten rules of the biennial format is that you are obliged to invite mostly new names, but what if you work with what is already established in this unique environment of collaboration and trust? One of the first things I did was scan through the incredible artists who had already contributed, such as Orla Barry and Deirdre O'Mahony, with a view to working with them again. What would it mean to bring back Janet Mullarney's sculptures, which were exhibited in Limerick in the 1990s? There are artists who know the local context deeply, so why not engage with them and continue these conversations, in spite of expectations and fetishisation of the new?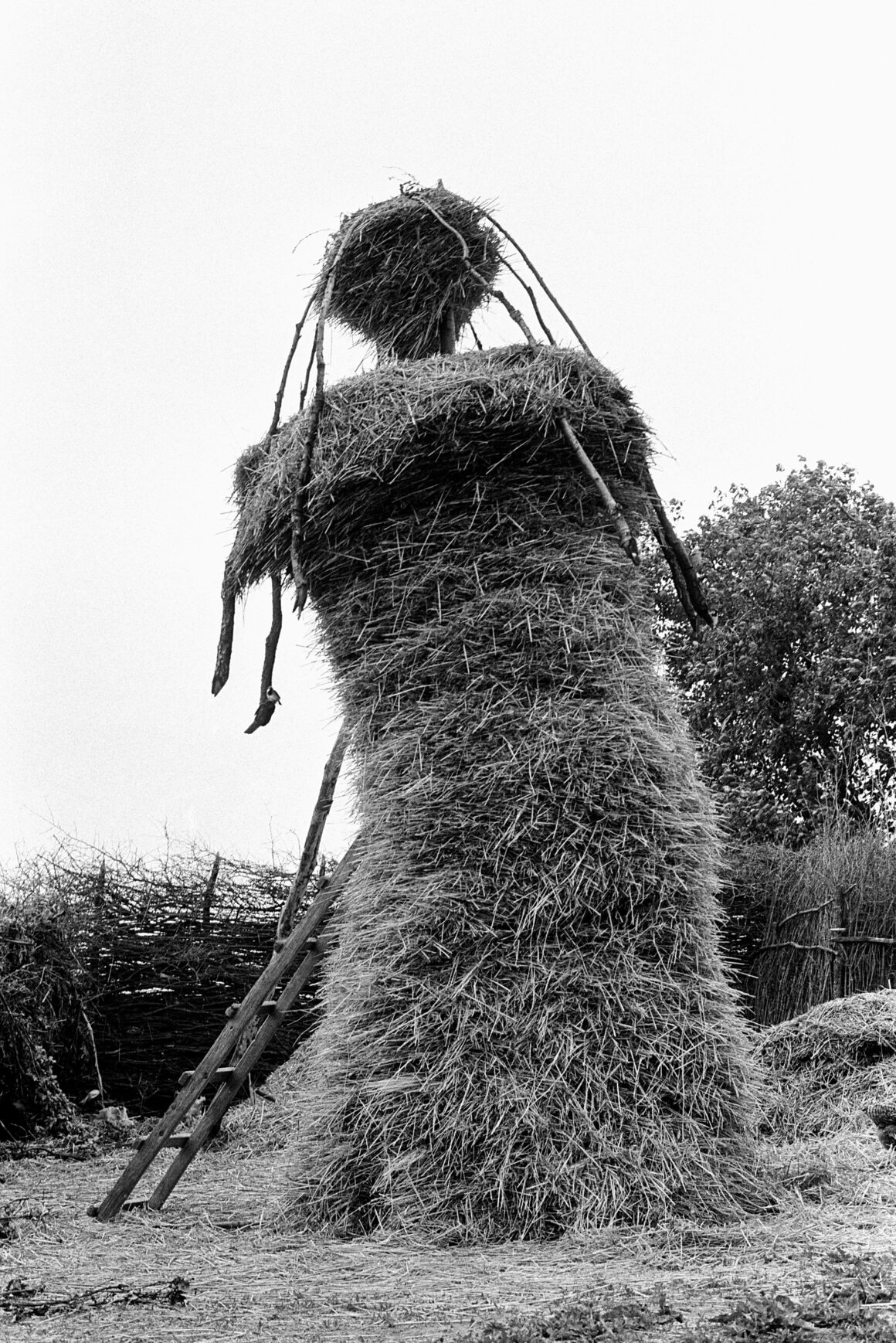 FW: Your approach is reminding me of conversations I had with the curators of documenta fifteen last year. They had this idea of harvesting ideas over the course of the event. Is there a connection here?
SC: Yes, this is interesting because I just came back from Korea, where I worked with local collectives, including ikkibawiKrrr, who will participate in EVA. They were also one of the core members of documenta fifteen. While drinking rice wine, and spending a lot of time with each other, we spoke about the particularities of what gleaning meant in European history and what might be the Asian parallels, like the lumbung concept. Our conversations are ongoing and will grow over the following months. In this sense, gleaning is also about my resources, recent projects, existing collaborations, and network of friends in the Baltic States, South Asia, Ireland, Ukraine and Poland. As the hero of my teenage years, Robert Smithson, once wrote: "Nothing is new, neither is anything old".
Frank Wasser is an Irish artist and writer based in London.
frankwasser.info
Sebastian Cichocki lives and works in Warsaw, where he is the chief curator at the Museum of Modern Art.
artmuseum.pl/en
The 40th edition of EVA International opened on 31 August and continues until 29 October, spanning various locations in Limerick city and beyond.
eva.ie