John Rainey: In your latest series, the 'Breakdown Works', the stone we know from your previous sculptures interacts with a cast of other material characters, creating conversations between the precious and the industrial, the found and the intentionally sculpted. How were the material elements for this work sourced?
Kevin Francis Gray: I made some very clear decisions around the 'Breakdown Works', for example, that I wasn't going to be taking any stone from the mountain. Having worked in Italy for so long and seeing the scars that the quarries are creating in nature, it's really brutal. As a result, I discovered a lot of new stones, because I was buying old stone that had been lying in the back of marble yards for decades. That's how I started using Irish stone as well. I'd been in contact with a few quarries in Ireland, and one of the stones I got was a Kilkenny marble. Similarly, all of the wood that I chose was wood that was dying or had died, or was found in the back of wood yards. Working in this way tied an environmental aspect into the idea of breakdown.
JR: The work in your two concurrent shows – at Museo Stefano Bardini in Florence and Pace Gallery in London – have at least in part been developed amid global uncertainty and restrictions. How have these conditions shaped the exhibitions? 
KFG: Getting lost in the material became a means of controlling my internal anxiety about what was going on outside the studio. It gave me the freedom and the ability to experiment. I was paring down my practice, using whatever I could get my hands on – that raw material. The nucleus of the idea for the 'Breakdown Works' started before the pandemic – it was very much to do with my own personal breakdown, the age I am in my life, the shift into mid-life. It was a very intrapersonal experience, and then what happened globally became very salient. The idea around societal breakdown became really key. For years I've been trying to build enough confidence as an artist to move away from realism. It takes time but I feel like the bravery and loss of control around the 'Breakdown Works' have guided me into that space where I'm able to engage confidently with abstraction – using the immediate, the unconsidered, the ready-made. Even the stool in my studio became part of one sculpture. In a way, making this type of object just as important as the other elements challenges the sorts of historical precedents put on stone sculpture.
JR: There are references to the celestial and Paganism in these new works. I wonder to what extent Ireland may influence your interest in these themes? 
KFG: Recently, I've been able to lean back in on my experiences of being an Irish artist – of where I was brought up and how that impacted on me. I have been using direct references to Irish Gods like Cáer and Óengus with certain pieces of work, but also a personal self-analysis of religion and Paganism, of being brought up a very strict Catholic before developing my own sense of religion that was more suitable for myself as a human being. The idea of young gods has really stuck with me over the last few years. Seeing my 14-year-old son's strength but also that raw vulnerability – bringing that combination together, those subtleties are what I'm really trying to pull out with the 'Breakdown Works'. I'm trying to create something that represents a young god, male or female, as a powerful marble sculpture that on closer examination is quite fragile and tense.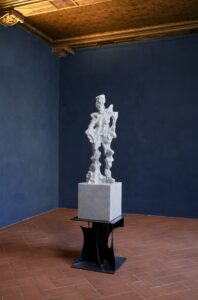 JR: Many of them seem androgynous. 
KFG: Something that I feel I've tried to do with a lot of these works is to try and un-specify. Abstraction is beautiful for that; it allows you to take away a lot of those labels and identity markers.
JR: Your working of marble makes it appear almost malleable. You're able to capture feelings of the ephemeral and the transitional in a material more associated with permanency and the eternal. 
KFG: I'm trying to take away that almost godly reverence that people have towards stone. I've been trying to break that down, and make it more raw, more layered and more brutal. People often talk about the stone; how it looks as if I've sculpted it with my hands. I'm aware of the skill that takes, and I'm comfortable with the fact that I can do that, but it's more than just trickery, more than a gesture. It's a deeper analysis of trying to represent something and make my experience of it more irreverent, less romanticised. 
JR: This seems especially pronounced in the show at Museo Stefano Bardini, where your works are sited amongst revered classical sculptures and historical artefacts. 
KFG: The Bardini show was about a new, irreverent presentation of stone and a comment on where the conversation in contemporary societies should be around stone. Of course, I felt an intense amount of intimidation beforehand because I was surrounded by masters – not only in the museum but also in every corner of Florence – but it felt like the time was right for those works to be shown in that context. Particularly with Young God Standing – rather than competing with the masters in there, I think that sculpture had an arrogance and a confidence. It was in control of its own position, in its own room, and it felt great to see the sculpture take on its own identity amongst the giants.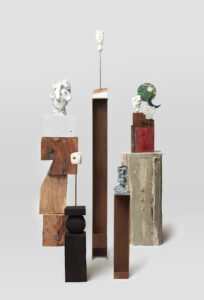 JR: Many of your sculptures appear to be caught resisting specific shape-taking. The young god in the Bardini show is a good example of this. To what extent does the idea of resistance play out in your work?
KFG: I've always felt that as an artist it's really important to resist, to push and pull, to develop and expand your practice. I've made some very conscious decisions throughout my career to try and resist lots of things – like commercial temptations, for example. For me, the 'Breakdown Works' are almost political in terms of their resistance and defiance – they are so raw and without constraints. It's intertwined around this idea of the young god – the protest, the pushing back, the standing up, the confidence, but also that sensitivity, that tenderness and vulnerability. Resistance is a really lovely word because it can be a positive or a negative, passive or aggressive. I feel the 'Breakdown Works' really eat into that or discuss that. The idea of open, fluid resistance rather than a binary – that's where I'd like the works to be. I'd like the works to be listening. 
John Rainey is a sculptor based in Belfast. He is a current studio member of Flax Art Studios. 
johnrainey.co.uk
Kevin Francis Gray is a London-based Irish sculptor, currently represented by Pace Gallery, London.
kevinfrancisgray.com
Two concurrent solo exhibitions of Gray's work were presented at the Museo Stefano Bardini, Florence, Italy (2 June – 21 December 2020); and at Pace Gallery, 6 Burlington Gardens, London (25 November 2020 – 13 February 2021).
pacegallery.com