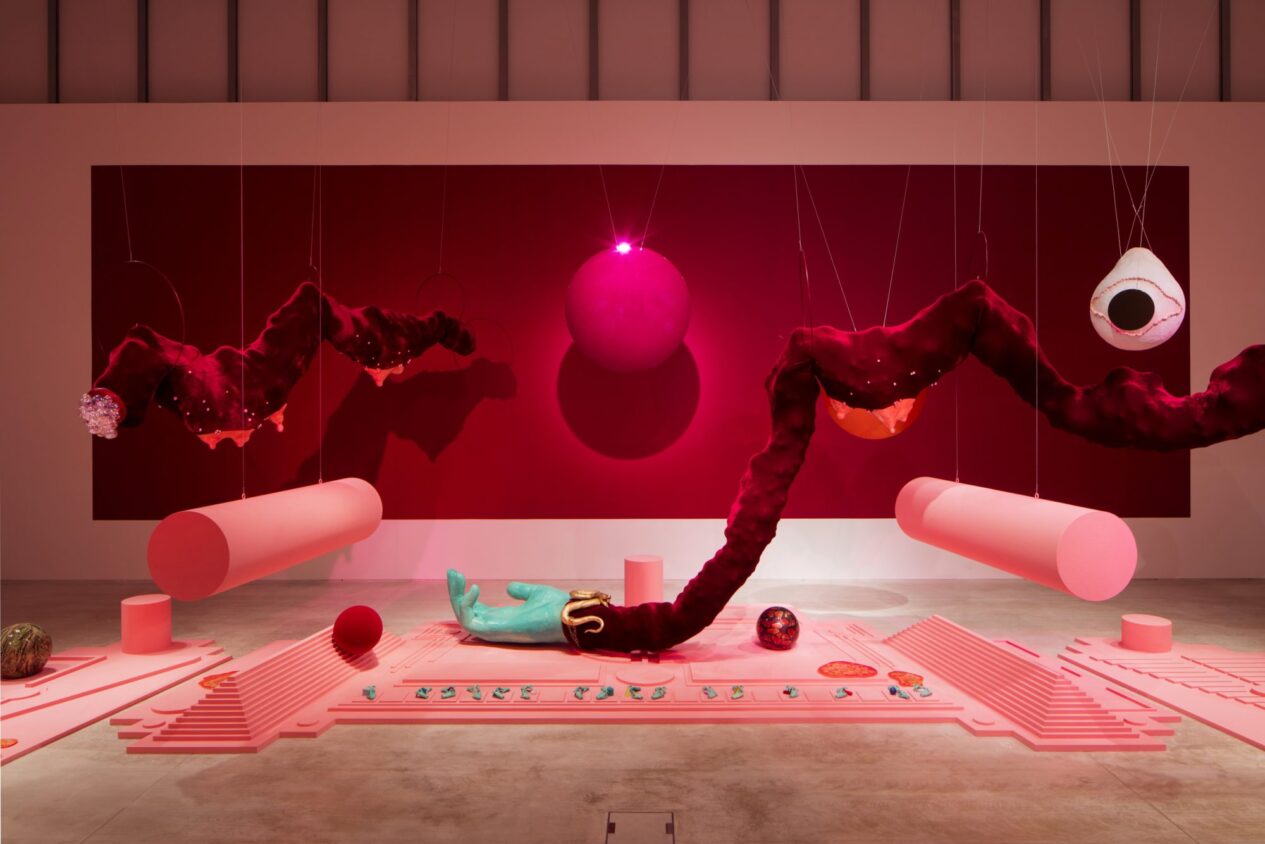 AILVE MCCORMACK INTERVIEWS TURNER PRIZE NOMINEE, TAI SHANI, ABOUT THE THEMES IN HER WORK.
I visited Tai Shani in her studio at Gasworks in south London, as she was preparing to send work off to Turner Contemporary, Margate, for the Turner Prize 2019 exhibition.1 Her studio is a bright, light-filled space, ram-packed with objects and creations. Upon entering, I made my way past some giant cardboard pillars. Looking to my right, I noticed some dripping, jewel-like puddles, set out on a table in front of which sat a giant hand, cupping in its palm a tiny 3D-printed face. It's like entering a deconstructed magical land, on the cusp of forming itself into something recognisable. It's quite wonderful.
There is no set way to describe the work of Tai Shani. Her practice encompasses performance, installation, film and photography, but still, it's hard to say exactly what to expect when encountering her work. Tai is friendly, softly spoken and very open about discussing her practice. She had an unconventional childhood; her parents were part of a counter-cultural left-wing collective called The Third Eye in Israel before she was born, and as a child she lived in a commune in Goa in India. She didn't start formal school until she was 10 years old.
Ailve McCormack: Do you feel that your upbringing has impacted your work?
Tai Shani: My work doesn't necessarily come from having had an exotic or unconventional background; however, I've never had to battle with expectations, so in that regard it gave me space to explore my creative side. In terms of how it relates to my work, there are certain areas of interest that have emerged. Growing up in Goa, there were a lot of philosophical conversations that took place and I think my upbringing aligned me with a particular ethic of life – an experimental approach and an openness to the world.
AM: You've said before that you had a realisation of what you wanted to achieve as an artist when you were only 14 years old. What was it?
TS: It was mostly a feeling. I remember my mother gave me a postcard of a painting of Ophelia and I cried because of the sheer beauty of it. I remember thinking: "how is it possible to move another person in that way?" The impossibility of what's created in an artwork at that particular moment is very fleeting but very powerful. Something about that was very appealing to me and on an abstract level, I wanted to be able to create this feeling in my work.
AM: What is a typical day in the studio?
TS: I don't have a traditional studio practice, in the sense that I don't often come in without a reason. I don't come to the studio to experiment. Most of the early work happens in my head, and when I come to the studio it's a process of execution and production. My work happens in different ways and my ideas often emerge quite slowly. For example, a song or a particular tone can suddenly be very present and I will try to create something around that. Writing is often the first step and from these texts, images emerge, which I then translate into the objects I make.
AM: Your practice stretches across many media, including performance, film, installation, photography and text. Can you describe how all this works?
TS: For many years, performance was the main output of my work and within the performances there were texts. It's funny, my early performances were all women casts, but I hadn't realised at that stage that I was interested in feminism. I didn't have the language and I wasn't plugged into the discourse in a way that I could properly develop my ideas. I've long been interested in ideas of subjectivity and identification and about how temporary realities are constructed. Years ago, I started to create these characters for every new work I made – almost like a never-ending play. I also began to adapt existing texts. This is when I came across Christine de Pizan's The Book of the City of Ladies (1405), which I find very interesting. I'm interested in the structure of the book; the fictional city with all these different characters. It enabled me to start writing my own characters and to populate my work with them.
AM: Many of these characters appear in your ongoing work, Dark Continent. Can you tell me a bit about that?
TS: 'Dark Continent Productions' is an ongoing feminist project, iterated through character-led installations, films, performances and experimental texts. It's an expanded adaptation of The Book of the City of Ladies and takes the shape of an allegorical city of women. This city is populated by composite, symbolic protagonists that embody excess, and examine 'feminine' subjectivity and experience, as well as the potentials of a realism defined by excess and the irrational – qualities traditionally surrounding notions of 'femininity'. This project articulates the feminine not as female, but as a kind of 'radical otherness' to any conception of the real. The Turner Prize exhibition will be the last time I show this work. A lot of the writing in it was very personal and even though it was ventriloquised through different characters, it was still an unravelling of my insides. It's not that it was therapeutic, but a lot of it was looking back, kind of processing, and once I finished, I wanted to move on.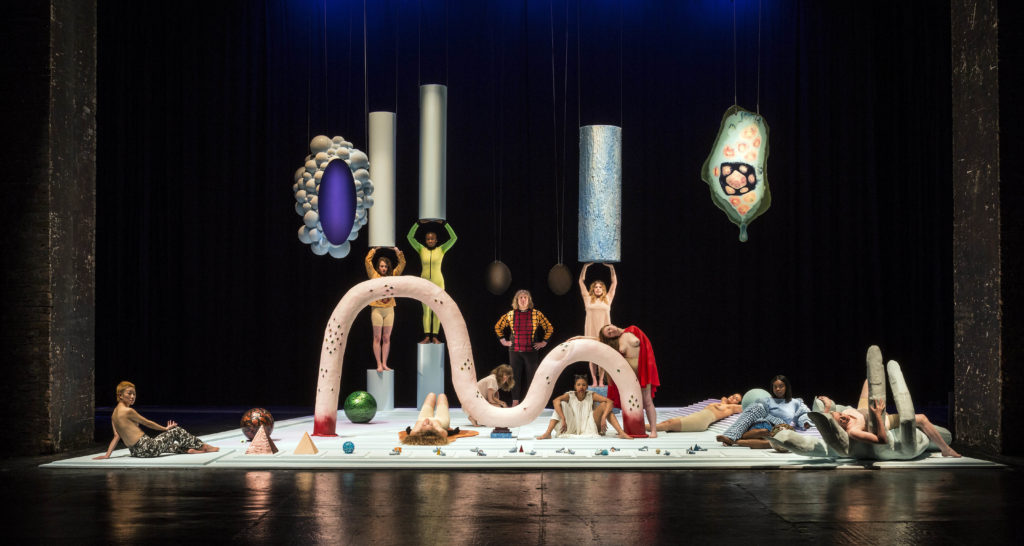 AM: Can you expand on this term, 'radical otherness'?
TS: Over the course of making Dark Continent, my politics have changed. Definitely in the beginning, there was a big emphasis on giving a voice to a very interior feminine subjectivity, but it's really not about women in a conventional gendered way. I was interested in otherness and writing about experiences that are linked to femininity, but this evolved into a post-patriarchal city, rather than a city of women, and that's how I define it now. I'm not interested in it being a binary city at all. When I started the project, I began a journey in terms of my own engagement politically. The discovery of feminism, for me, was about finding a language to describe my experience and where I was situated in the world. Through research, I've become aware of a lot more discourse and my thinking has evolved. I've learnt a lot from intersectional feminism, and it's changed how I see what this city or artwork could be. 
AM: Your upcoming show – 'Tragodía' at Temple Bar Gallery + Studios (20 December 2019 – 15 February 2020) – will be some people's first encounter with your work. What would you say to them upon entering?
TS: I don't think that people need to be prepared for my work in any way. This work is a bit different than Dark Continent, which draws on so many references. This is quite reference-free. It's a tragedy and has a devastating tone. It's also very much about love – about how love situates us, and the loss that's completely implicit within that.
Ailve McCormack is an arts producer and consultant who has recently returned to live and work in Dublin. She is founder and writer of the ongoing blog, From the Studio of…
fromthestudioof.com
Tai Shani is an artist based in London and a tutor in Contemporary Art Practice at the Royal College of Art. Her multidisciplinary practice revolves around experimental narrative texts. 
taishani.com
Feature Image:
Tai Shani, DC Semiramis, installation view, Turner Prize 2019 at Turner Contemporary, Margate; photograph by David Levene, courtesy of Turner Contemporary.