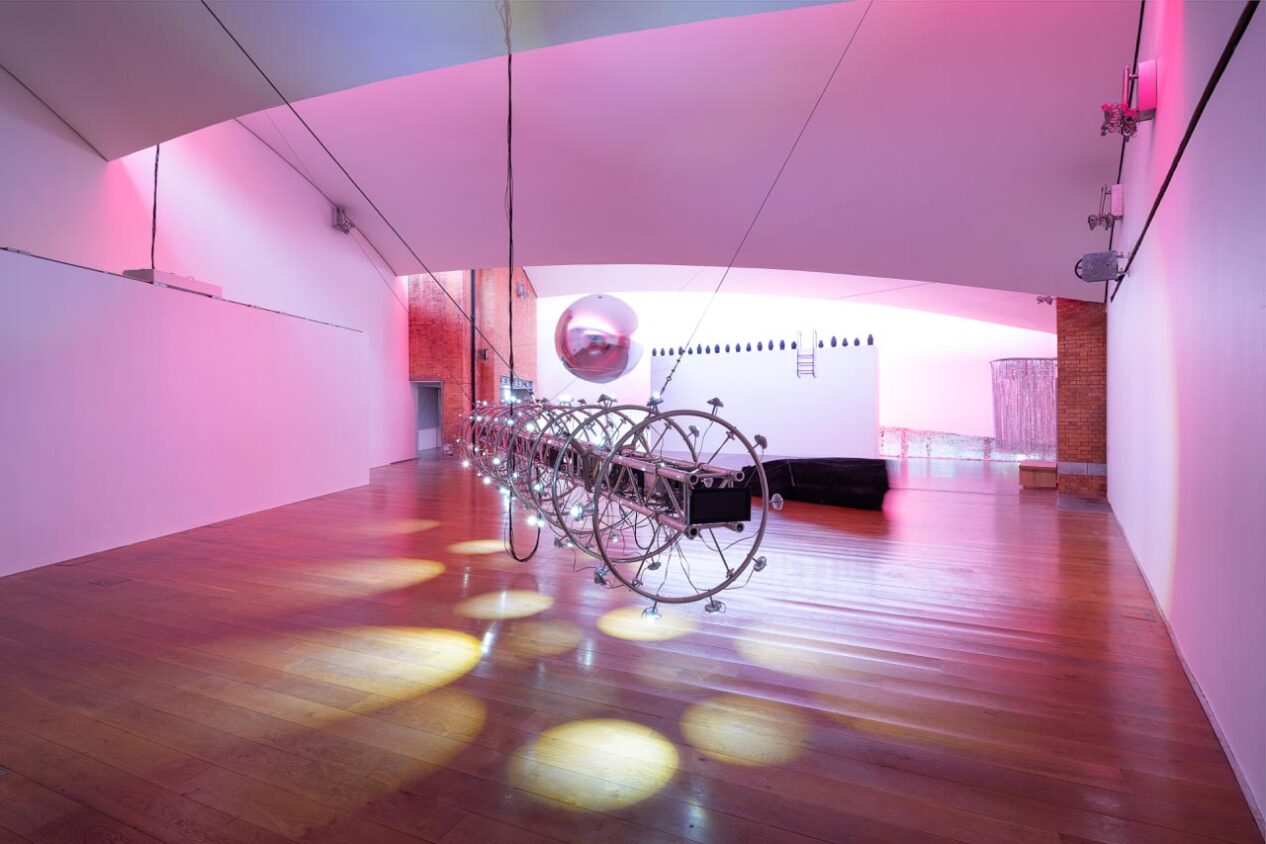 AOIBHEANN GREENAN TALKS TO ANDREW KEARNEY ABOUT THE EVOLUTION OF HIS WORK.
Aoibheann Greenan: One of the first things that strikes me about your work is your use of kinetic technologies. When did your interest in kinetics begin?
Andrew Kearney: As an MA Sculpture student at Chelsea College of Art and Design, London, in 1991, I had a large studio space which paired up with meeting other international students, lecturing artists and great technicians. Being able to use dedicated workshops expanded my approach to the work I was developing. Up until then, most of my work lived on walls. But from this point on, it could become more physically engaged with the whole space it inhabited. For me, exploring movement was the way of expressing this newfound freedom. My brother, Erik, was also living in London at this time. He's an electronic engineer. This proximity allowed us to discuss new technologies and for me to explore their expressive qualities in my practice.
AG: Looking back at one of your earliest works – Untitled (1992) at Serpentine Gallery, London – many of the concerns that have persisted throughout your practice are already visible, notably the theme of surveillance. Can you describe your thinking behind that piece?
AK: In Ireland, at the time of the 'Troubles', we grew up aware of surveillance and movement control. When crossing over the border from the south to the north, you encountered large concrete and galvanised steel structures that defined a threshold. Later on, being an Irish immigrant in London, I experienced first-hand the reticence of people and became aware of cameras watching; at this time there was a heightened fear of IRA bombing in the financial district. The castle-like structure of Untitled (1992) reflected on these earlier experiences of what you are or are not allowed to access, and of my personal experience as a queer man in an unfamiliar environment. The castle's skin was made-up of the same familiar corrugated galvanised material, but this time put together without showing any external fixings, completely impenetrable. The walls were mounted on circular steel tracks, so that the structure could rotate randomly, blocking or unblocking the space that the visitors could occupy. Shifting control from the viewer to the artwork, people could look up to the ambiguous pink structure inside the castle's walls but could not gain any understanding of what it was intended for.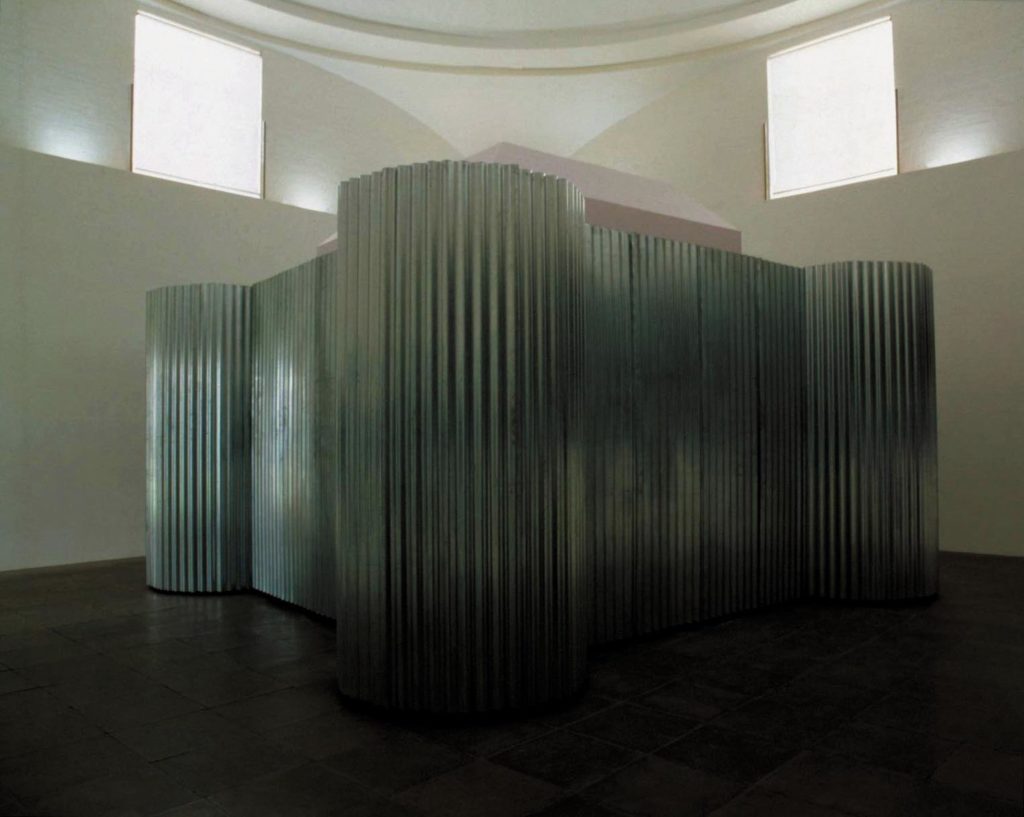 AG: Quite often your works integrate sensors that harness immaterial processes like sound or movement. In the case of Silence (2001/10), for example, you positioned a microphone outside Limerick City Gallery, which converted street noise into a light and sound composition within an inflatable orb in the gallery. What is the intention behind these translational gestures?
AK: These localised everyday phenomena have become a way of introducing unpredictable rhythms within the process of my art making. Live sound feeds, combined with lux levels, are used to score and introduce new synthesis within a given space, making the familiar unfamiliar. The same set of objects within different venues could change with the introduction of new and local rhythms. Material and immaterial compositions, developed in tandem, have become a fundamental part of my methodology.
AG: I've noticed that structural supports are generally hidden in your work. Suspended forms appear to be floating, lending them an autonomous presence. It makes me think about the way new technologies increasingly conceal the medium, to produce a heightened sense of immediacy. Is this something that informs your work?
AK: Yes, I'm very aware of the role of the audience or, rather, how I perceive their role to be, as unwilling volunteers within a sonic, lux happening. With Skylum (2012) in Toronto, for example, no supports were visible. All you could see was this 16-metre elliptical inflatable in the space. The work's score used 100 sonic samples; music, spoken languages, song and animal sounds responded to the movement of the audience, which triggered the ever-changing sequence of sound and light. The installation became a medium and the activity below an integral part of the artwork. Nonetheless, the work conceals how this is achieved, heightening the ambiguity between the I and the other; between the artist and the public.
AG: These inflatables feature prominently in your work, along with other synthetics, such as PVC, aluminium and rubber. What is it about these materials that you're drawn to?
AK: I've gone through phases with materials. I have made luminous inflatables with internal light-sources; silver foil inflatables, reflecting its ever-changing surroundings; now I've started making black orbs that are non-reflective, totally light absorbent membranes. They have similar connotations of weather balloons, listening stations, material fetishism and the blackness of outer space. Man landing on the moon, new ideas of modernity, science fiction's representation and influence on our day-to-day has always intrigued me; that sense of otherness, that journeying beyond, out of oneself or from one place to another. Growing up, synthetic foods and fabrics were seen as a positive realisation of the new future we were entering into. Still nowadays these manmade materials allude to industrial processes, research and functionality that counteracts the historical character of the spaces that my work is often shown in. For me, the art of making an object always merges with the architectural space it inhabits, triggering various means and processes. Materials have their own inherent nature and histories. It is the act of making, that physical interaction with the material, in my case dovetailing new technologies with older traditional work processes, which is explored to reveal new narratives within the work and the place it is in.
AG: Can you talk about the relationship between place and memory in your work?
AK: Spaces have always been an important part of my practice, a place of new beginnings! Early on in my career, buildings became an intricate part of that making process. This led to ideas around the work inhabiting an environment, developing relationships within those places and their histories. My installations are developed within the context of scale, identity, sexuality, local history, location and the process of materials.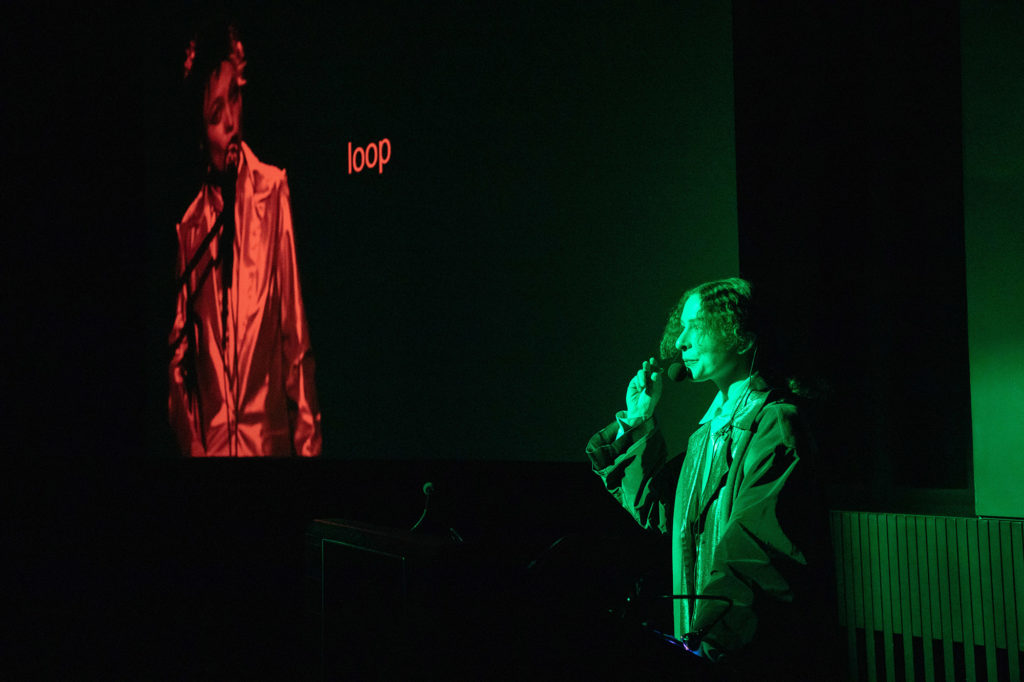 AG: This relates very much to the research project you carried out in Middlesex University, titled Spaces Buildings Make (2005–08), in which you proposed a more embodied approach to architectural historiography. Can you describe the impetus behind this research and how it has informed the work you've made since?
AK: These years were spent investigating ideas around the nature of the university and its intended usage, the architect's methodologies and how the space was being developed for an ever-changing academic society. Sound scores were composed about building materials used in the construction of the campus; histories were documented and then randomly spoken through speakers in different parts of the building; historic images of the building's construction were found in the library and reprinted on the refractory's lampshades, images and text showing students and the building's changing activities over the decades. Being part of an institution for three years allowed me time to develop interactions with the staff, students and building, which enriched the narrative of the work by layering up the current and the historical realities of the place, affecting and reflecting on our experience of those same everyday spaces within the university campus.
AG: There's a sense that your research is physically permeating the fabric of reality, in a way that's very different from more self-conscious modes of display, something that might entail a separation. Where do you situate the borders of your work?
AK: Beginning with the project A Long, Thin Thread (1997/98), which I did at Heathrow Airport, I became interested in making work that merged with a place's architecture in such a way that you couldn't tell where the artistic intervention began or ended. The brief for this project was to inhabit a corridor space in the airport, which I achieved by giving the artwork a sense of function, as it is perceived with most objects in an airport. I cast the elliptical corrugated wall surface of the space and mounted sixty black vacuum formed spheres, each containing digit counters linked to twin infra-red barrier beams which recorded the comings and goings of the passengers from Ireland to England over a period of a year. In other works, the borders are more tangible, for example in my recent exhibition at The Dock, Carrick-on-Shannon, I used PVC industrial curtains to make the audience aware that they were crossing from one threshold to another.
Andrew Kearney is an Irish artist based in London. Through 2017 to 2019 his multifaceted installation, Mechanism, toured to Centre Culturel Irlandais (Paris), The Dock (Carrick-on-Shannon) and Crawford Art Gallery (Cork).
andrewkearney.net
Aoibheann Greenan's performance, installation and moving image works examine the mutability of cultural documents across time, probing their transformative potential in the present.
aoibheanngreenan.com
Feature Image: Andrew Kearney, Mechanism, 2019, installation view, Cork; photograph by Jed Niezgoda, courtesy of the artist.